HGTV Urban Oasis

Sometimes this crazy blogging adventure takes me on wild adventures I never dreamed possible. Most recently one of those adventures included an invitation to the HGTV Urban Oasis! I am still kind of pinching myself over this amazing opportunity. After a short drive to Knoxville, TN, I had the pleasure of spending the afternoon touring this amazing home and meeting the HGTV team.
Located in the historic Fourth and Gill neighborhood near downtown Knoxville and right around the corner from the University of Tennessee campus, this 1925 bungalow received a major facelift. This home now has an all-new interior as well as an exterior makeover to die for. Many forget about how important home exterior really is, but something as simple as getting Fairview house painters to go over the walls can make a huge difference. This home now fits right into the unique vibe of this fun neighborhood.
Starting as a duplex with separate living spaces, the new single-family home now boasts 1,850 square feet of Craftsman glory to include three bedrooms and two bathrooms.
The amazingly talented Brian Patrick Flynn from Atlanta was in charge of the interior design. He partnered with Open Door Architecture and Tillman Companies for the design and renovation.
Do you want to know the coolest part of this amazing home, you could actually win it! Imagine living here! It's such a beautiful home as I'm sure you can already see. I think all homeowners dream of moving to a new house after a while, especially if they look like this one. People can get bored of their home and can require a change of scenery, however, the process of selling their current home can put them off moving. I'm sure most homeowners hate the process of putting their home on the market and having people constantly looking around their homes. However, there are now companies that can deal with all of that for you, whilst you move into your new home. For example, Get Fair Home Offers claim that "we buy houses in Orange County". By using a company like that in your local area, they can purchase your home off you for cash, whilst you get your things ready to move into a new home. It's a good idea to keep that company in mind, especially if you win this competition and gain a new house!
During the sweepstakes entry period, which runs from October 2 through November 22, eligible viewers can enter twice per day online at HGTV.com/UrbanOasis for a chance to win the giveaway. The HGTV Urban Oasis 2017 grand prize winner will receive the completely remodeled and furnished home plus $50,000 provided by national mortgage lender Quicken Loans®. HGTV Facebook, Instagram and Twitter fans can check in for ongoing updates and new details (#?HGTVUrbanOasis).
The HGTV Urban Oasis 2017 sponsors include Overstock.com, Inc. (NASDAQ: OSTK); Quicken Loans®; Kohler Co.; Samsung Electronics America, Inc.; SimpliSafe Home Security; American Institute of Architects; and Bush Brothers & Company.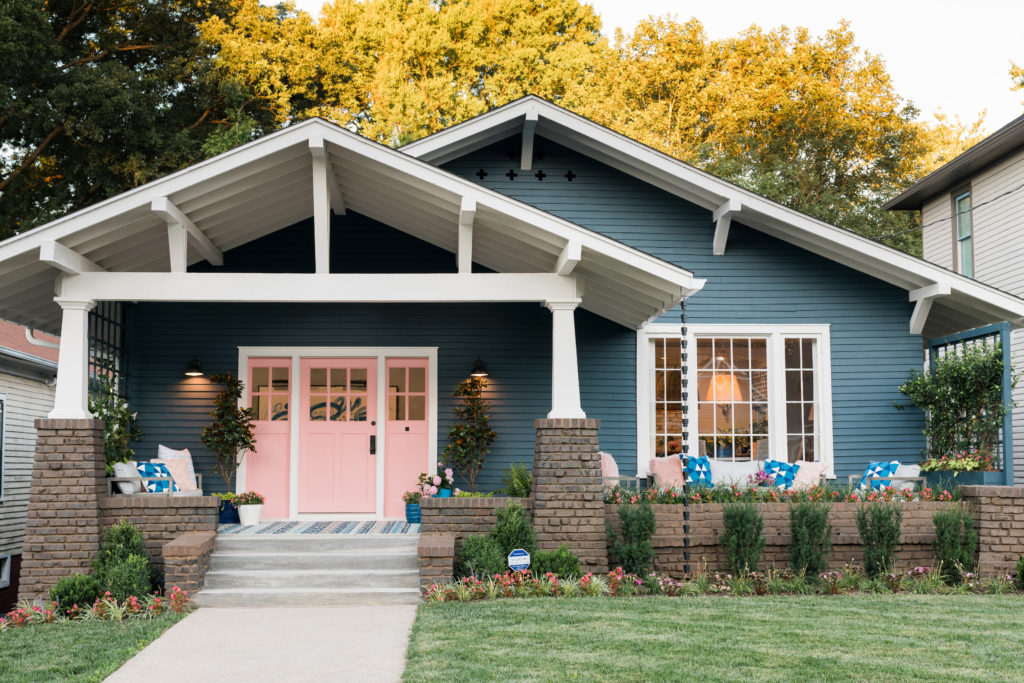 Front Door- Sherwin Williams- Hopeful; Exterior- Sherwin Williams- Sea Serpent; Trim- Incredible White
This front porch is inviting and the perfect place to spend an evening with friends. Y'all know I love all things pink so this front door has me all goo-goo eyed. It is a millennial pink and right on trend with some of the most sought after colors right now. As I showcase different rooms in the house you will see how pink is beautifully married with timeless decor.
When we built our new home last spring, I wanted a pink door so bad. Fitzy wasn't on board at first but I eventually convinced him it would be perfect. So glad I finally got my very own pink door!
Just out of shot to the right of the property is a two-car garage that also got a bit of a makeover, alongside the exterior. It wasn't in too bad of a condition so they added a fresh lick of paint, looked for a company that could offer Garage door repair in Timonium, Maryland and the surrounding areas, and varnished the concrete floor to make it look nicer. I didn't manage to get a close look or take pictures but it matched the house well.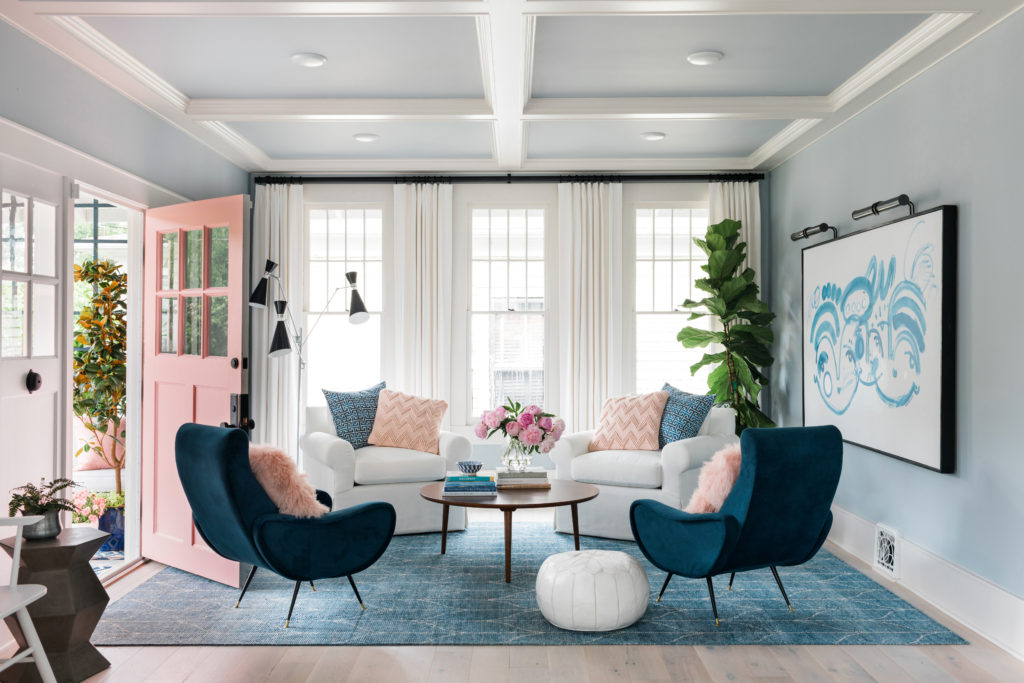 Walls and Ceiling- Sherwin Williams-Krypton
The front door brings you directly into the main living room. It is a bright space that creates a dreamy welcome for anyone who enters. Instead of using sofas, Brian utilized four chairs to create an open space that will make for easy conversations. The beautiful painting by Sally King Benedict grabs your attention as soon as you walk in this stunning home.
One of the things that impressed me the most is that nearly all the furnishings for this home came from Overstock.com. All the products on there are priced really well for the quality of them. Plus you can save even more money by using a site like GetYourCouponCodes to find the biggest discounts. All a great way of keeping your expenditure as low as possible.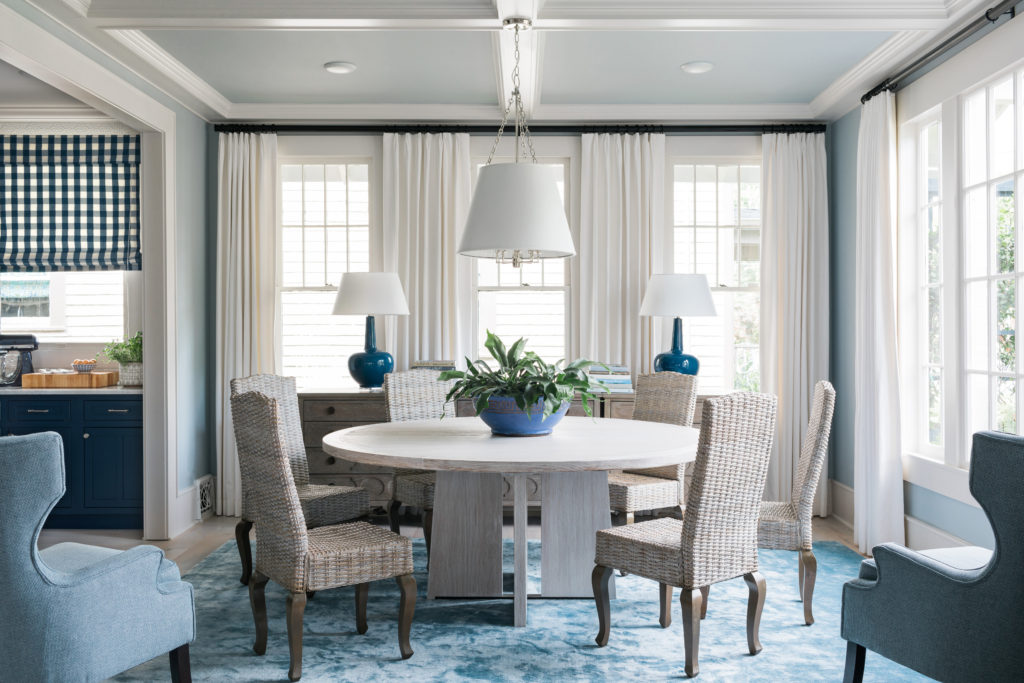 Walls and Ceiling- Sherwin Williams- Krypton
I adore the coffered ceilings in the living and dining rooms. It unites the two spaces along with the lovely blue walls and ceilings. Isn't this space simply stunning. I imagine many lovely dinners and/or late evening card games in this space!
Cabinets-Benjamin Moore-Van Deusen Blue: Ceiling- Behr- Frost; Trim color matched to back splash tile
During the renovation process they uncovered this original brick wall. I love the way they incorporated this original feature of the home into a focal point for the new kitchen space.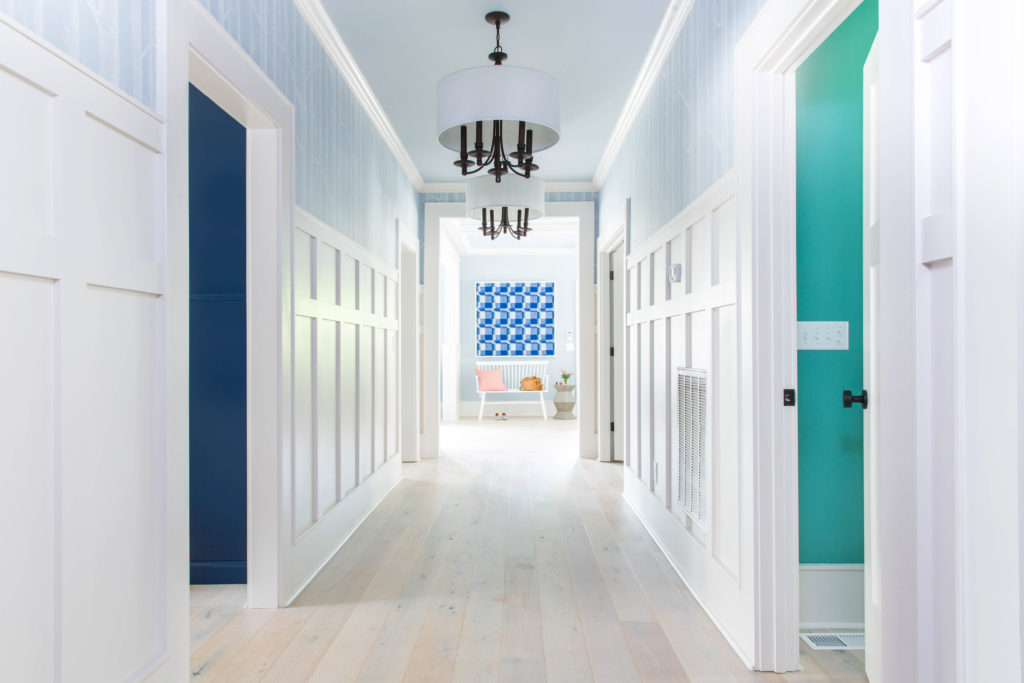 Ceiling- Sherwin Williams- Krypton; Wall Paper- Woods Powder Blue
Isn't this wide hallway charming! The added trim detail creates visual interest for the space and the wonderful blue wallpaper is like the icing on the cake.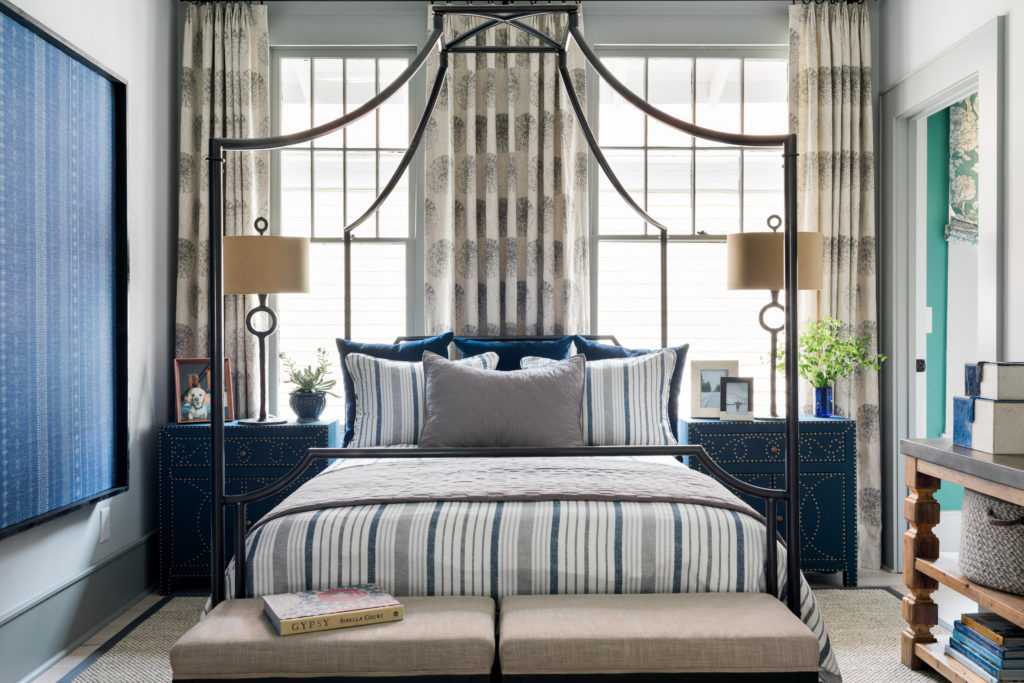 Trim and Doors- Sherwin Williams- Grey Matters; Walls and Ceiling- Sherwin Williams- Passive
Isn't this guest room perfection? I am afraid my guests may move in and never leave. The muted color palette creates a warm and serene environment that would encourage any quests to kick back, relax, and enjoy their stay. I love the way Brian Patrick Flynn incorporated a framed duvet on the wall to add visual interest.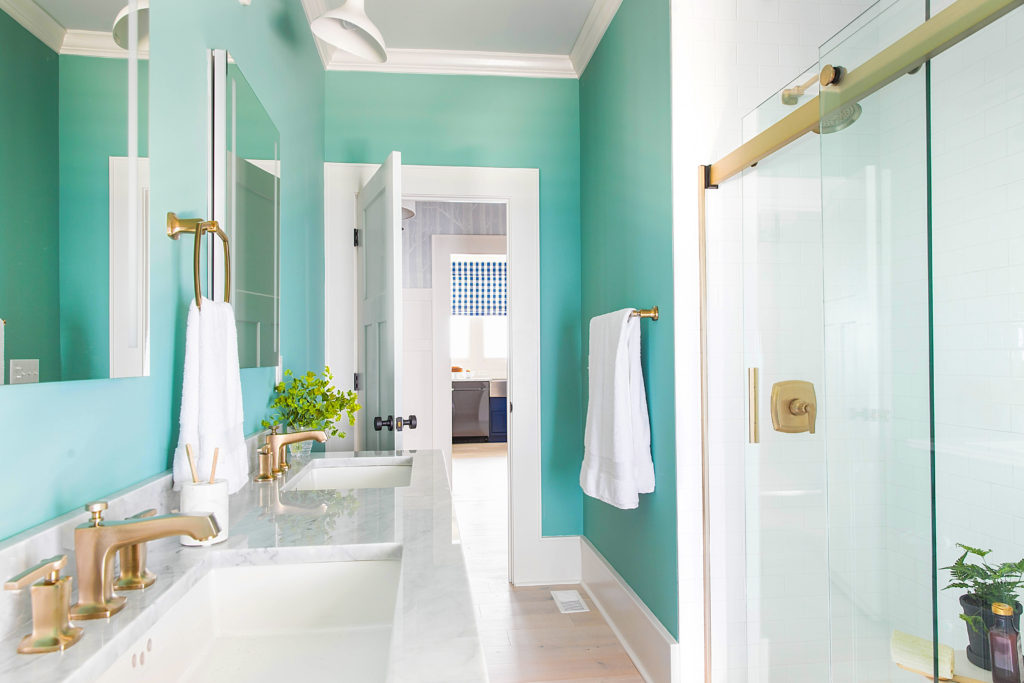 Sherwin Williams- Composed
The fun pop of color in this hall bathroom makes me rethink my normal color scheme for bathrooms. While I normally gravitate towards soft and serene, I can't imagine ever having a bad day if this fun and lively bathroom was part of my morning routine. Singing in the shower might just go to a whole new level.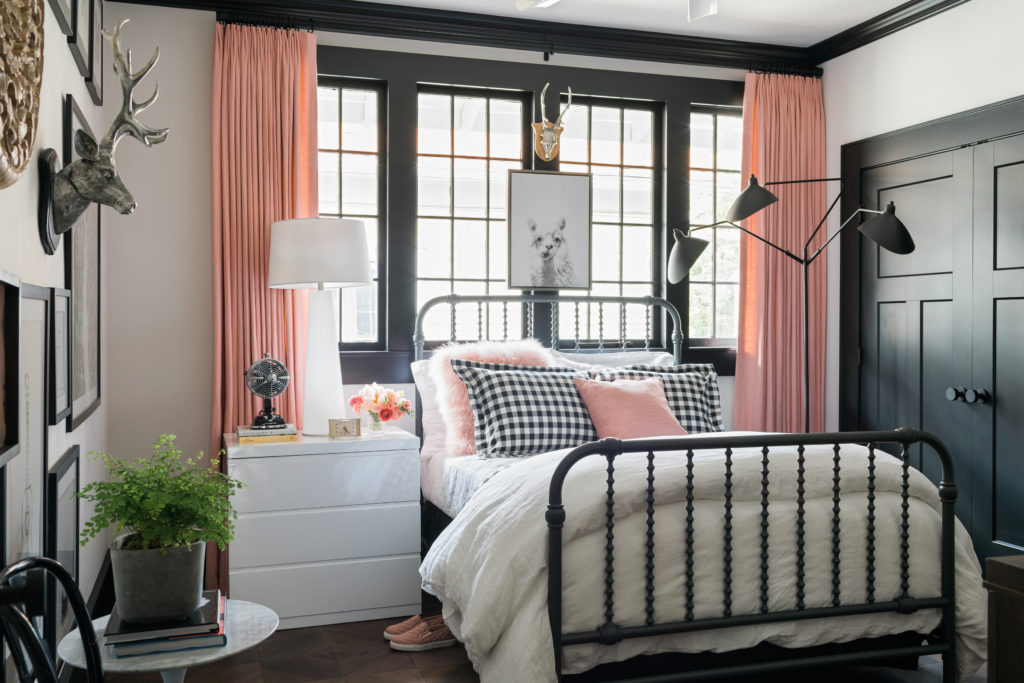 Trim, Windows, & Doors- Sherwin Williams- Tricorn Black; Walls- Sherwin Williams- Incredible White
There is something very powerful about the use of black for the trim and accent in this master bedroom. The black transforms a rather neutral space into a showstopper. And once again we see that fun touch of pink.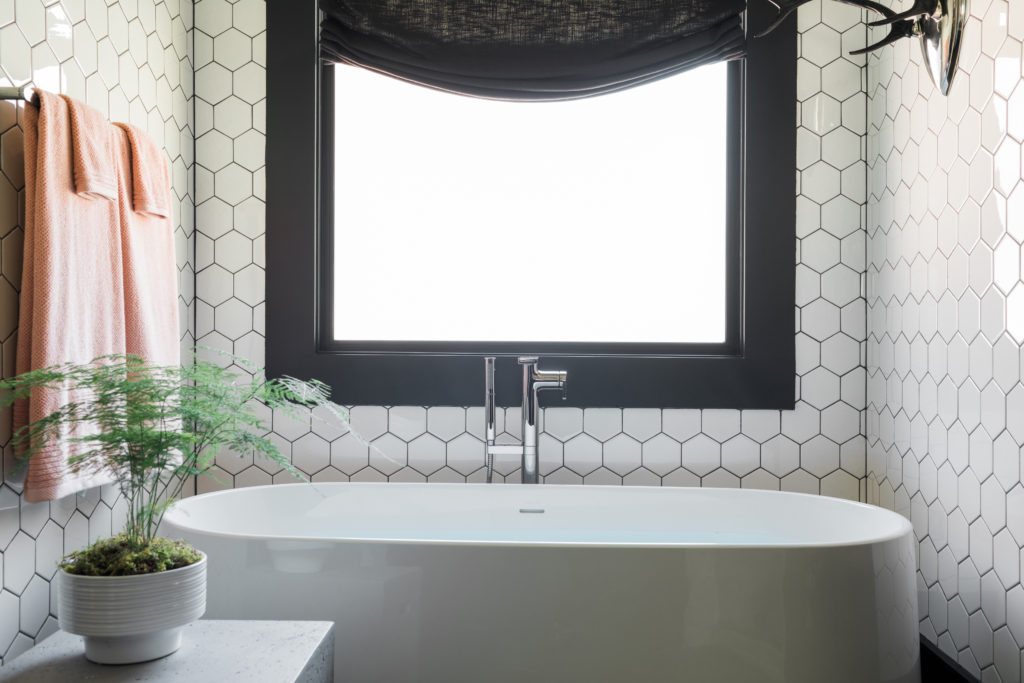 Floor to ceiling tile transforms this master bathroom into a luxurious spa environment. I can only imagine escaping all of life's worries with a soak in this glamorous tub.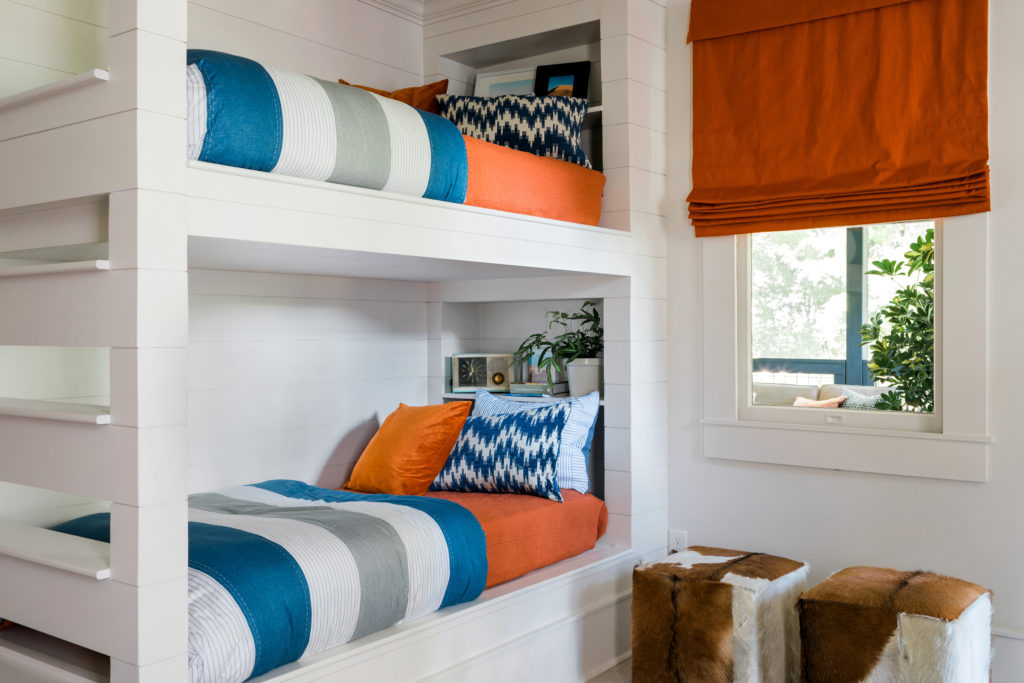 Bed, Trim, and Walls- Sherwin Williams- Incredible White
The use of built in bunk beds helps transform this multi use space into an extra space for guests. I love the extra height for the bottom bunk. No more hitting your head if you get up too quickly.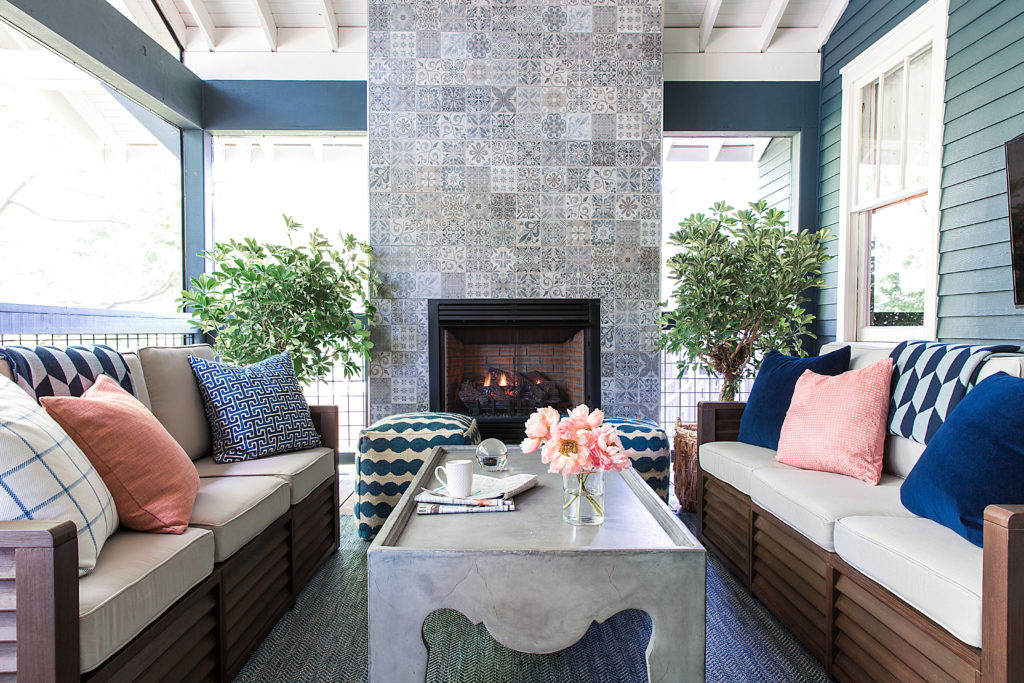 Exterior- Sherwin Williams- Sea Serpent
I think my favorite feature of this back porch is that stunning tile from Porcelanosa. It is a little unexpected and absolutely perfect for this space. The weathered stone finish of the coffee table is also perfect for an outdoor living space.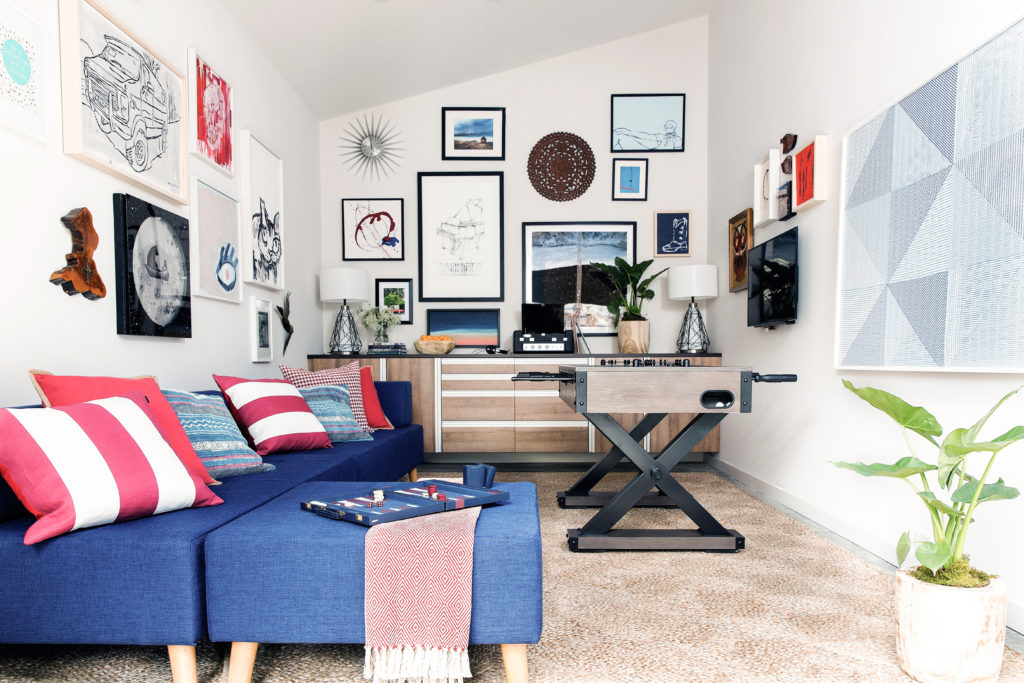 Walls and Trim- Sherwin Williams- Incredible White
The detached garage was converted into a fun rec. room. I imagine the teenagers in my home spending a lot of time hanging out in this cool space with their friends.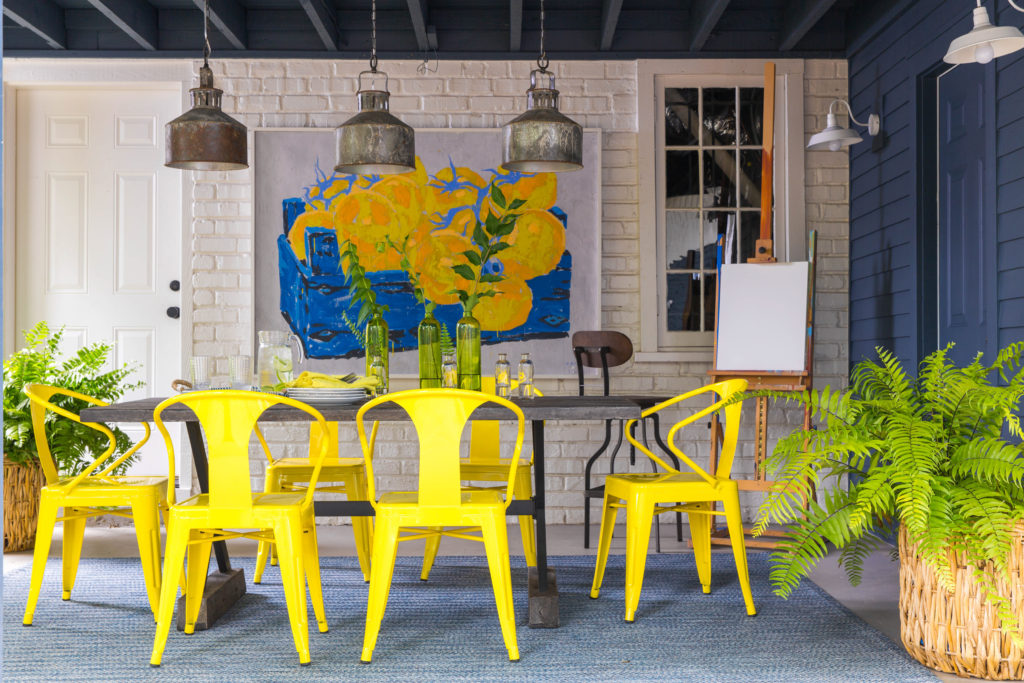 Exterior- Sherwin Williams- Sea Serpent
The lower patio uses a fun pop of yellow to energize the space. Wouldn't it be fun to host an outdoor dinner party on a gorgeous evening. The outdoor art was created by the talented Celery Jones.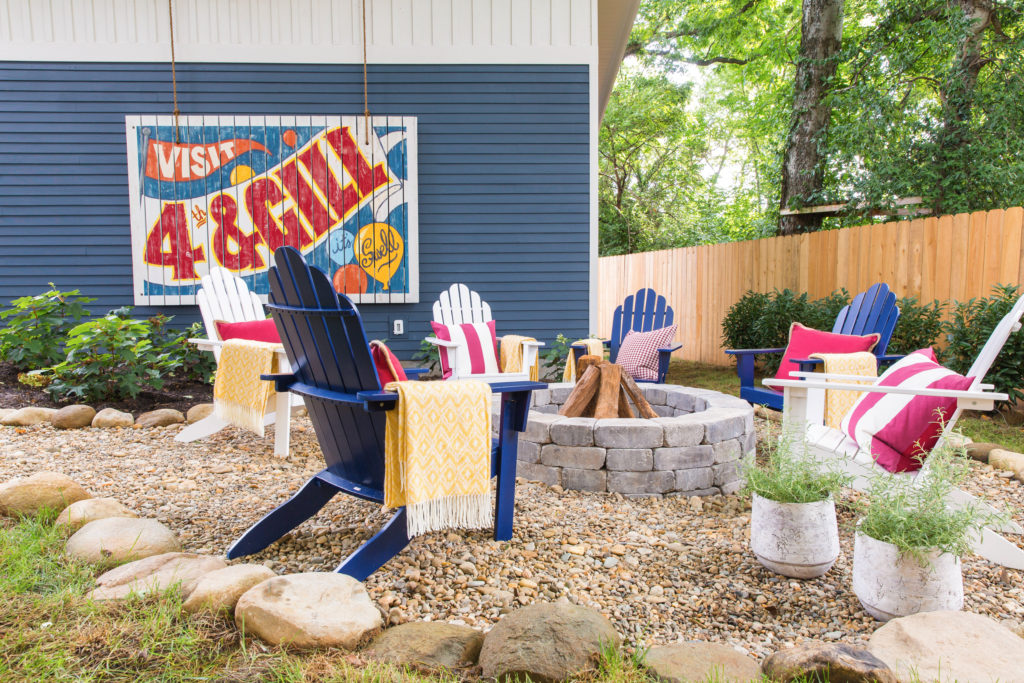 Exterior- Sherwin Williams- Sea Serpent
Nothing like an outdoor fire pit to aid in the perfect entertaining. Cozy evenings could be spent here with family and friends. The art work for the side of the garage was created by Celery Jones. It plays a fun homage to the local area while incorporating the back yard colors beautifully!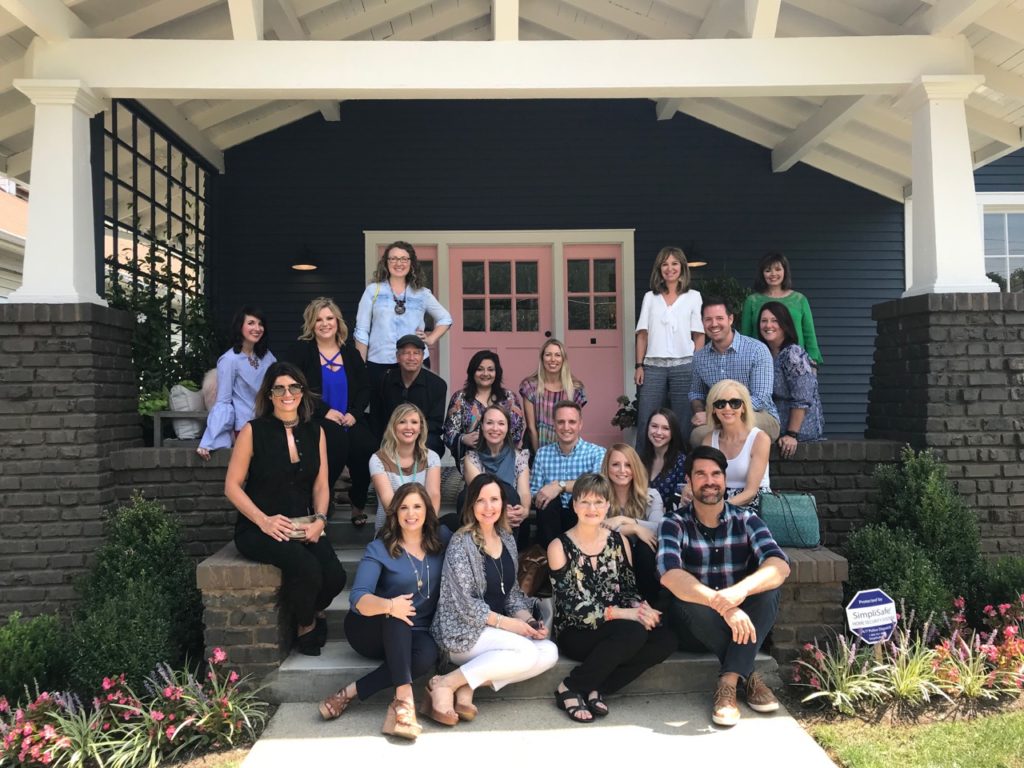 It really was a magical day in Knoxville touring this amazing HGTV Urban Oasis. Don't forget to enter the sweepstakes during the entry period, October 2 through November 22. You can also tune into the HGTV Urban Oasis Special that will premiere Wednesday, October 4 at 7 p.m. Eastern.
Photos © 2017 Scripps Networks, LLC. Used with permission; all rights reserved
SaveSave
SaveSave