Ok…with full disclosure…I have never liked tomatoes.  NEVER.  EVER. Even as a kid my sweet grandma would try to convince me with several different attempts that tomatoes were actually really yummy. She loved tomatoes and thought perhaps I was slightly crazy for not liking them at all.  OK so maybe I liked ketchup but does that really count. It is amazing what happens when I find a marinated tomato recipe.
Now enter Whole 30. Last spring Fitzy and I decided that we were going to give our relatively clean eating habits a boost and take things to the next level. This process challenges me to find new ways of looking at my eating habits.  I spent a great amount of time searching the web as well as cookbooks for new ways to incorporate different foods into the Whole 30.
Then I stumbled across this recipe.  It looked amazing…all the ingredients were clean…and I knew Fitzy would love it.  I figured I would give it a try and little did I know that I would end up loving tomatoes. Yes indeed that made grandma proud!
Marinated Tomatoes
Total Time: 50 minutes
Yields: 9 cups
 Ingredients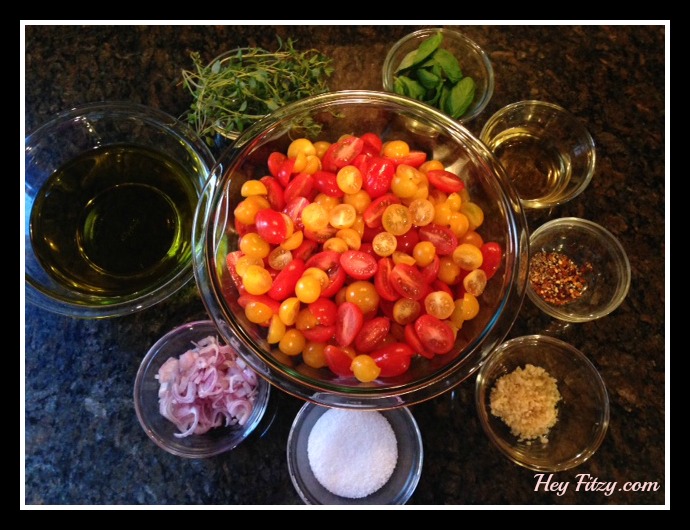 8 cups halved assorted grape tomatoes
1/4 cup kosher salt
1 large shallot, sliced
4 garlic cloves, sliced
1 1/2 cups olive oil
14 fresh thyme sprigs
1/3 cup white wine vinegar
1 (1-oz.) package fresh basil, torn
1/2 tsp black pepper
Pinch of dried red pepper flakes
Combine the first two ingredients in a large bowl: let stand for 30 minutes. While the tomatoes are marinating, sauté the shallot and garlic in hot oil in a medium sized pan over medium heat for 6 minutes. Remove from heat, and stir in thyme. Cool completely. Toss together vinegar, next 3 ingredients, tomato mixture, and shallot mixture.  You can enjoy right away or make several days ahead. Super yummy!
The marinated tomatoes can be refrigerated for up to 2 weeks in a covered bowl. This dish travels well and is often a hit when shared. Spoon over fish, chicken, steak, or toss with pasta. We even tried the tomatoes scooped up with a tortilla chip!