Fall Tablescape
Today I am participating in a fun fall tablescape blog hop hosted by the talented and creative Chloe over at Celebrate and Decorate. She organized an entire week full of beautiful tablescapes and lovely fall decor to get everyone inspired for fall. Having the best dinnerware sets for the decor you're laying out is important, we all know this. I know this project has me dreaming and scheming up fall decor for my new home. It is an honor to be included amongst this talented group of ladies who have opened their homes to share their beautiful designs. Not even just tableware, but these beautiful autumnal decorations elsewhere in the house, such as the style of shaggy rugs against the gorgeous furniture. Everything contributes to the vibe of a room! Make sure you take a moment to visit each blog and see the beautiful fall tables cape ideas., though You can find links to the participating bloggers at the end of the post.
We just moved into our home 2 months ago. It was a big move across the country to get us closer to family and warmer weather. With this move came the opportunity to simplify our lives to focus more on our three growing kiddos still at home. Our motto was less stuff and more time. That was the goal. So when it came time to decorate my fall table I was determined to stay with my new motto and keep it simple. Using only the items I already had, it was fun creating a simple fall tablescape that could easily by used for the next several months. Since Fall is my absolute favorite season, I was anxious to get started.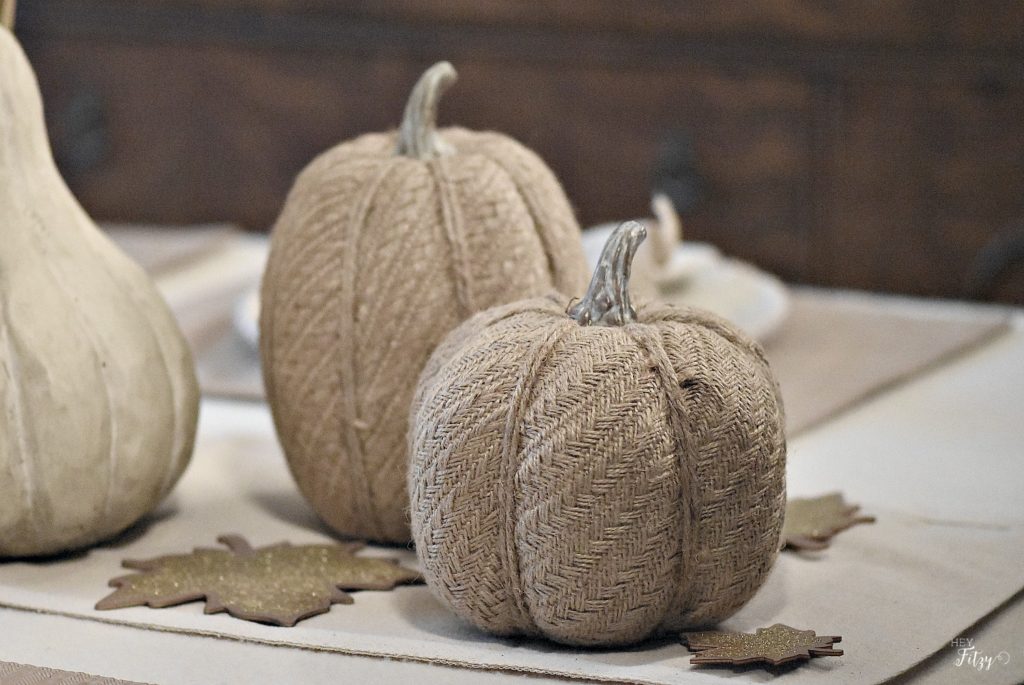 I used an old military blanket for my table cloth. The well worn wool was perfect as the foundation for my fall tablescape. As it's not designed to be a table cloth, I probably won't use it again but I did see something similar on
https://iqlinens.com/
so I might invest in a proper table cloth from there for next years decor. Then I layered a simple table runner and cream placemats for depth. My pumpkins came from Target a couple years ago. The little cardboard leaves were a dollar spot find.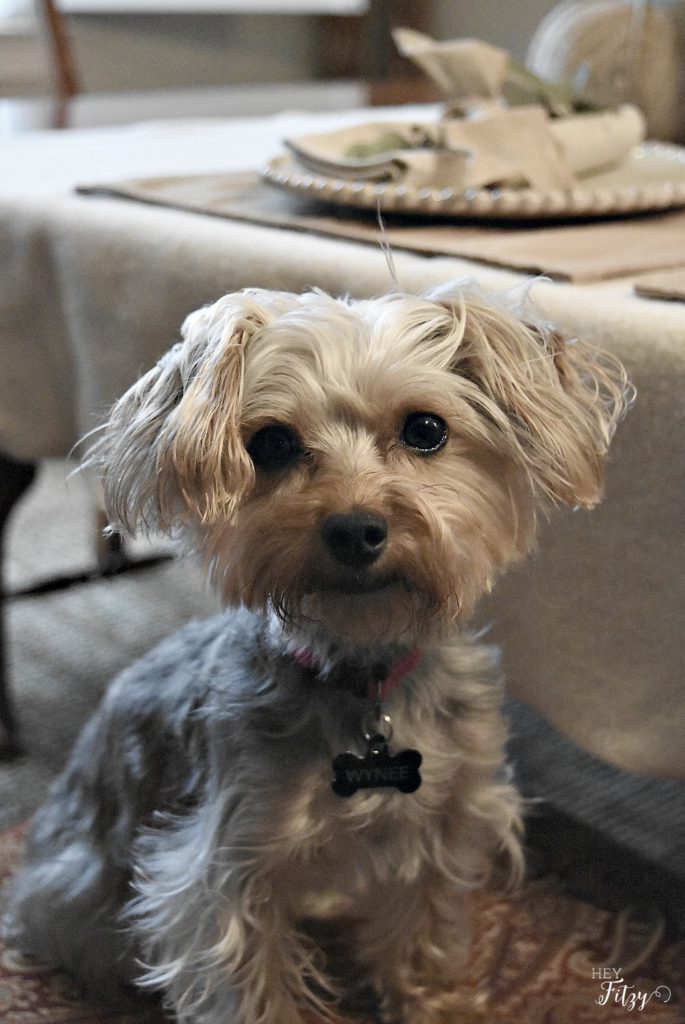 And this little puppy! Isn't she the cutest!! I can't take a single picture in my house without her jumping up to be right in the middle of everything. Little Miss Winifred is certainly a momma's girl and has to be by my side every single moment. Oh how I love her so. I have been a bit worried about her recently though as she has been having some tunny issues. A friend recommended I give her some products that help digestion in dogs, that I can get from companies like ultimate pet nutrition, so I might give that a go and see how she gets on!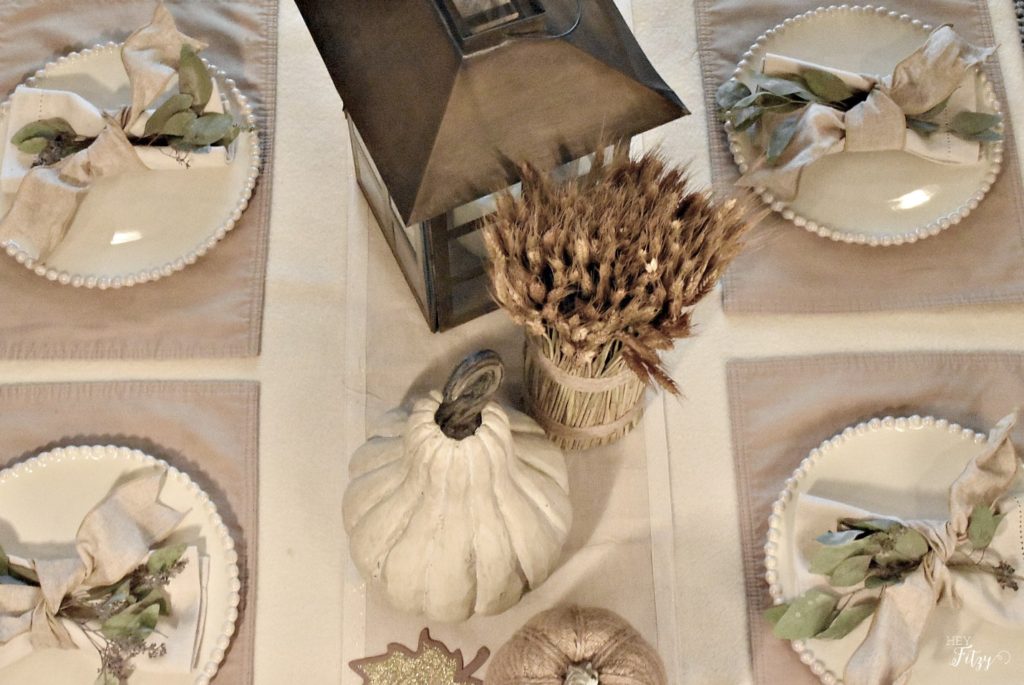 How does something so magical happens when the air turns cool and the leaves start to change colors? A shift occurs in my home decor, the clothes I wear, and the recipes I make. A simple trip to the garden helped me find the flower clippings to place with the napkins.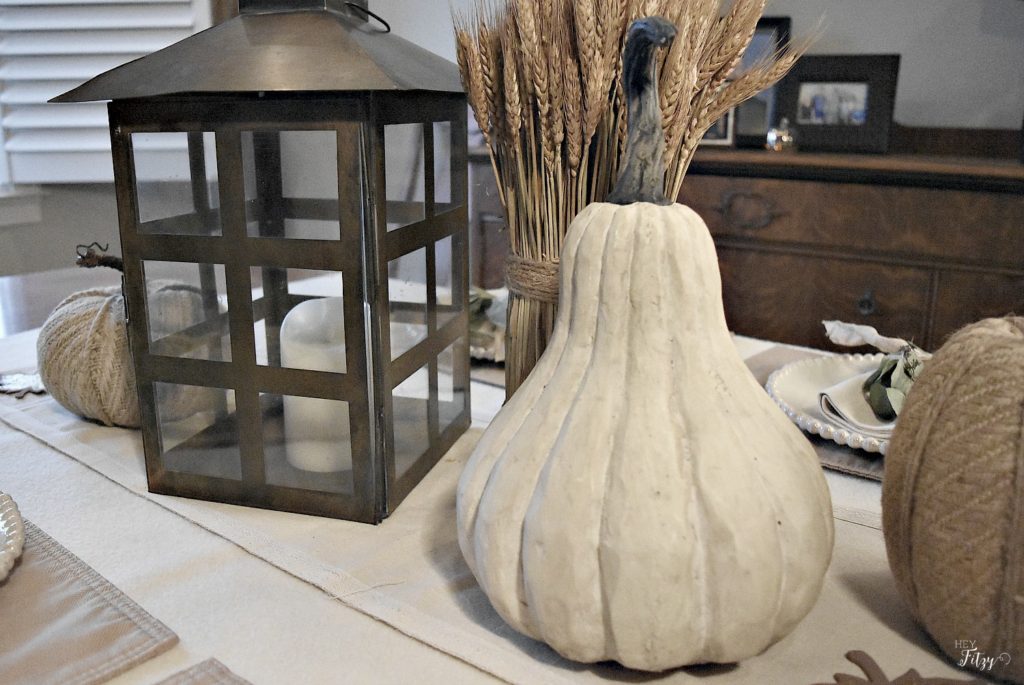 Thank you for stopping by to see my easy and simple fall tablescape. Don't forget to check out the other beautiful fall tables capes by clicking the links below.
Monday
Everyday Living • Home is Where the Boat Is •My Kentucky Living •
Bluesky Kitchen • My Thrift Store Addiction
Tuesday
Rattlebridge Farm • Knock it Off Kim • The Painted Apron • Savvy Apron • Living With Thanksgiving
Wednesday
Sweet Sensations • Twelve On Main • Life and Linda • Rosemary and Thyme