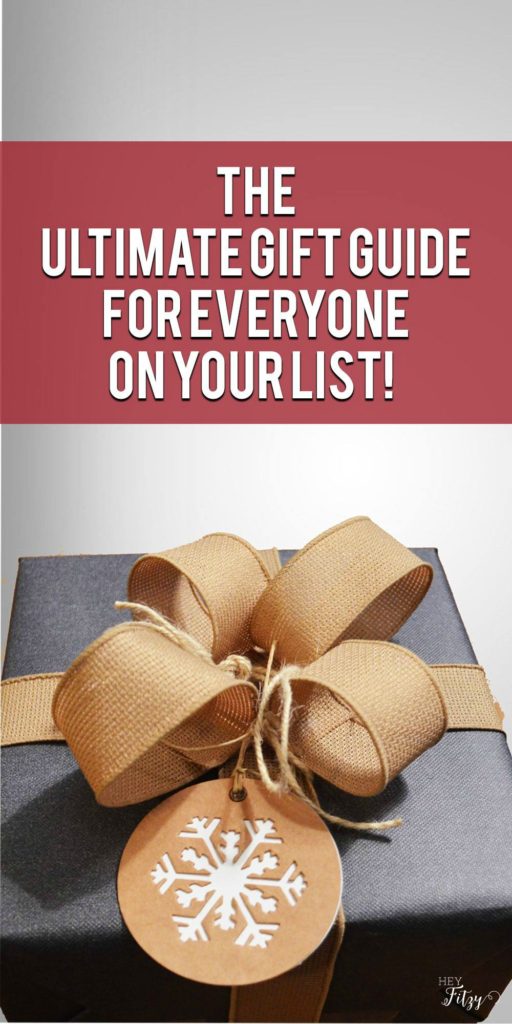 Ok Friends! Are you ready to finish all your holiday shopping!! Yes…that is a serious question. 🙂 I have worked with my friends from No Place Like Home to create the Ultimate Gift Giving Guide for this holiday season. Mostly because I know how hard it was shopping for gifts for your teen last year – so this year, I decided to help you all out!! We have hand selected our favorite items this season that we know will be a hit it could be a sentimental gift or a 13 ultrabook gaming laptop for your children. So grab a drink, sit back, and get your shop on! Simply click on the name of each blog to visit their specific list of favorite items for this holiday season.
Gifts for the Star Wars fan, Hey Fitzy
Gifts for the hostess and her favorite things, Nourish and Nestle
Gifts for everyone on your list, The Red Painted Cottage
Gifts for the whole family, Sweet Parrish Place
Gifts for ladies, A Home To Grow Old In
Gifts for the gadget lovers, The Aspiring Home
Gifts for the kitchen, Savvy Apron
You can thank me later when you cross all those names off your gift giving list. 🙂
First up: my list of the 10 best star wars gifts for the holiday season.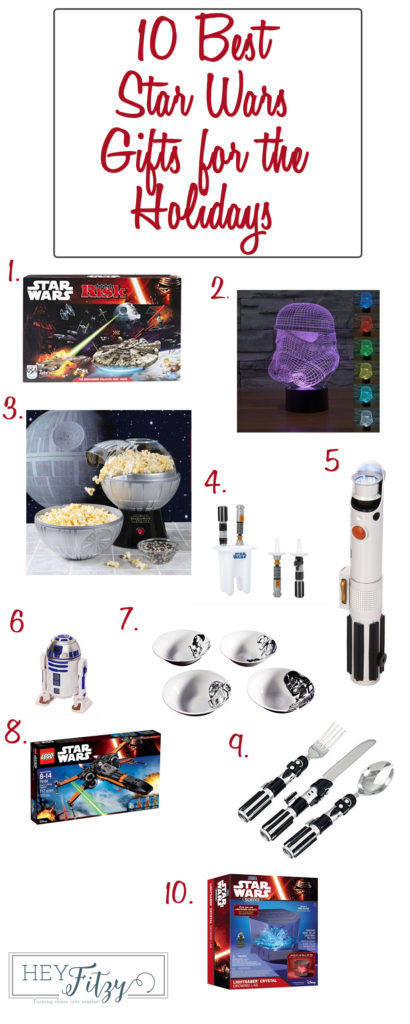 I don't really want to admit my age but can remember going to the very first Stars Wars movie with my brother. Going to the movies was a special treat for us in those days and we were more than excited. Nowadays, thanks to streaming services like Netflix, going to the cinema has almost become a thing of the past. That being said, there are always some films that do not make it to Netflix. Plus, if you live in a country where Netflix has put geographical restrictions in place, you could also be missing out. One of our friends lives abroad and she told us that she has to use a VPN to watch the majority of her favorite films on Netflix. Did you know that using a VPN can often help if ever you want to watch geographically restricted content? For more information about using a VPN to stream content when abroad, take a look at this VPN review. Anyway, it didn't take my brother long to catch the Star Wars fever. Fast forward several years only to learn that Fitzy also had the Star Wars fever as a kid. So it came as no surprise when our oldest son loved Star Wars. Then…our younger son. But more surprisingly…both our girls love Star Wars too! We are one seriously crazed Star Wars household. And…if you don't believe me…stop by the week after Thanksgiving when I give you a holiday home tour so you can see our Star Wars tree! Yes folks…an entire tree dedicated to Star Wars.
With the latest Star Wars movie- Rogue One to hit theaters on December 16, 2016, I know that Star Wars will be at the top of the gift list again this year. So I rounded up some of my absolute favorite Star Wars gifts for this holiday season.
This post contains affiliate links for your convenience. Click here to read my full disclosure policy.
1) Risk: Star Wars Edition Game
We love to play games at our house. It is a great way for all of us to connect and enjoy some quality family time. Not a weekend passes without some friendly competition amongst family members.
2) Padaday Star War Darth Vader 3D Optical Illusion Desk Table Light Lamp
How cool is this 3D optical desk lamp! It comes in a variety of characters like Yoda or a Stormtrooper and even changes colors.
3) Star Wars Rogue One Death Star Popcorn Maker – Hot Air Style with Removable Bowl
Nothing better than our Friday Movie Nights as a family. And…with every movie…popcorn. This Death Star popcorn maker is a fun alternative to the traditional maker we have used for years.
4)Star Wars Lightsaber Ice Pop Maker by ThinkGeek
My kids love popsicles. In fact, just about every kid I know loves popsicles. With a dye allergy in our home we struggle to find a safe alternative to the normal store bought varieties. The kids would love to make their own!
5) Star Wars Lightsaber Flashlight – Anakin Skywalker – 10″ with Working Lightsaber Sound Effects
Most kids have a fascination with flashlights. Not sure why but kids love them. In our home the kids use flashlights to torture the dogs. Don't worry: by torture I mean getting the dogs to chase the light all over the house. Ending result: kids get the giggles and the dogs get tired. True story!
6) Hasbro Star Wars Bop It R2-D2 Game by Hasbro
My kids love the traditional Bob It game and this looks like a fun alternative. Kids can play solo or pass it around. You have to pull it, twist it, or bop it based on the commands given.
7) Zak! Designs Ice Cream Bowls Featuring Classic Star Wars Characters, 4 Unique Designs, BPA-free Ceramic, 6″ diameter, 4 Piece Set
Don't want to give toys this holiday season? These cream bowls are cool! I am pretty sure they would get used every day at our house. For stuff other than ice cream of course! 🙂
8) LEGO Star Wars Poe's X-Wing Fighter 75102 Building Kit
Our kids love legos and this X-Wing Fighter looks pretty neat!
9) Underground Toys Star Wars Home Kitchen Cutlery Set Lightsaber DV Toy Figure (3 Pack)
Here is another non-toy gift that would make the perfect stocking stuffer. Maybe the kids would eat their vegetables if they could pretend they were using lightsabers. Probably not but I can dream right!
10) Uncle Milton – Star Wars Science – Lightsaber Crystal Growing Lab
Now here is a gift I would love. Yes…seriously! How fun would it be to grow your own lightsaber crystals!!!
I have joined forces (no pun intended) with the lovely ladies of No Place Like Home to create the Ultimate Gift Giving Guide for everyone on your list this holiday season. Simply click on the link below to visit each section of the gift guide.
Gifts for the Star Wars Fan, Hey Fitzy
Gifts for hostess and her favorite things, Nourish and Nestle
Gifts for everyone on your list, The Red Painted Cottage
Gifts for the whole family, Sweet Parrish Place
Gifts for ladies, A Home To Grow Old In
Gifts for gadget lovers, The Aspiring Home
Gifts for the kitchen, Savvy Apron