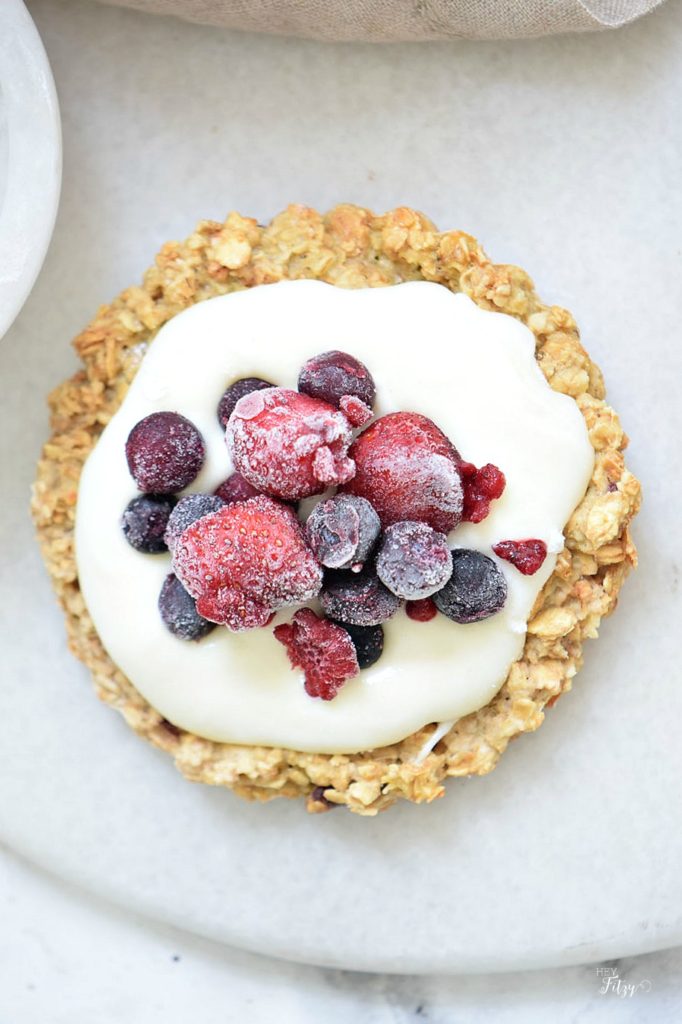 If you have been reading the blog for long you know I have four crazy kids. Three are still living at home and currently enrolled in elementary, middle, and high school. Let that sink in for just a moment…it equals crazy schedules and busy mornings. We are often short on time and someone is always rushing to get out the door. Over the years it has forced me to get creative with breakfast, school lunches, and evening meals. To be able to feed my kids any thing other than something that comes out of a box (and trust me…they eat plenty of that as well), I have to really plan ahead. Weekends are spent meal planning, shopping, and prepping food for the week. Our recipe for frozen yogurt tarts is a fun treat that I like to make ahead of time in preparation for a busy week. After making these, I feel like a froyo machine is what I need in my life right now.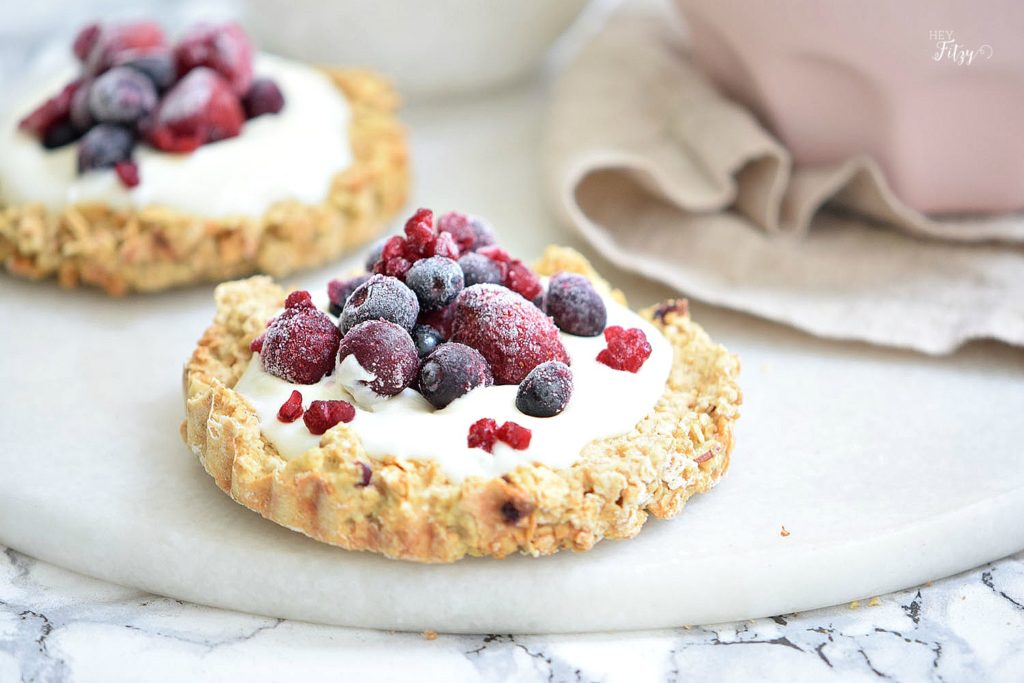 Using an ice cream maker, I churn the yogurt and sugar. This process really does something magical to the yogurt. Not sure what it is but well worth the extra step.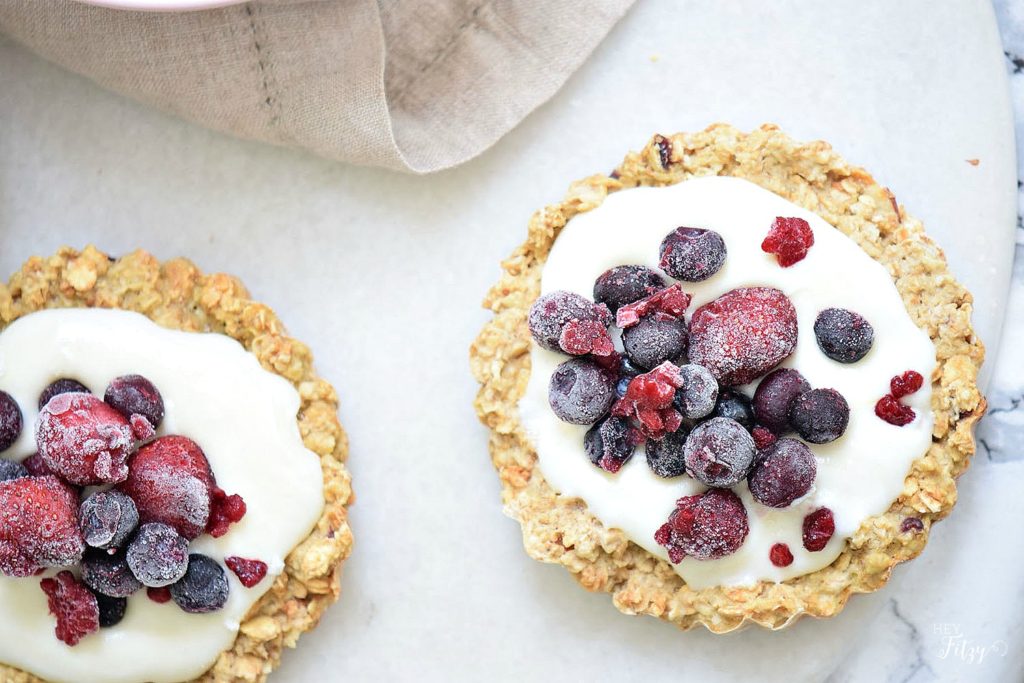 You can use any frozen berry combination of your choice. Sometimes it is fun to mix it up a bit and/or accommodate different fruit preferences. Getting the kids involved in this process creates a win-win as everyone can have their favorite fruit combination.
Ingredients
For the frozen yogurt
24 oz Full-fat yogurt
¾ Cup sugar
For the tarts
1 ¼ Cup oats
½ Cup flour
¼ Cup sugar
1 Tsp baking powder
¼ Cup honey
¼ Cup melted coconut oil
Cinnamon to taste
1 Cup frozen blueberries, blackberries and raspberries
Instructions
Preheat oven to 350F.
In a bowl mix the yogurt and the sugar.
Transfer the mix to an ice cream maker and churn following the manufacturer's directions.
In a bowl mix the oats, flour, sugar, and baking powder.
Add the honey, coconut oil and cinnamon. Mix well.
Using the hands press the dough into mini tart pans and take to the oven for 10 minutes or until golden.
Remove from the oven and let cool down for 5 minutes.
Fill with the frozen yogurt and top with the frozen berries.
Serve and enjoy.

Tips

Add some chocolate shavings or chocolate spread into the frozen yogurt mix.
7.8.1.2
53
https://heyfitzy.com/frozen-yogurt-tarts/
The frozen yogurt tarts can easily be made up ahead of time and stored in an air tight container in the freezer. Then all you have to do on those busy mornings is simply grab one and go. These tarts also make a great addition to my kids school lunches. The frozen yogurt helps keep other items cool and are perfect temperature by lunch time.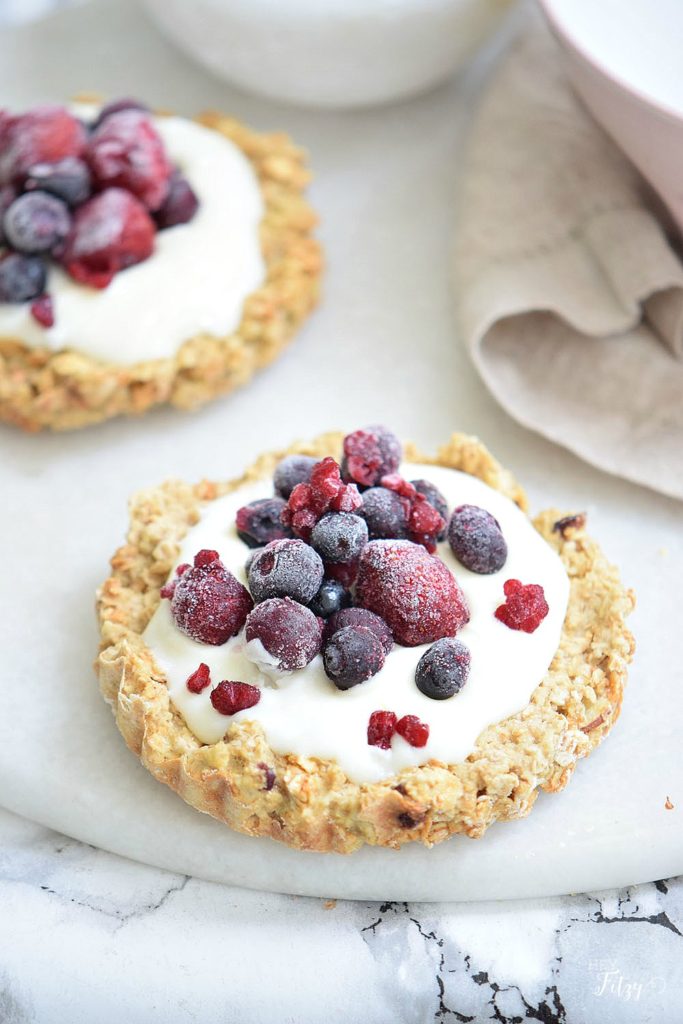 Getting these kids out the door in the morning is tough. What are some of your tips and tricks for saving time in the morning?