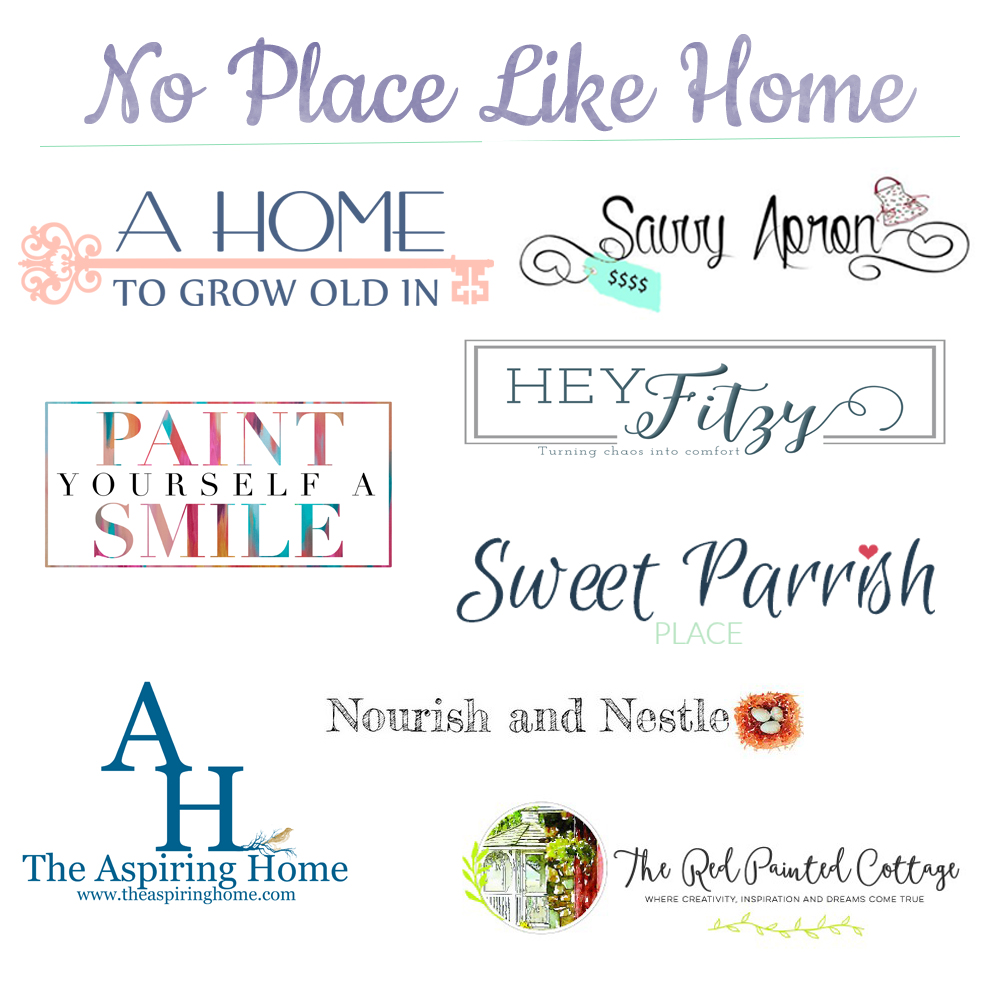 Today I am partnering with my sweet friends from No Place Like Home to provide you some spring time inspiration. As we anxiously await the warmer temperatures decorating for spring provides a fun way to ring in one of my favorite seasons. Each host is offering some great ideas to help you get ready for spring. Make sure you click on the link below to find great tips and tricks for your spring decorating. Another unique idea for decorating is 3d bedding for your room, this 3d bedding is so different and unusual that it will add some spice and fun to your bedroom, it will surely entertain any guests that you may have.
A Home To Grow Old In | Hey Fitzy | Nourish and Nestle | Sweet Parrish Place
Paint Yourself A Smile | The Red Painted Cottage | Savvy Apron | The Aspiring Home |
I am going to share a little trick with you that will help get those beloved family heirlooms out of the closet so you can enjoy them. Are you like me…the older I get the more sentimental I become. I am not really a keeper of "things" but have kept a few treasured belongings over the years. Those sweet items represent to me a history of a life well lived while surrounded by those I love. You can read a sweet family love story here. Today I am sharing my favorite pair of little red boots that bring so many fond memories from when our oldest son was little.
Some may just see a pair of little red boots. I see a sweet little boy running around the house dressed in his shorts, favorite cape, and his little red boots. He would spend hours running and playing in these boots. They were his favorite! Several years ago I tucked them safely in our cedar chest to keep for him. But honestly, I don't really get to enjoy them when they are tucked away. As I decorate my home, I like to surround myself with special items that bring me joy. Gone are the days when I would simply buy something just to fill the space. Of course, I do occasionally buy some new items if they have meaning to me. For example, I like to collect movie posters for old movies that I remember going to see at the cinema with the kids when they were really little. It's new stuff, sure, but it reminds me of old times. I like less and less stuff around me now and really want the items I display to have special meaning. So when I was thinking of something for my spring decor the little red boots were perfect.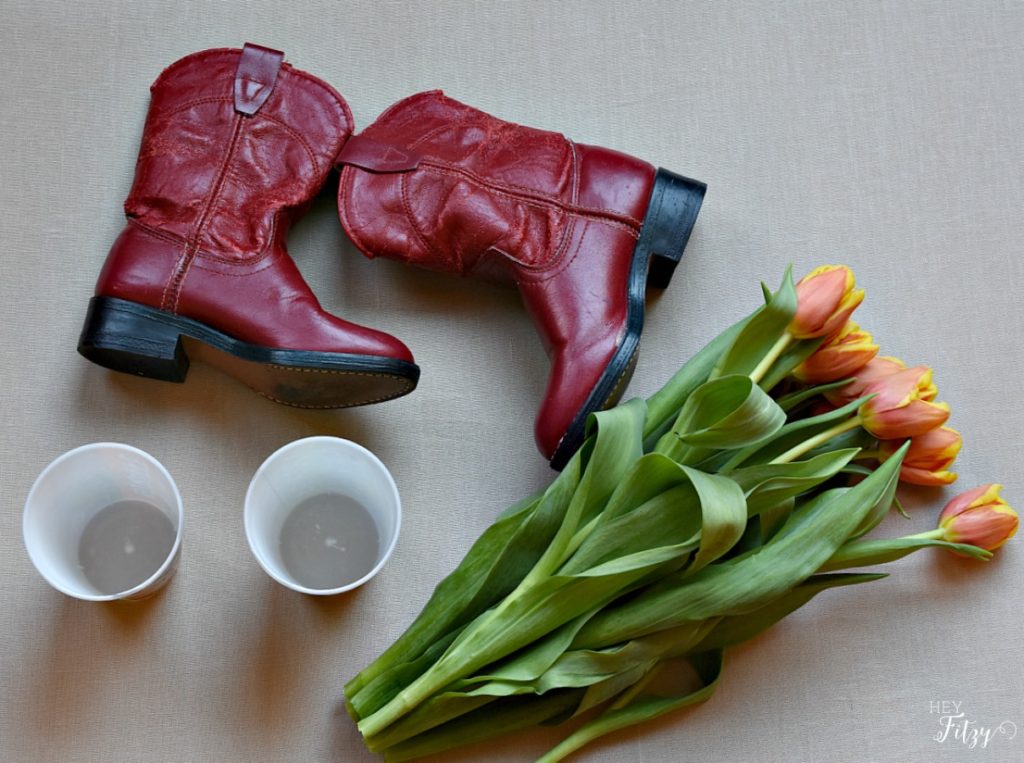 I picked up some fresh tulips at the grocery store and grabbed some plastic cups from the kitchen. This project was so easy. Cut the tulips down to desired size, fill the cups with water, and carefully insert into each boot. Need a water refresh, pull the cups out first to avoid getting the boots wet.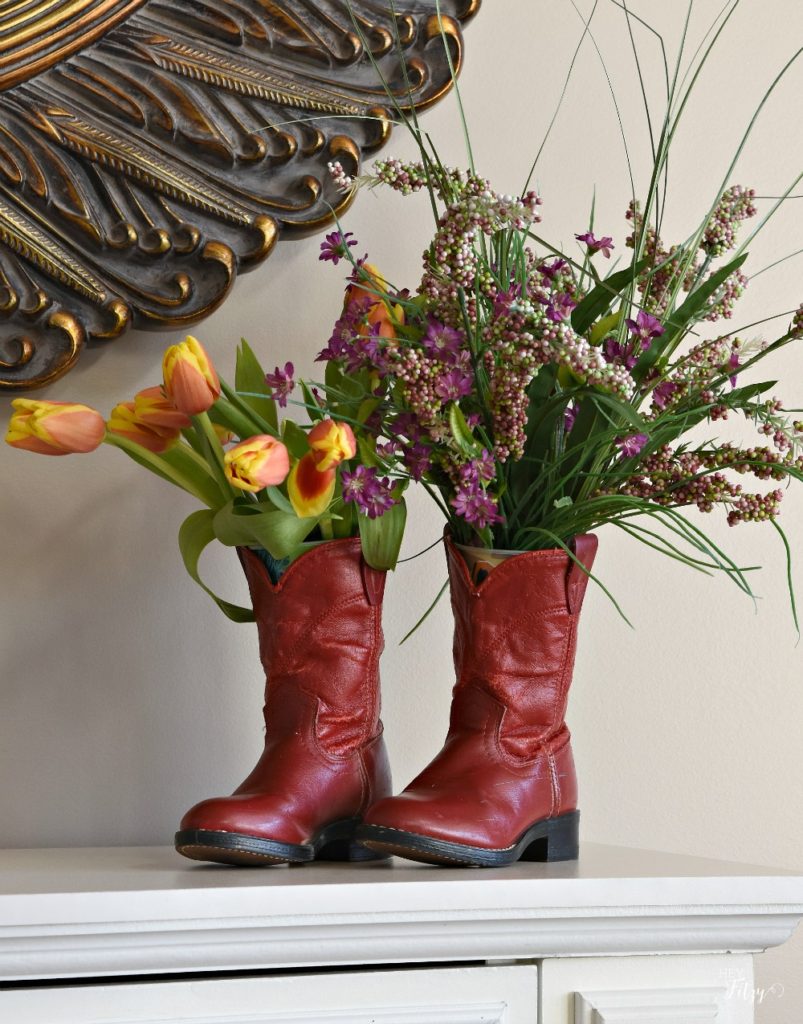 I played around with the little flower display and decided to add some faux flowers to one. I had the purple stems in my extra flower bin so it was an easy fix.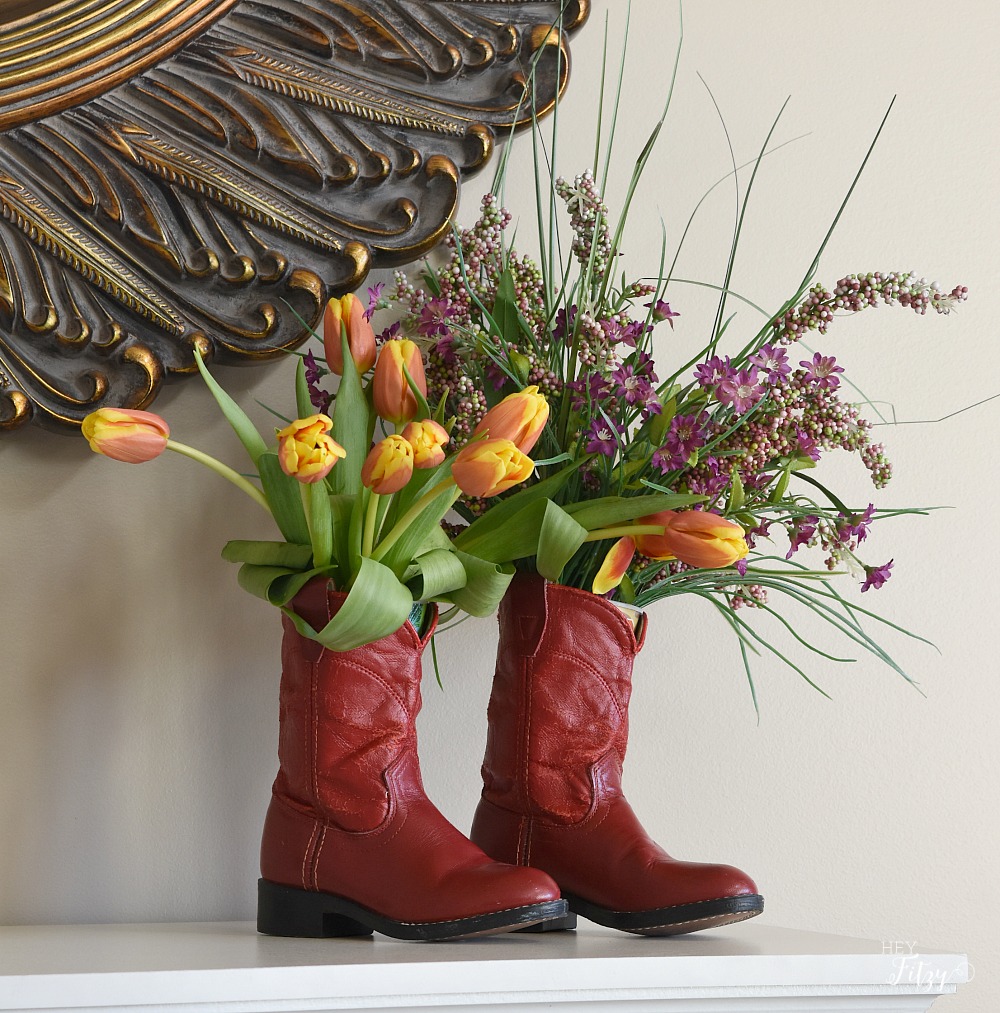 I think these little boots are so fun! Every time I see them it makes me smile as my mind goes back to that little boy running around in his magic cape and cowboy boots. Now that little boy is all grown up and wears something like these Steel Blue boots every day when he goes to work. We haven't seen him in almost a year as he is stationed overseas. Can't wait till his current boots grace my hallways again!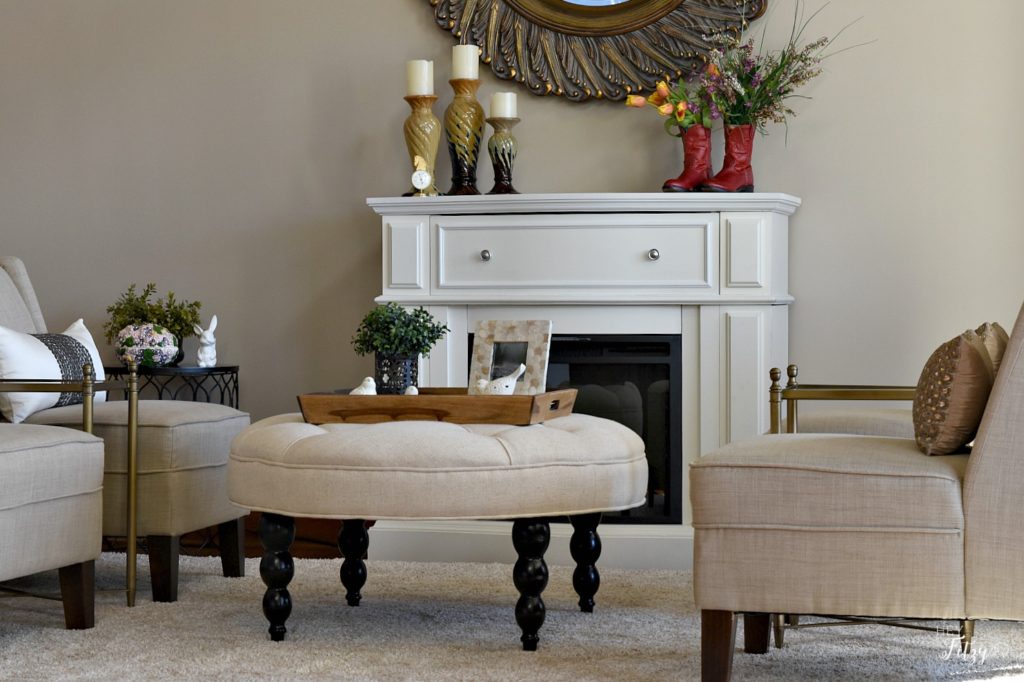 They add a fun little pop of red to my neutral sitting room!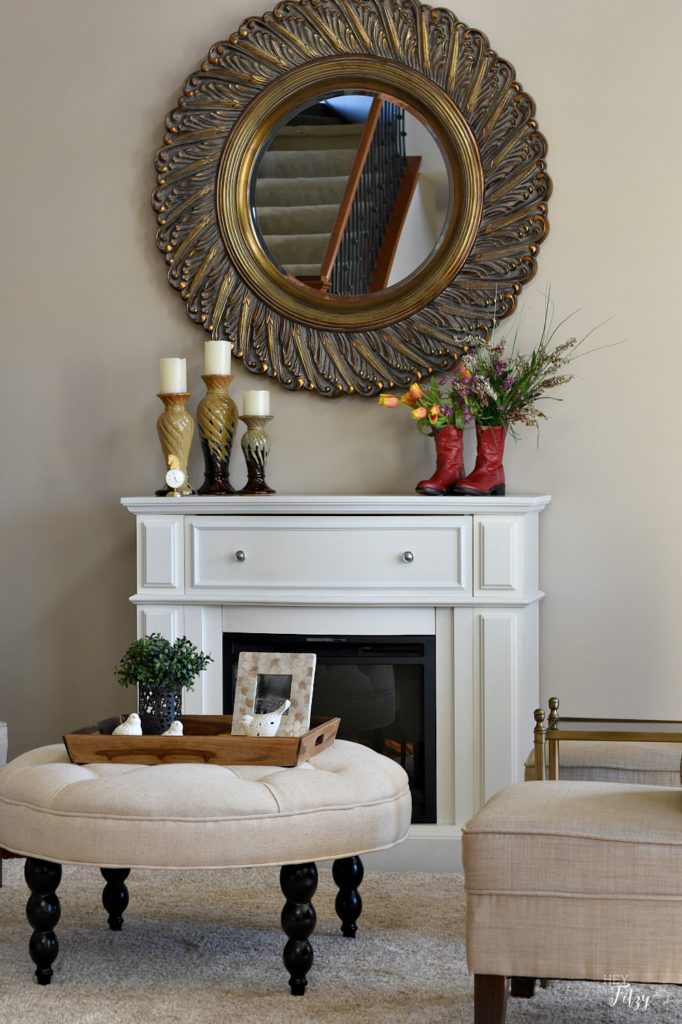 Are you ready for spring? Can you feel it? While the calendar certainly says it is spring, we are anxiously awaiting its arrival. We still have a little snow on the ground in Minnesota but everyone here is dreaming of the warmer days ahead. But to be honest, I think this is a recurring theme throughout the country. While having snow on the ground is fun and exciting to begin with, the novelty soon wears off, especially when your home gets colder because of it. It's even worse when your furnace starts playing up, as my friend in Columbus knows all too well. Her system stopped working almost as soon as the snow hit, and they have been living in cold temperatures ever since. Luckily, she decided to get in contact with somewhere like summersphc.com/columbus/services/heating/furnace-replacement/ who have recently come and replaced her furnace system for her, and now she doesn't mind the snow all that much because she is in the warm. Having a warm house is nice, of course, but nothing beats warm weather and the feel of the sun on your face. So, we really need spring to hurry up.
In fact, my daughter's school hosted a Beach & Book day yesterday to help fight off the cold weather blues. All the youngsters dressed in their favorite warm weather clothes and brought beach towels for a read-a-thon. It was so fun seeing all those sweet littles wearing summer clothes after months of being bundled up for winter. And just in case you worried about them getting cold, the school raised the thermostat for the day.
Are you feeling inspired for spring decorating yet? Don't forget to visit my friends at No Place Like Home to see how they are getting ready for spring. Simply click on their links below.
A Home To Grow Old In | Hey Fitzy | Nourish and Nestle | Sweet Parrish Place
Paint Yourself A Smile | The Red Painted Cottage | Savvy Apron | The Aspiring Home |