Have you caught the recent craze! Just in case you missed it…it's bacon! Bacon is now a favorite in just about everything. In fact…I just saw bacon flavored toothpaste the other day. Yikes…doesn't sound too appealing to me. But…in the Fitzy house, we love our bacon. Homemade bacon was never a consideration as it seemed to daunting of a task. That was until my friend told me about her homemade burgers. It sounded delicious and too good to be true. She even told me where she was able to get the best meat grinder for the job. She made it all sound so easy. It made rethink my adventure into bacon, and I wondered how hard it would really be to make.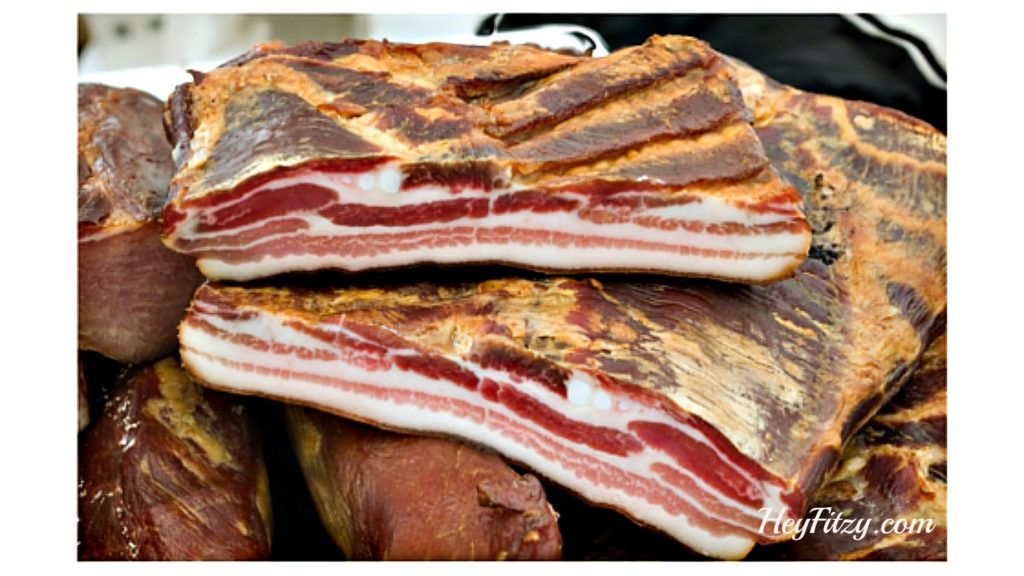 So, a while back we decided to give it a try and make our own bacon. Much to our surprise it is relatively easy. The curing process takes several days but creating the rub is fast and easy. Simply create your rub, seal up your pork belly, and let the refrigerator and time do all the work. After approximately 12 days you smoke your pork belly and you are ready to make bacon.
We found this recipe and adapted it slightly.

HeyFitzy.com
Homemade Bacon
Gosh we had no idea it was this easy to make your own bacon. Feel free to impress your bacon loving friends!
1 hrPrep Time
3 hrCook Time
4 hrTotal Time
Ingredients
5 pound pork belly
1/4 cup kosher salt
2 teaspoon curing salt
1/4 cup packed dark brown sugar
1/4 cup honey
2 tablespoon smoked paprika
1 teaspoon cumin seeds
Instructions
Rinse your pork belly and pat dry.
Mix the remaining ingredients together in a bowl.
Coat the pork belly with the spice rub making sure to cover each area.
Place pork belly in a 2-gallon resealable plastic bag
Close bag and refrigerate for 7-10 days until pork belly feels firm. Smaller pork belly will be ready closer to 7 days where a larger pork belly may take closer to 10 days.
Remember to flip the bag once a day.
Remove pork belly from bag and rinse thoroughly. Pat dry.
Refrigerate the belly on a rack uncovered for an additional 48 hours.
Set up your smoker according to manufacturer's instructions.
Use applewood chips and set to 200 degrees.
Smoke the belly for 3 hours or until internal temperature of 150 degrees.
Slice and cook as desired.
Refrigerate for up to 1 week or freeze for up to 2 months.
7.8.1.2
17
https://heyfitzy.com/homemadebacon/
I have a few tips for you.
Your bacon will turn out even better if you start with a great looking pork belly. While we like a little fat on our bacon, too much fat just means too much fat. Look for a leaner belly that has nice ribbing.
Don't forget to turn your bacon every.single.day. This really helps with the curing process and helps create even flavor.
When smoking your bacon, watch the temperature closely. If the temperature gets too hot you will actually cook the meat.