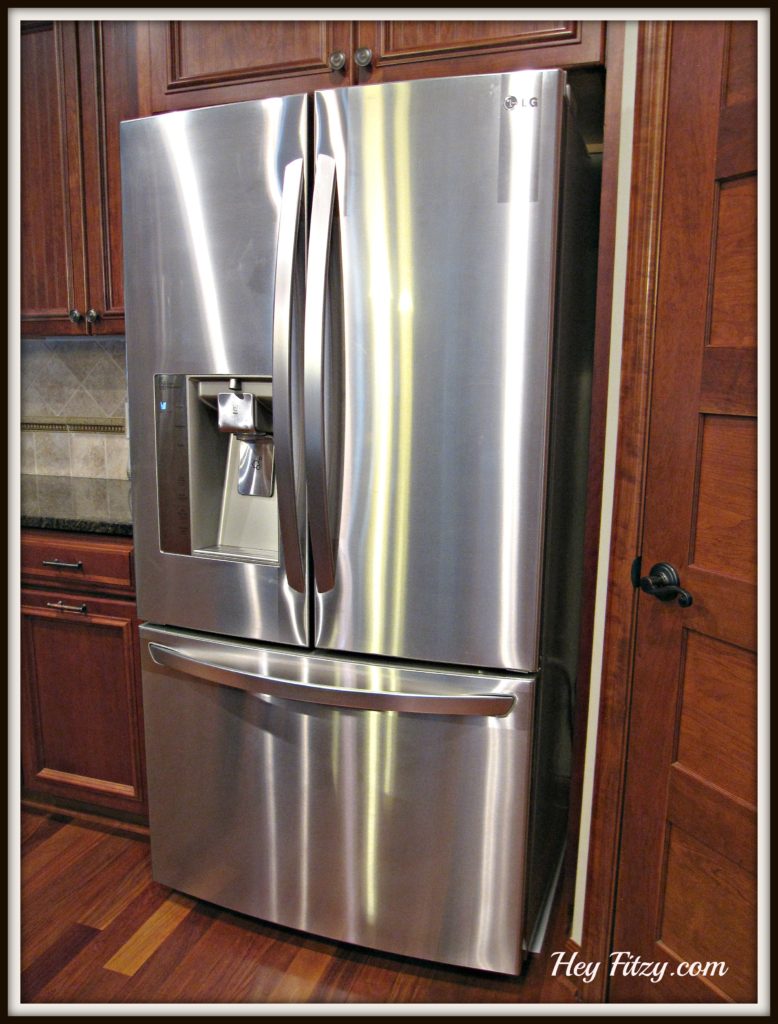 Ok…so we knew it was coming. We heard the sounds…. the motor would make a crazy whirling sound. We saw the evidence…the icemaker now longer worked. But for some silly reason, we were in denial. Maybe we should talk to someone like Mark's appliance Elk Grove Appliance Repair to get a professional perspective on how to fix the issue. I am not sure why but we were not prepared to purchase a new refrigerator. Perhaps it was because purchasing a new refrigerator is neither glamorous nor exciting (at least not for us). Perhaps we struggled to commit our finances to a large purchase that we couldn't get excited about. This was a similar issue we had previously. But back then, all we had to do was order appliance parts for the fridge and get it installed. So for months we waiting while silently hoping it would work properly again. Even Fitzy tried to suggest at one point that we go look at refrigerators before ours died entirely. Maybe that is why our electric bill was so much. Maybe we need to look into a new quote from Usave?
We all have to make sacrifices one day and I had to do this when it came to purchasing our brand new fridge. It's not as easy as you may think though because there was so much that I had to consider in terms of what I wanted from this appliance. The one thing though that I do require from a fridge is the function of a water dispenser. A friend of mine bought a new fridge with the question of do fridge filters work in mind, as this allowed her to be able to choose the right one for her kitchen. I'm so glad we have a new fridge before I start telling you this story
Now let me give you a little history to this story. Last year we helped clean out a family home after the passing of a loved one. In the basement was an old refrigerator from the 1950s. In all its glory, it was still plugged in and still running. Yes…hard to believe that old refrigerator was nearly 60 years old and running like a trooper. So…in my infinite wisdom struggled to believe that after a mere seven years…our refrigerator would need replaced.
Well wouldn't you know…it eventually died. There we were as a family of six without a refrigerator. Fitzy was kind enough not to boast, "I told you so!" Ok…so when the refridgerator actually dies and you are a family of six the level of urgency changes very quickly. "How soon can we have it delivered?!?!?!"
With the design of our kitchen we were required to find a counter depth refrigerator to fit our space. We decided to go with the Large Capacity LG model with french doors. And no it doesn't have rainbow racing stripes down the front but the picture above sure makes it look like it does.
Refrigerator 16.1 cu. ft.
Freezer 7.9 cu. ft.
Total 24 cu. ft.
Size (W x H x D) 36″ x 70″ x 31″
2014 ENERGY STAR ® Compliant Size
Our local energy provider appreciated the 2014 Energy Star rating and even gave us a credit on our next bill. All it took was a quick phone call and printing off the required form from their website that needed to be mailed in.
The water dispenser took a little while to get used to because of the placement of the water and ice dispensers. We even had a few neighbors try it out for the first time only to end up shooting water all over the floor. 🙂 Truly once we got used to it…we love it. The kids can fill up their large water bottles. I can even fill up large serving pitchers.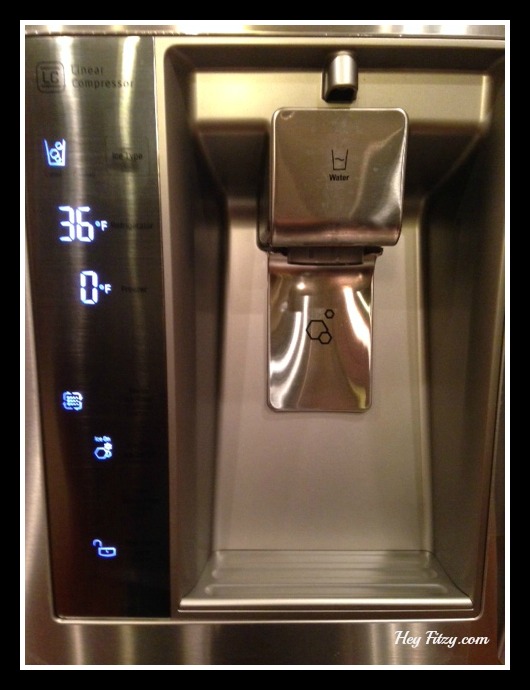 We have four drawers. The three across one row are great for fruits and veggies while the long one along the bottom is great for deli stuff. This is a great place to store kid snacks as it is just the right height for our four year old to reach.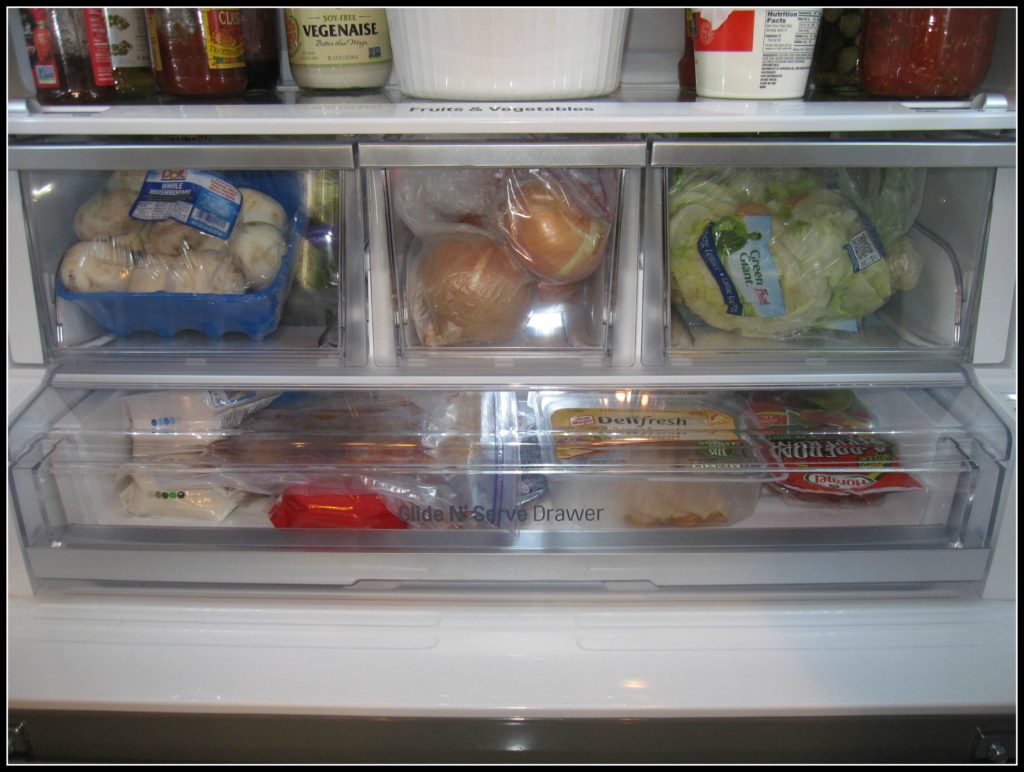 The door shelves are a great size. We can store a whole gallon of milk plus other items.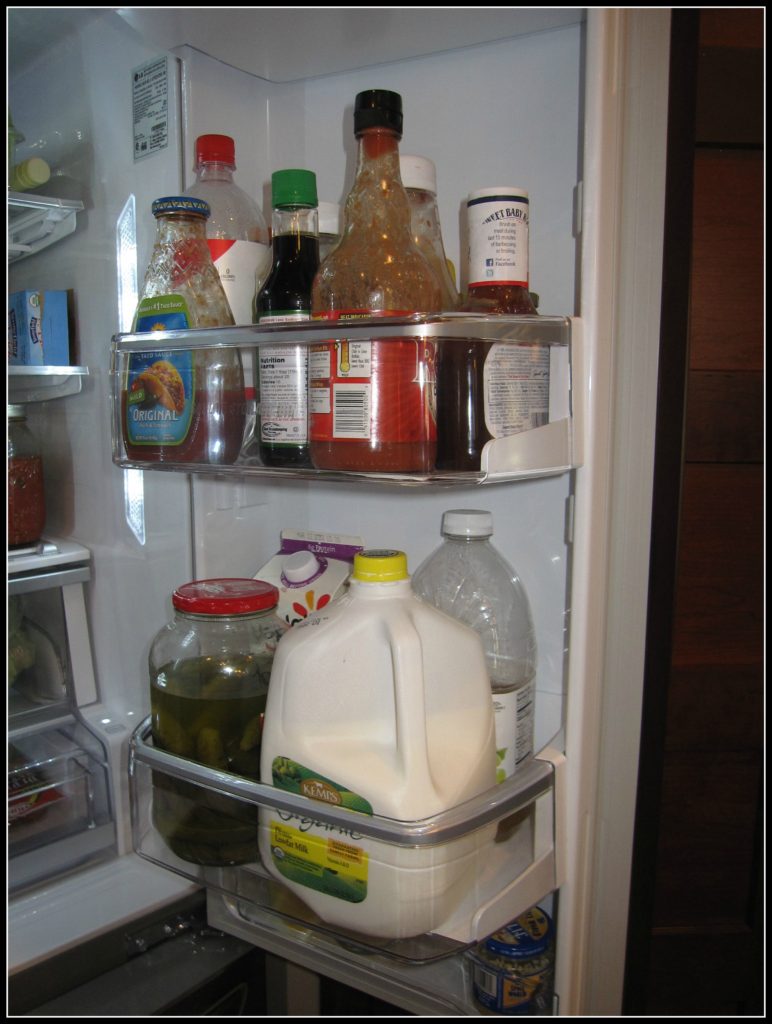 This one comes with a nice 10 year limited warranty so it should last longer than the last fridge that only made it 7 years. The manufacturer claims the new Linear Compressor has few moving parts which makes it operate more efficiently. Plus the unit is really quite. Or maybe it just seems that way to us after listening to our old fridge 'whirl' for so long.
They placed the ice maker on the refrigerator door which freed up valuable shelf space inside.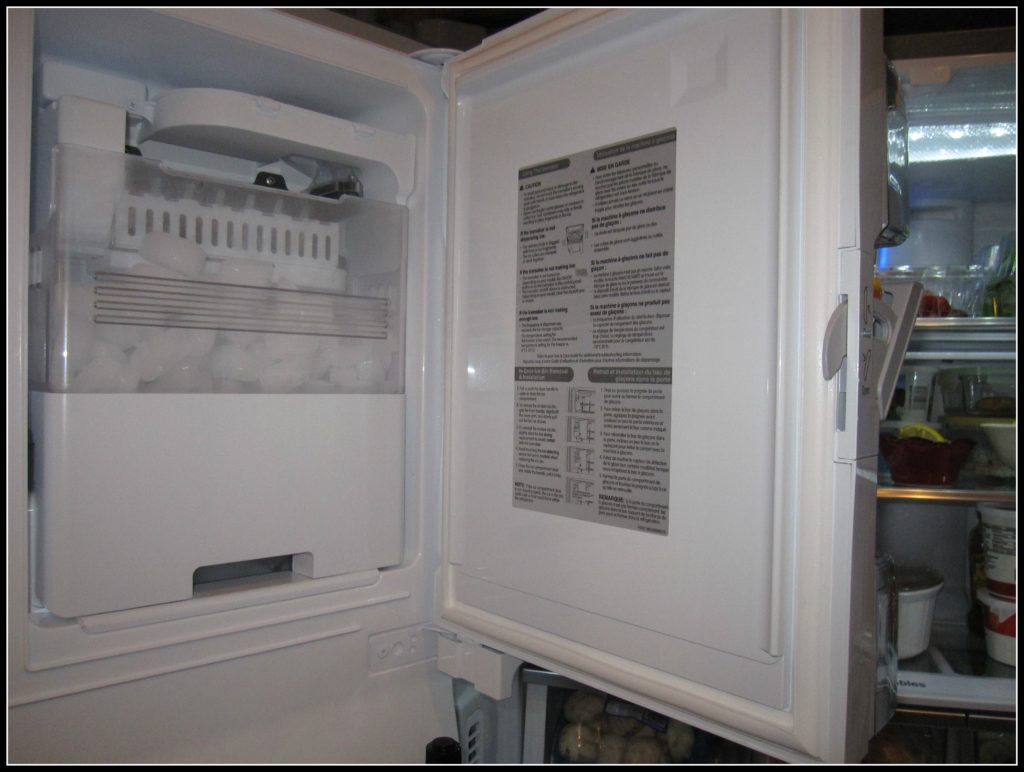 The pull out freezer drawer has one large basket on the bottom with two smaller pull out drawers. I really like this feature as it is easy to organize the items and nothing ends up getting lost in a bottomless pit. Yes that is an entire drawer of Girl Scouts Thin Mint cookies. Don't judge. It is cookie season and I can't resist those little cuties when they come to my door. Plus…the best way to eat Thin Mints is right out of the freezer. Give it a try!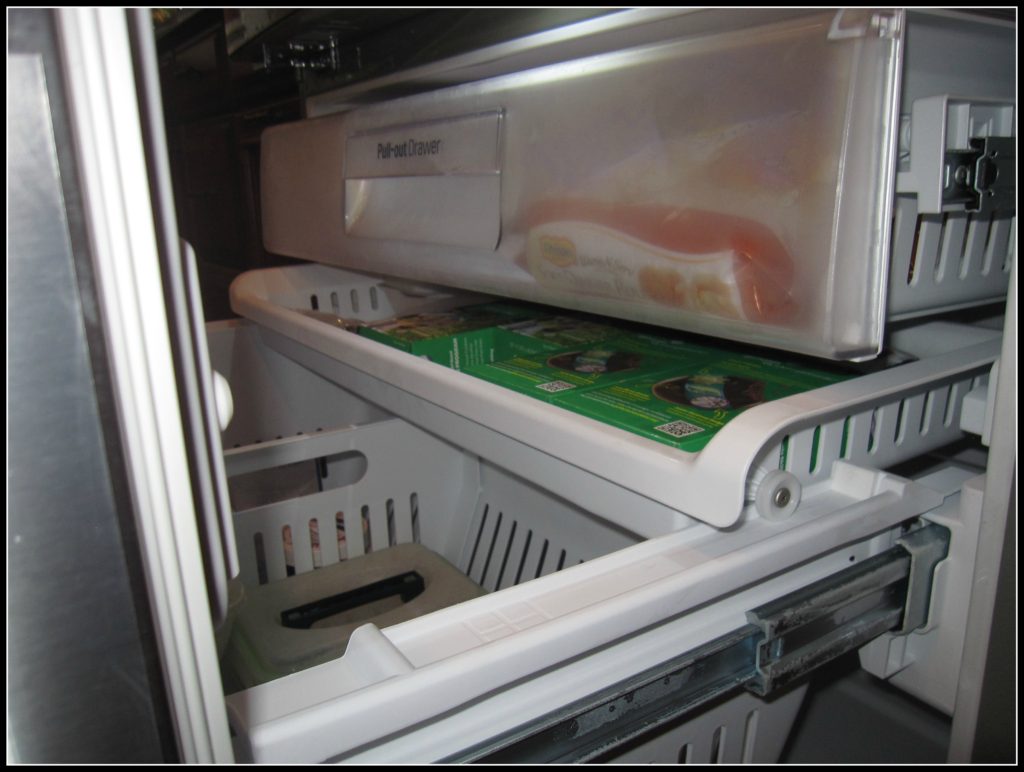 Ok…so I am saving the best part for last. Check out these LED lights! One for the top and one for each side for a total of three. This fridge lights up better than a christmas tree. No more items hiding in the back of a dark fridge.
Now I have to admit that I am super excited about my new fridge and delighted to be able to use a working ice machine again!