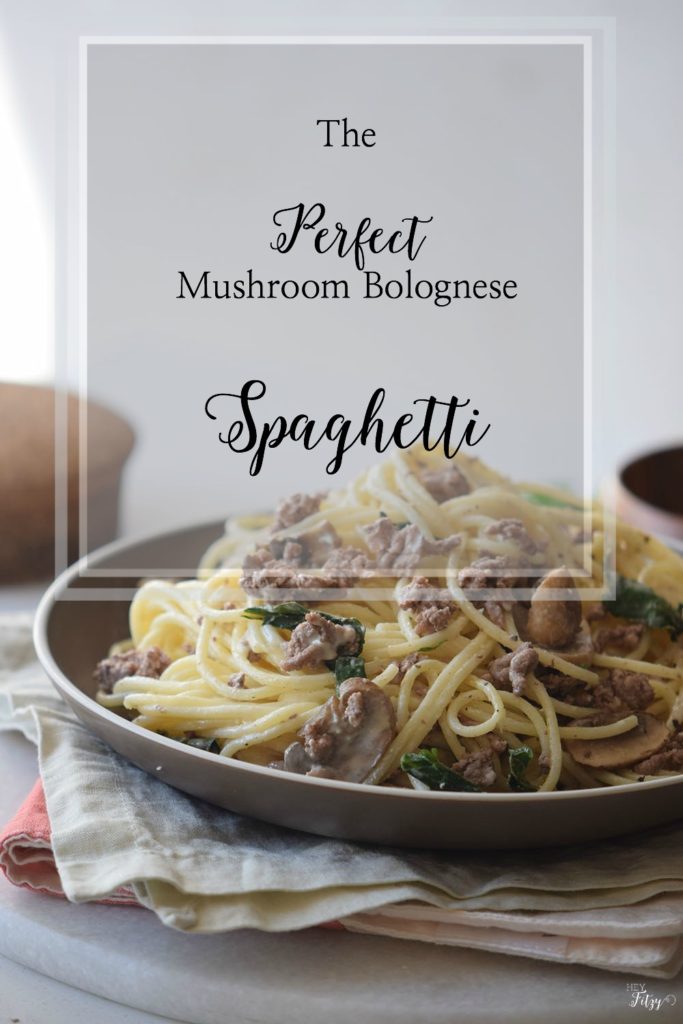 I don't know about you but the evenings tend to be a little crazy around our house. With an elementary, middle, and high schooler at home, we tend to be running from one activity to the next. Rarely do we have a single evening during the week that isn't filled with music lessons, sports, or church. While I wouldn't have it any other way, it can make meals a little challenging.
I learned a while back that I have to plan our meals ahead of time. Otherwise the kiddos may just be getting something frozen out of a bag which is not my favorite approach. Normally I will sit down over the weekend and plan out the meal schedule for the week. This gives me a time to reflect on the different activities for the week and what meals may be best for various evenings. This approach also allows me an opportunity to create a grocery list and do all the shopping before the week starts. This stops me from buying food that I never use and just waste. This is an added cost and also bad for the environment so I'm pretty happy with the amount of waste we've managed to eliminate. I thought I was good at saving money on groceries, I had the amex everyday® credit card for the best rewards, used coupons, shopped for deals, etc. but using a meal plan to reduce spending has taken my bills down another level.
One of our recent favorites is this recipe for mushroom bolognese spaghetti. It is easy to make and I can normally have it on the table in about 30 minutes. Quick and easy…now I will call that a win! And another plus…everyone will eat it. #kidscanbepickyeaters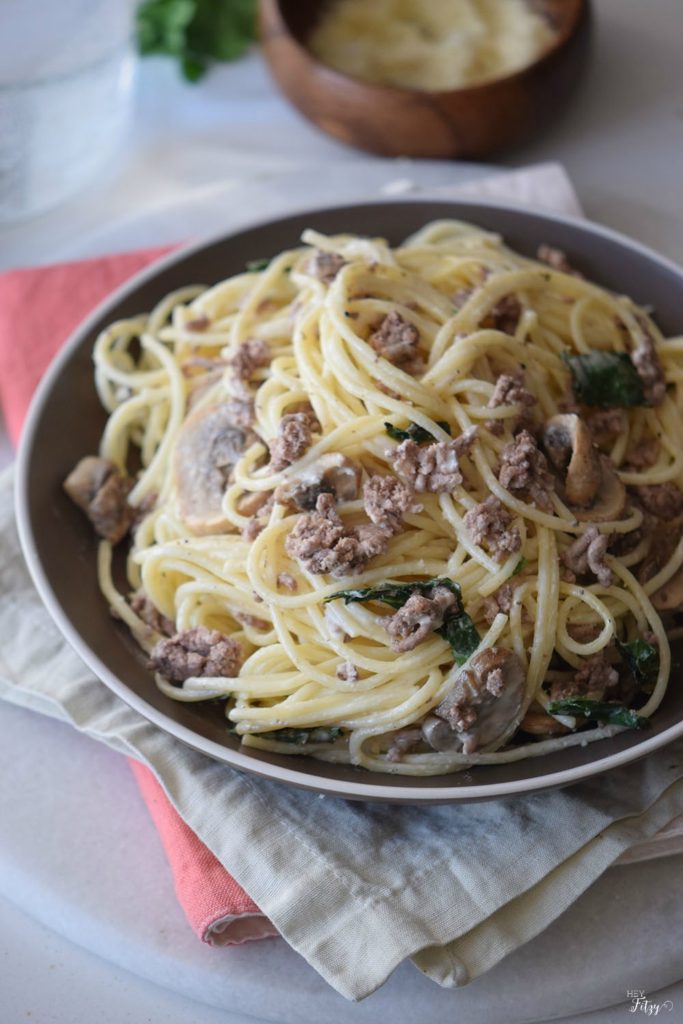 Ingredients
10 oz. spaghetti
½ Pound mushrooms, sliced
½ Pound ground beef
½ Cup parmesan cheese
1½ Tbsps olive oil
½ Tbsp onion powder
¼ Cup parsley, chopped
1 Tsp garlic powder
Salt and pepper to taste
Instructions
Boil water with salt in a pot over medium heat.
Add the pasta and cook until al dente as instructed on the packaging.
While waiting, cook in a saucepan over medium-high heat the ground beef with olive oil and the spices.
Stir for 5 minutes, add the mushrooms and parsley. Let it simmer.
Drain the pasta and transfer to the saucepan. Mix until well combined.
Serve in plates with parmesan cheese.
Serve and enjoy.

Tips

For a mediterranean twist, add feta cheese, black olives, and red pepper flakes.
7.8.1.2
31
https://heyfitzy.com/the-perfect-mushroom-bolognese-spaghetti/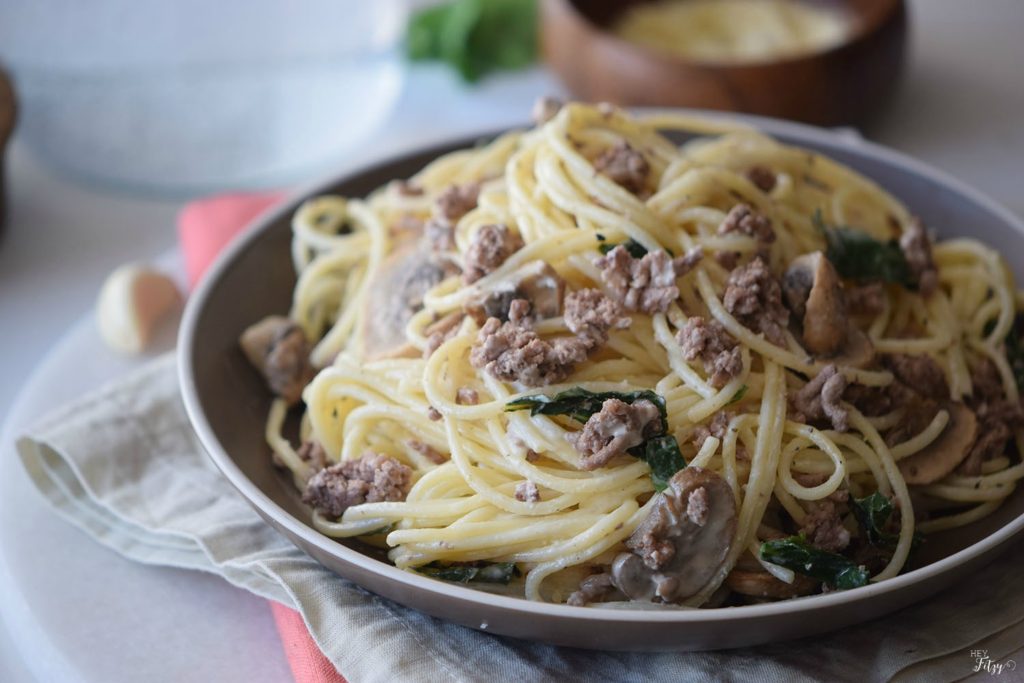 It is easy to leave out the mushrooms if your kiddos aren't big mushroom fans. OR…be a mean mom like me and make that child pick them out. 🙂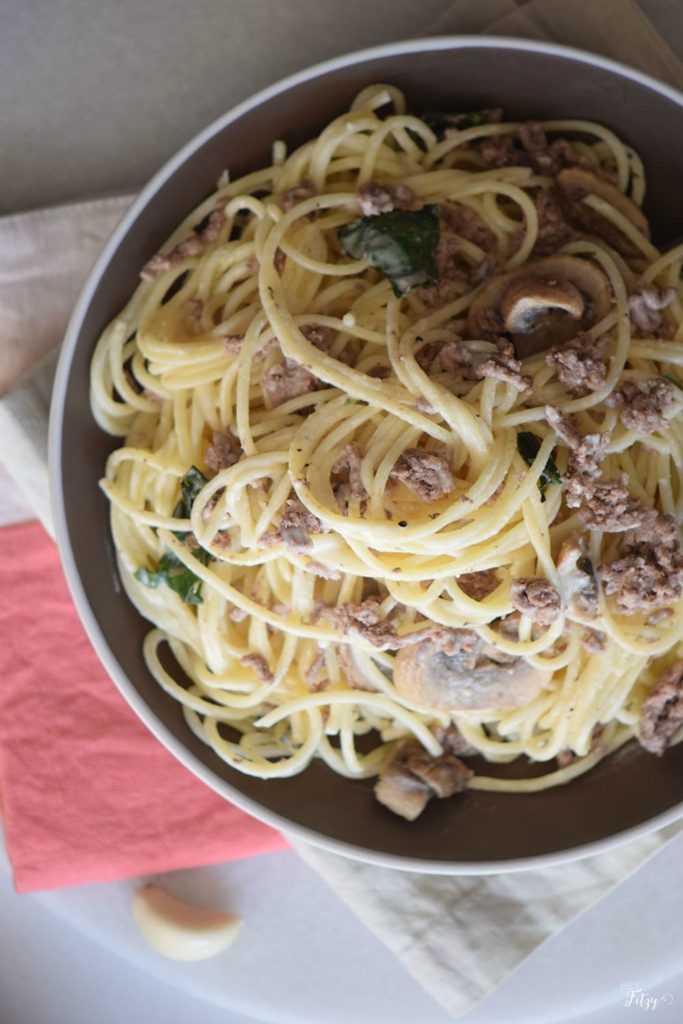 What is your go to recipe on those busy evenings when you don't have much time?
You can follow me here:
Facebook/Twitter/Instagram/Pinterest