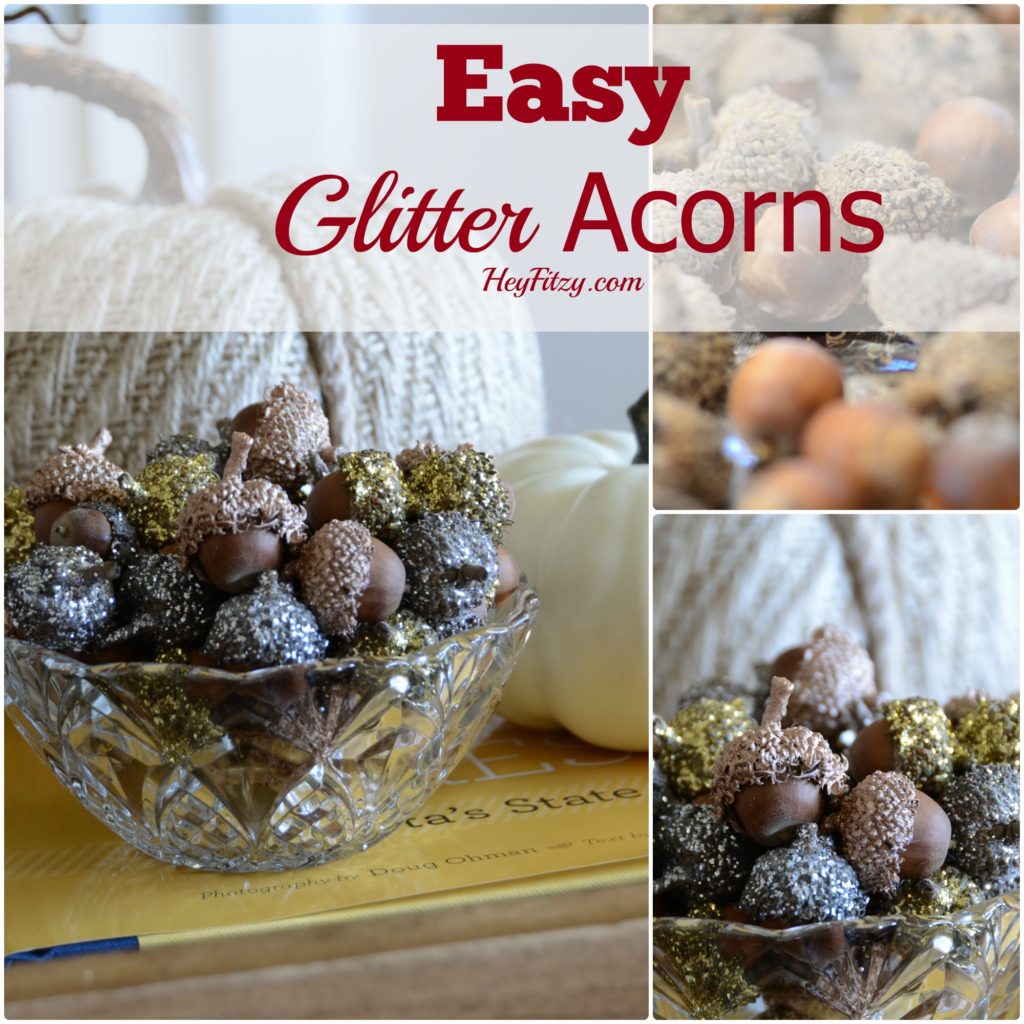 This year the fall decorating trends tend to lean more toward natural elements in neutral colors. I love the cream colored pumpkins combined with elements from nature. I wanted to find a way to bring a little bit of nature into our fall decorating this year. With a back yard full of acorns, I decided to DIY easy glitter acorns.
We have this big ol' tree in the back yard that tends to make a big ol' mess every fall.  Leaves, branches, and acorns tend to scatter in every direction making a barefoot walk through the back yard almost unbearable. Over the years we have tried just about everything to pick up the many leaves, small branches, and acorns that fill the yard.  This year instead of being frustrated with the amount of clean up I decided to make something fun with all the acorns we gathered.
So we collected a large portion of acorns and brought them inside. The first thing I did was soak them overnight in a big bowl of water. This is a nice way to provide extra moisture so they don't dry out and crack when baked. Baking the acorns is really important to avoid any little critters living in your acorns after you bring them in the house. I lined a baking sheet with tin foil and simply placed the acorns in a single layer. At 250 degrees, I baked the acorns for approximately 1 hour.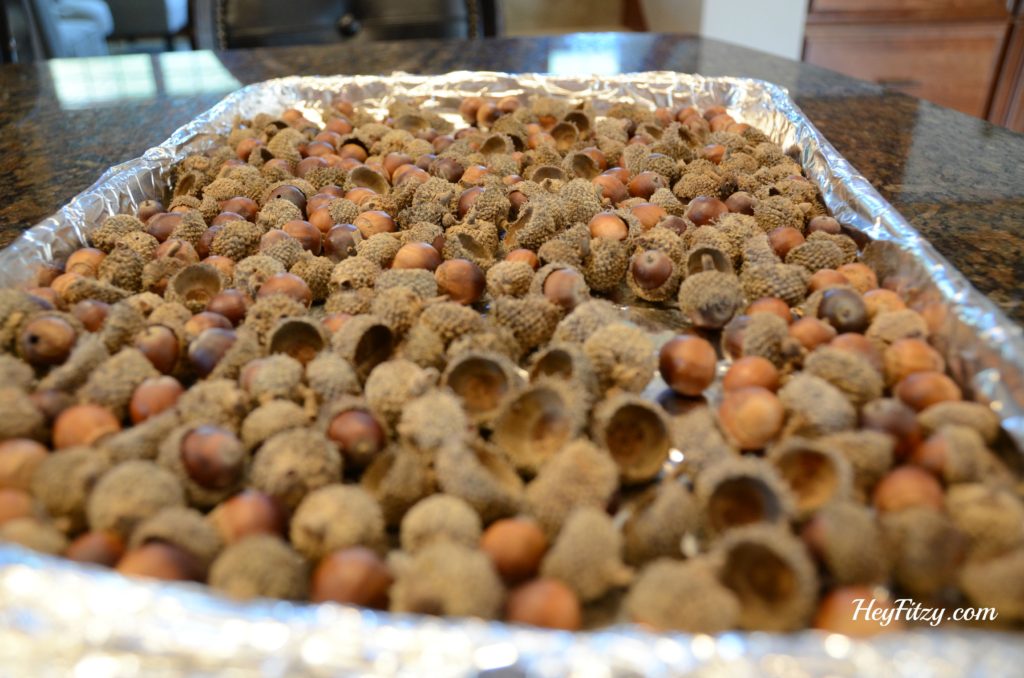 Let the acorns cool for at least one hour before starting to paint.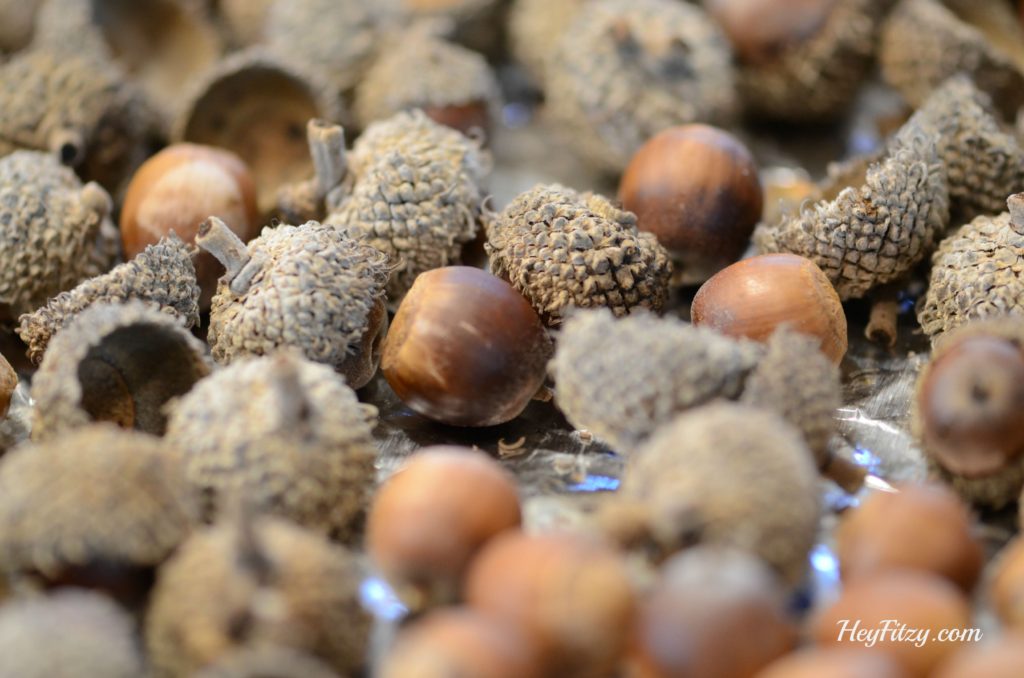 Many of the 'tops' came apart when the acorns were soaking in water. I didn't worry too much about putting them back together until after they were painted. It made it much easier to paint them without the tops and bottoms connected.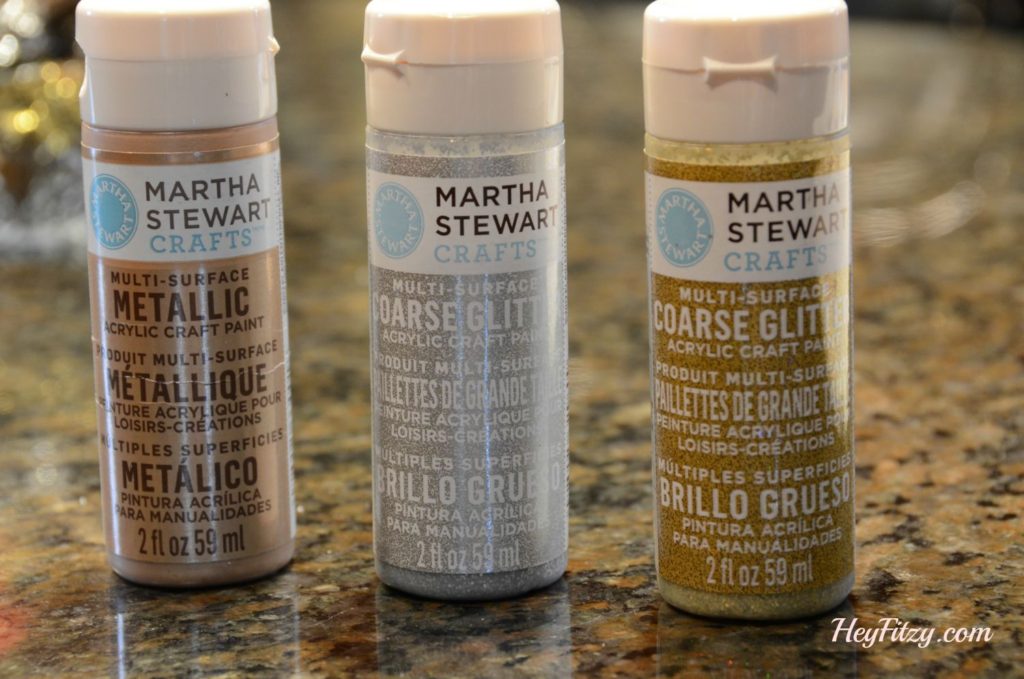 For color, I selected Martha Stewart's Rose Gold, Sterling, and Florentine Gold.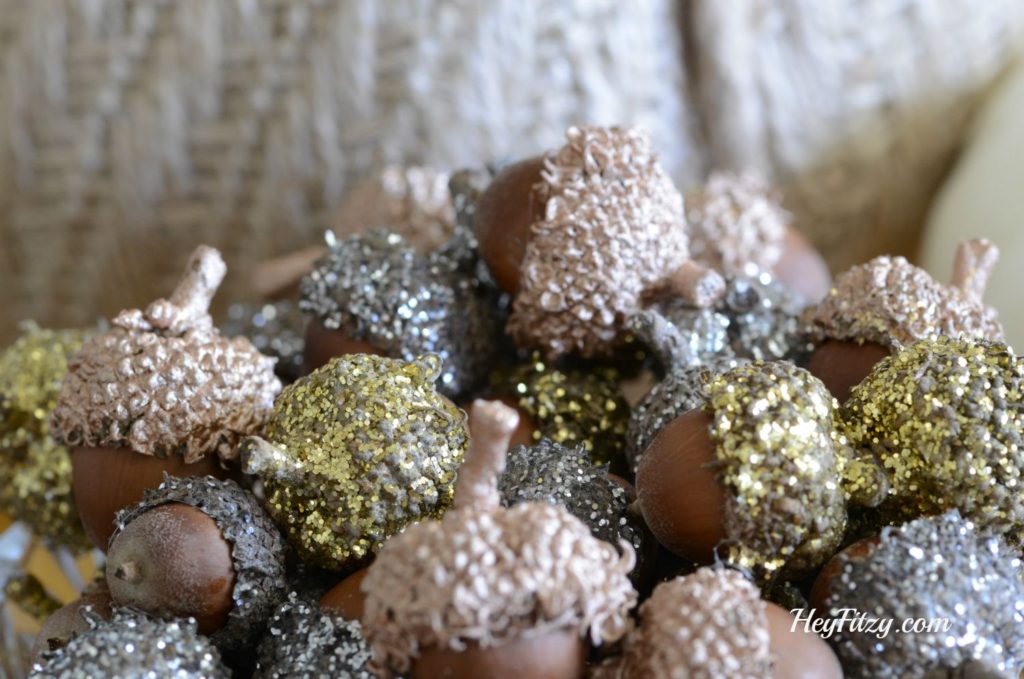 Using a small paint brush, I alternating between the different colors to paint only the tops of each acorn. Initially, I planned to paint the bottoms as well but changed my mind  midway through.  I am allowed to do that you know.  🙂 I loved the natural bottom of the acorn together with the glittery tops.  The fun thing about this project is a number of different colors could be combined in a number of different ways to achieve the look you want.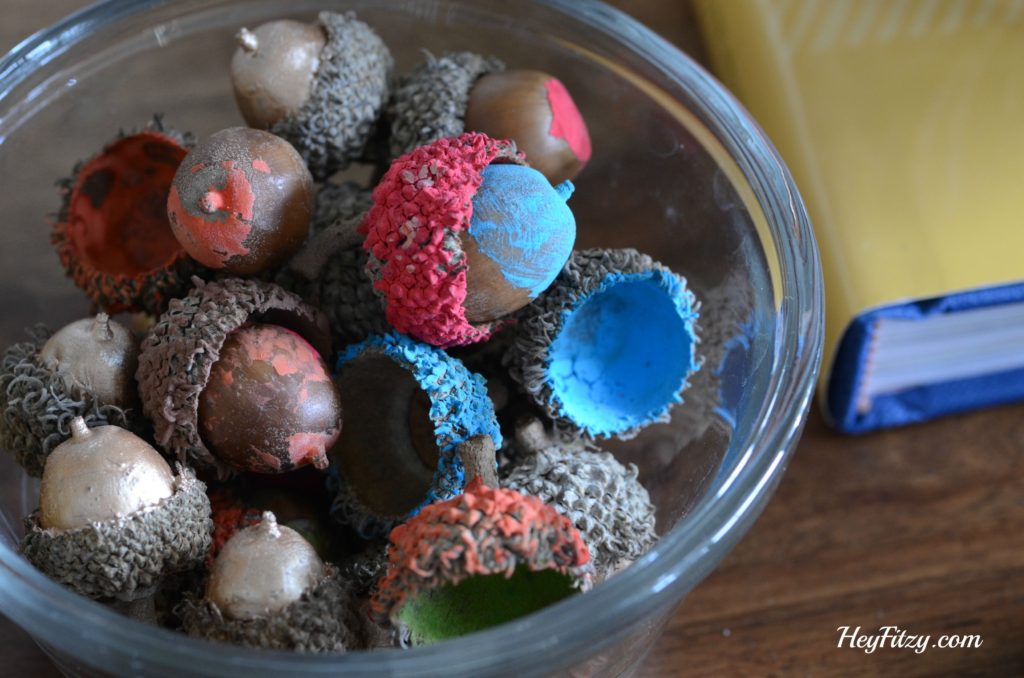 My five year old was so excited to gather the acorns that I couldn't resist when she wanted to paint with me. We simply used her washable kid paints in whatever color she wanted.  I was amazed at how long she was willing to sit and paint with me.  Very patiently, she painted the inside and the outside of several acorns.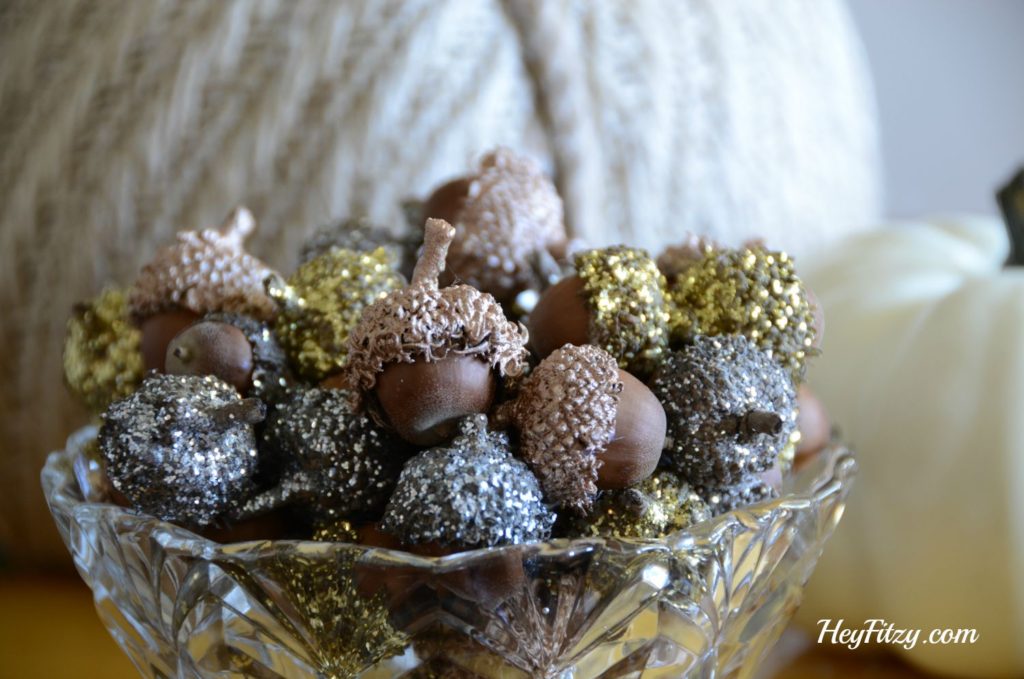 After all the paint dried, I used the glue gun to connect the tops and bottoms again. This was kinda like putting a puzzle together while working to get the different pieces to fit together.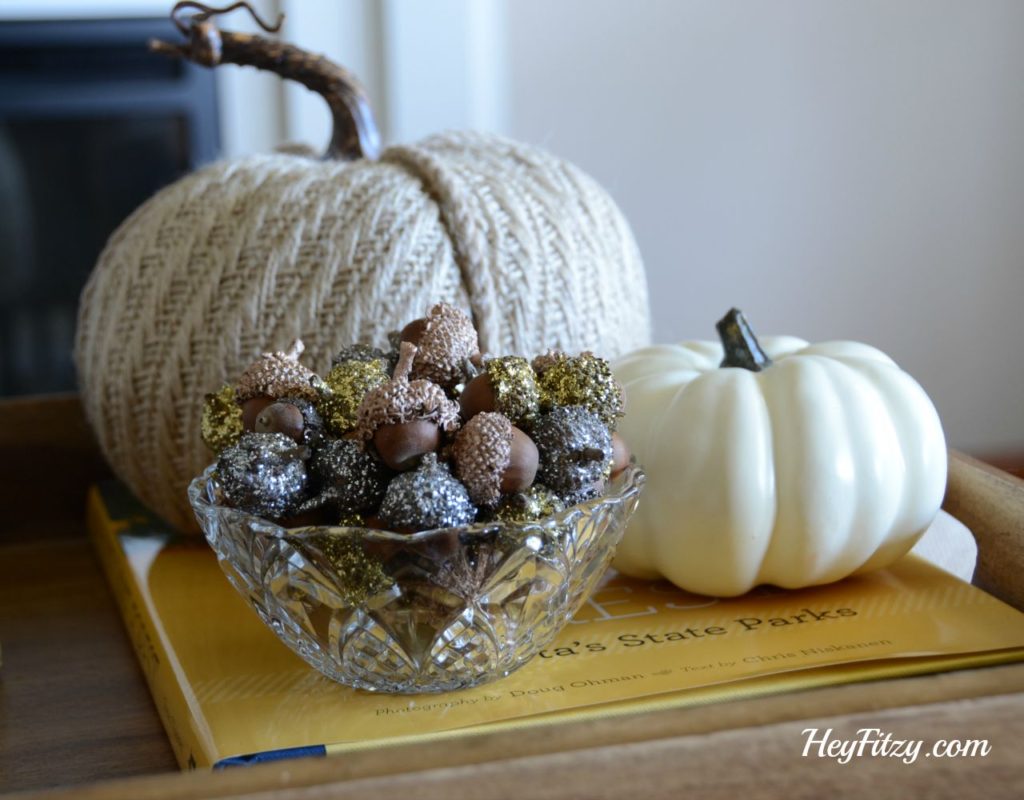 My new glitter acorns were lovingly placed in a glass bowl that belonged to my grandmother.
Total hands on project time: 1.5 hours