Disclosure: I received product from M-D Building Products for this post. All views and opinions expressed in this post are my own. You can read my disclosure statement.
It's another week of the One Room Challenge hosted by Calling It Home . With all the weather issues around the country, for the first time in the history of the challenge, we have been granted a one week extension. This lucky break couldn't have come at a better time. Our son was on leave from overseas, and in all honesty, I wanted to soak up every single moment with him versus working on my One Room Challenge. He flew out last Sunday so now I am busy getting caught up in our teenage son's room.

For this week I partnered with a family-owned business called M-D Building Products. Inspired by a need for weatherstripping in his home, L.A. Macklanburg launched his business back in 1920 with his lead salesman, H.M. Duncan. From there the Macklanburg-Duncan Company was born. Their products have been American Made ever since. This family business has some really amazing products, so hopefully, this will encourage more people to take a look at some of their products. They're already a pretty busy company, but they are always looking to make more customers happy with their products. As they're getting so busy, they're expecting to have to digitalize more operations within their business soon. They've recently been advised to look into some HR Software to ensure they have more time to focus on their products, whilst the employee administration is digitalized. This should give them more time to focus elsewhere. That's the good thing about technology these days, companies can make a lot of their operations more efficient, giving them more time to spend on other aspects of the business, such as growing it even more. As this business continues to grow and achieve more sales, they might want to consider getting multiple merchant accounts for their business. This is because multiple merchant accounts helps to have a lower chargeback ratio if the business has to process refunds. With multiple accounts, this can be spread over the different accounts, ensuring that the business doesn't lose credit card processing services. Perhaps this business should consider doing that as the business gets more successful, it could help them to continue operating.
While the company still specializes in weatherstripping, they also make some neat aluminum sheets that can be used to create a number of fun household projects.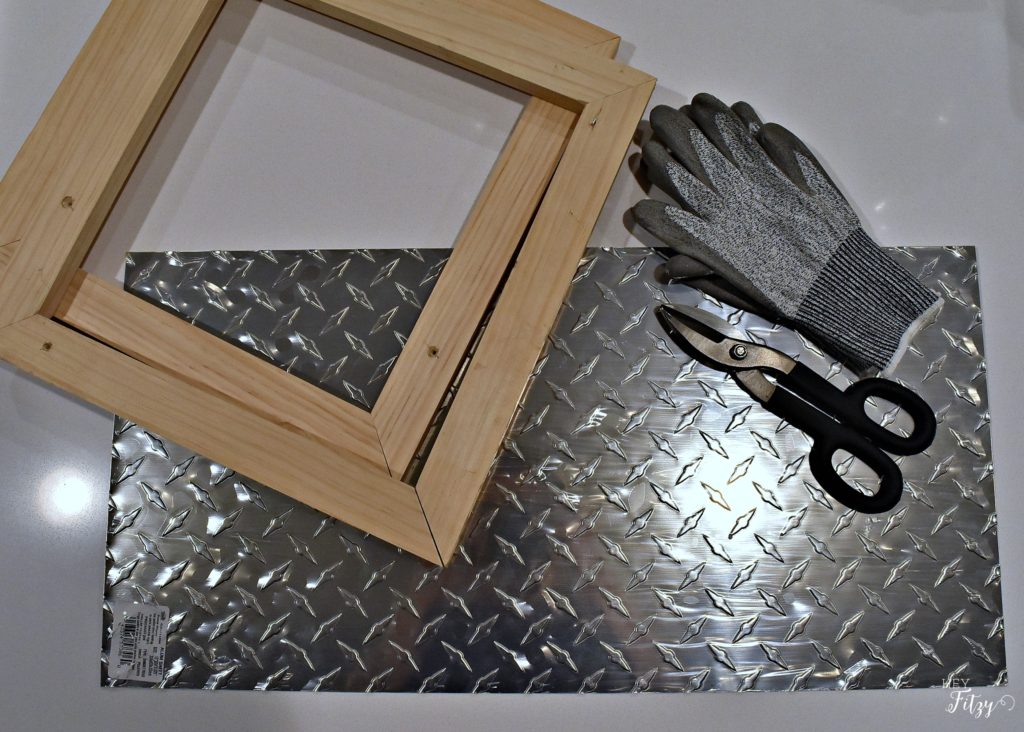 For my son's room I used a 12×24 inch piece of the diamond tread aluminum sheet. This stuff can be used on high traffic surfaces or for industrial floors and stair treads.
I thought it would be neat to make some simple picture frames to hold the aluminum sheets. This will go well with the industrial vibe going on in the room as well as some art work that will be going up next week.
I can't tell you how easy it was to make these fun little frames. Using left over 1×2 wood from our shop, Fitzy quickly cut the proper angles and used his name gun to put them together. 8 quick cuts and the frames where together in no time. We used wood filler to fill the holes left in the wood from a prior use.
Next I gave the picture frames a quick coat of Sherwin- Williams Iron Ore that I used on our Accent Barn Wall.
The M-D tin snips made cutting the aluminum sheet a breeze. I wanted each sheet to be 12×12 inches so I used a permanent marker and drew a straight line on the back of the metal. Then carefully made my cut. I also used the M-D hobby gloves to protect my hands as the edge of the metal can be sharp.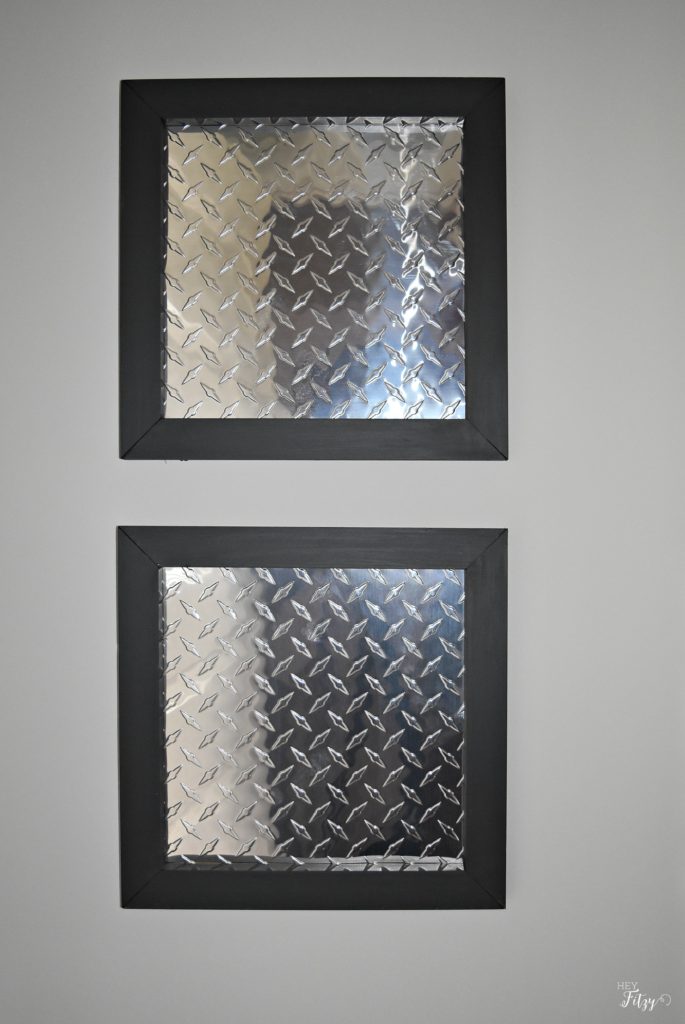 Using my staple gun, I simply stapled the back corners of the aluminum sheet to the picture frame. The staple hugs the corners to keep the metal in place.
The final step was to add a little picture hanger that I found at a local craft shop.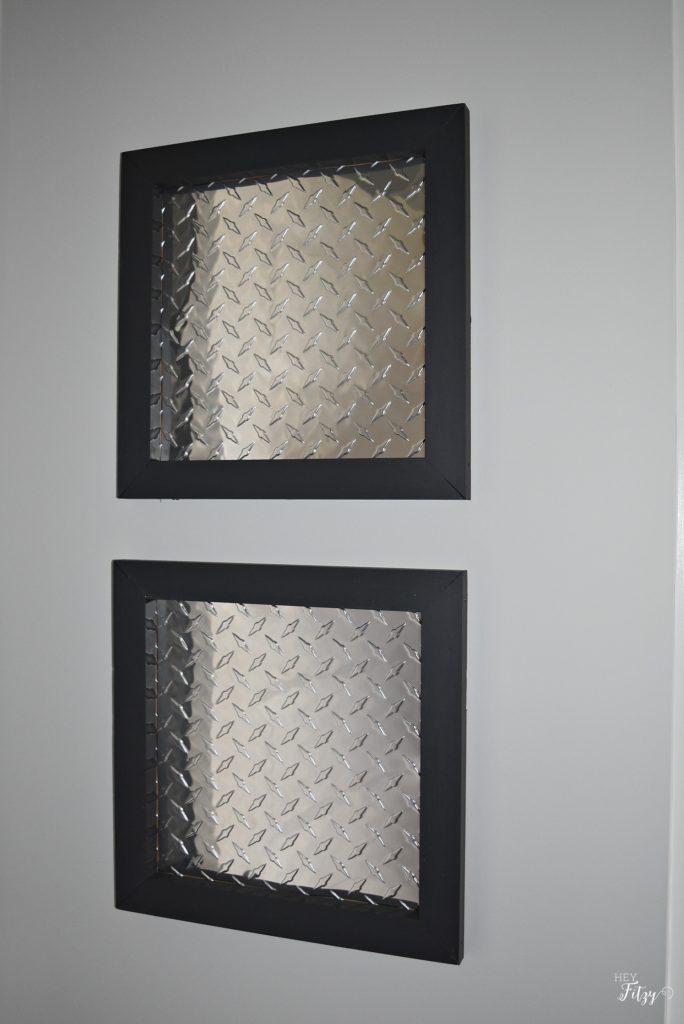 We hung the frames as you walk into our son's room. They add a nice amount of visual interest and texture to the little wall.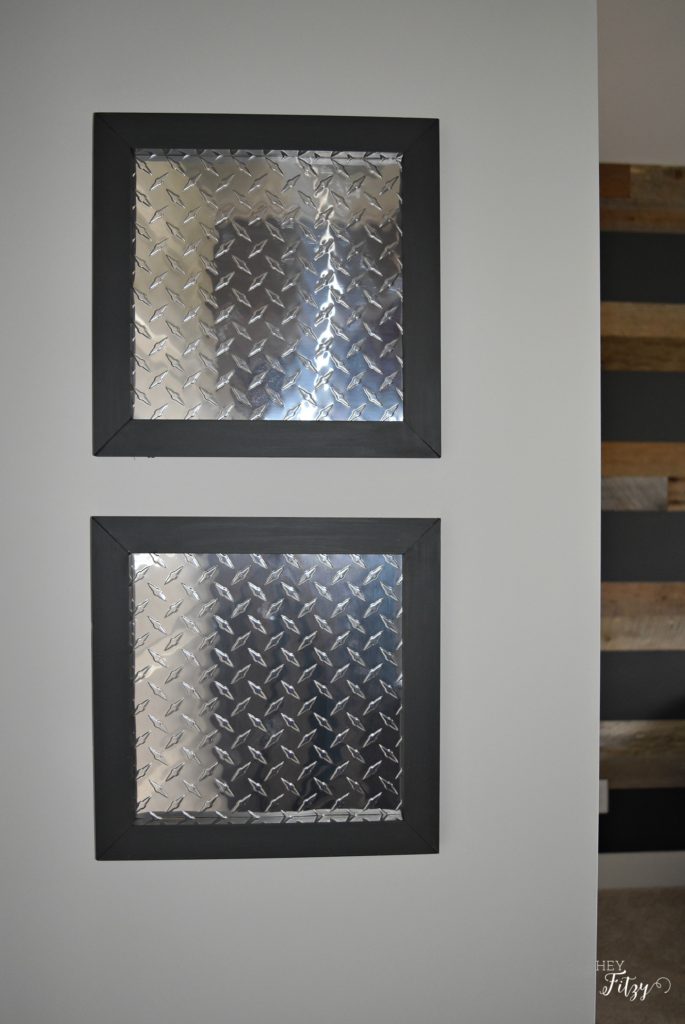 Here is a little peak of the picture frames with the accent barn wall in the back ground.
The final reveal is quickly approaching for the One Room Challenge and we have a few more projects to complete. Fingers crossed I can get it pulled together in time.
SaveSave