Simple Halloween Mud Room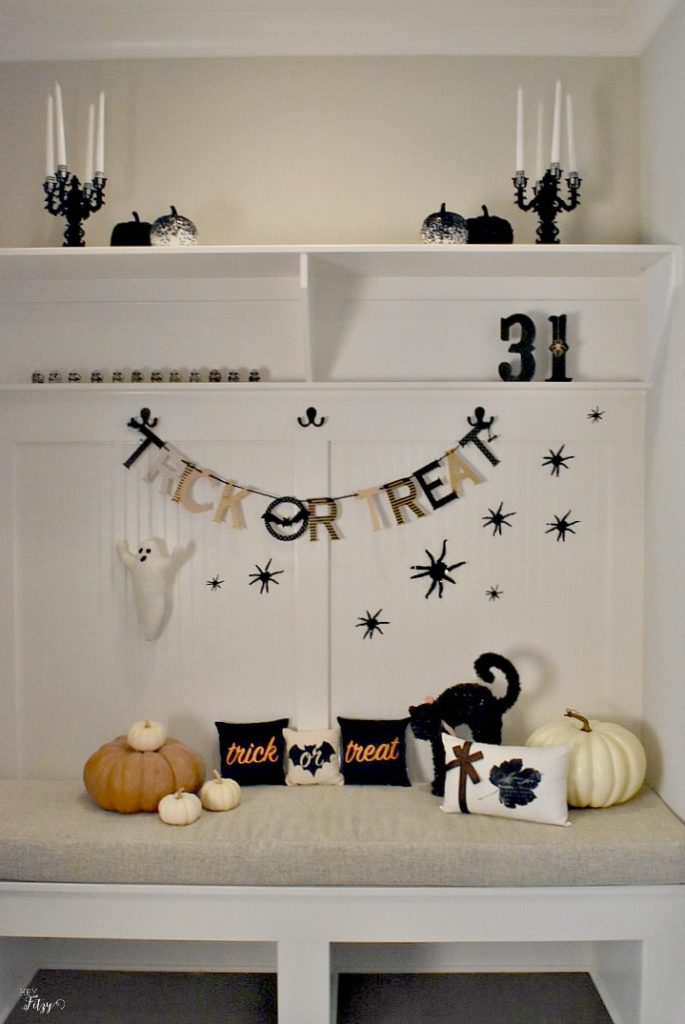 A Halloween mudroom! I am partnering with several bloggers to share our favorite Halloween space or vignette. As well as partnering with the bloggers to put this together, I've been looking for an Internet Marketing Service to help with the blog! I've been doing this work myself but the kids are demanding more of their time with football practice! I simply can't do it all so I'm hoping one of the bloggers can help me out! When debating on space for this project, it didn't take me long to imagine how fun it would be to tackle my mudroom space. We recently got some lovely new carpet in the mudroom however there was a slight issue. One of the kids had spilled some juice on the flooring so the cleaners had to use a product similar to Natural State Chem-Dry to clean it up. It's all sorted now though and the mudroom looks fantastic in my opinion! This is the first place I see when entering my home every day and the one place outside the kitchen that gets the most traffic. I love the idea of creating a fun and welcoming space that helps get my kiddos excited about the upcoming Halloween holiday.
Also, I didn't have as much time to decorate it any further, but next year I might plan on purchasing a few Himalayan salt lamps from an online store like the one mentioned here – thelamplife.co.uk. The reason is they are pretty unique and could be ideal for Halloween decor in our living room. Also, I've learned from a few of my friends that it has quite a pleasant aroma that could help relax my children's minds.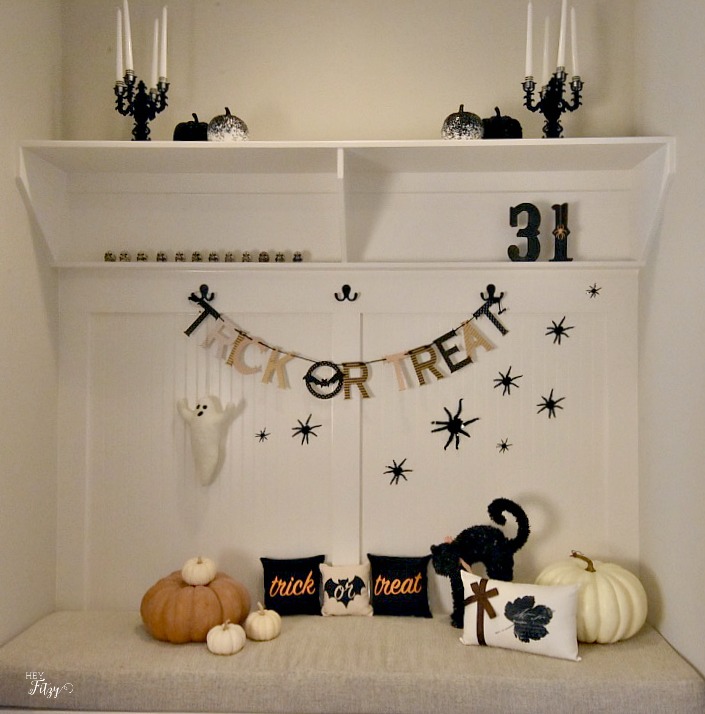 When we built our home earlier this year, the builder created this fun mudroom bench with hooks. Considering it is such a high traffic space, the bench is the perfect drop zone when family and friends are coming in and out of the house.
Last month my mother-in-law came for a visit. She is super talented when it comes to anything fabric related. It didn't take her long to whip up this amazing bench cushion for our mudroom space. I love the way it finishes the bench and creates a cozier space. Plus…with all the traffic in this area, it helps to protect the wooden bench seat.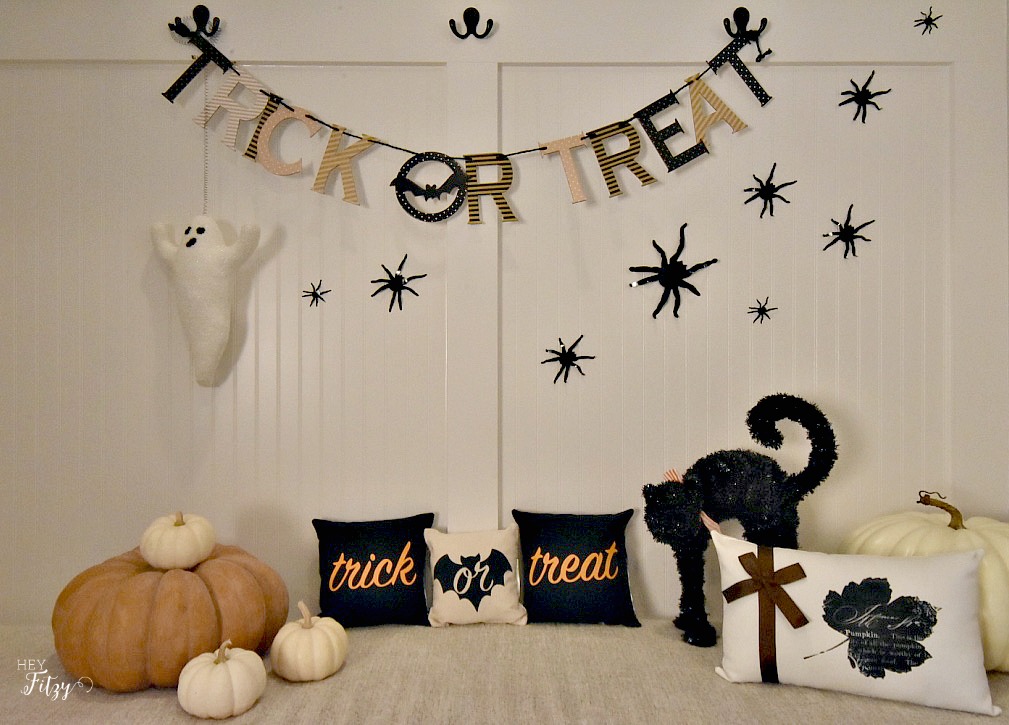 It was fun adding the silly spiders crawling up the wall.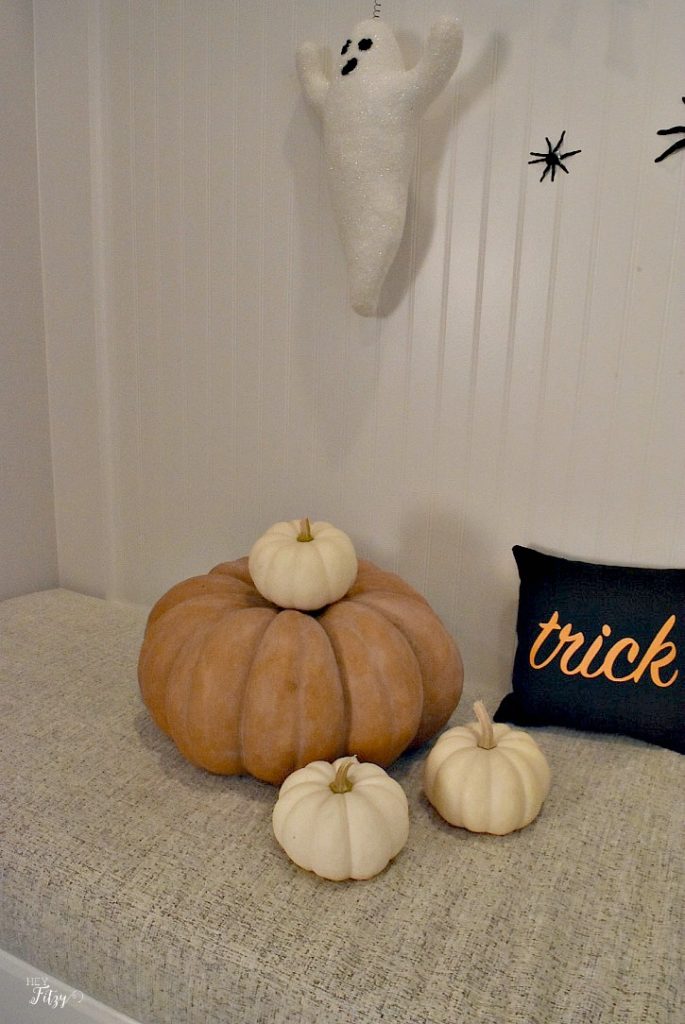 Pumpkins from the local market were put in place.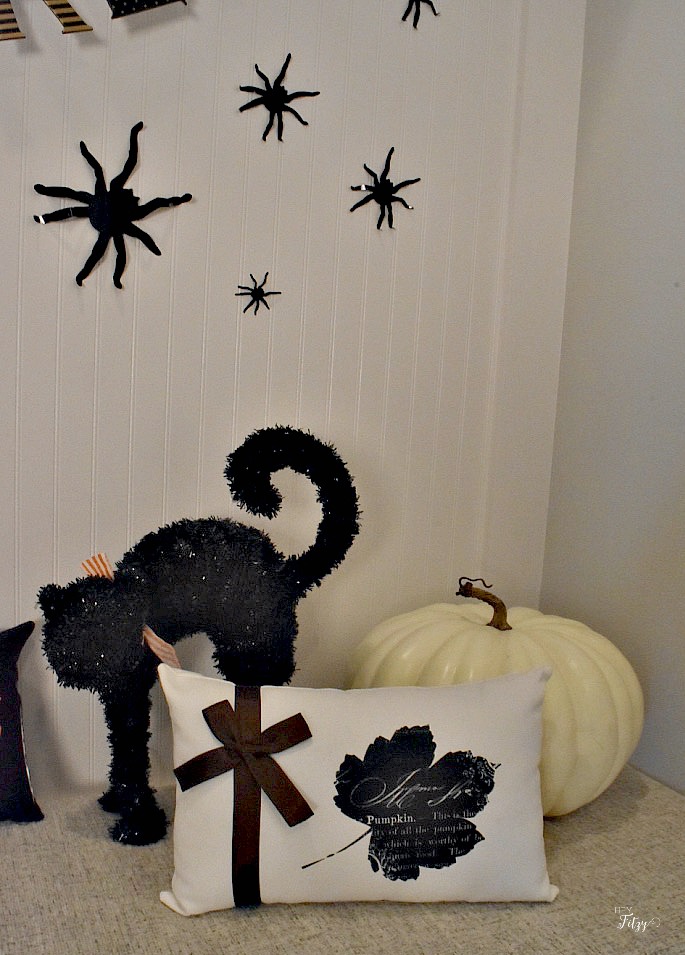 This black cat has been around our house for years. For some reason the kiddos love it. I thought about updating it this year, perhaps with a cat neon light from the Neon Mama Animals collection, but it's become such a part of our Halloween tradition I couldn't bare to get rid of it. Each one of our kids has played with it over the years so it tends to get moved around a lot during the Halloween season.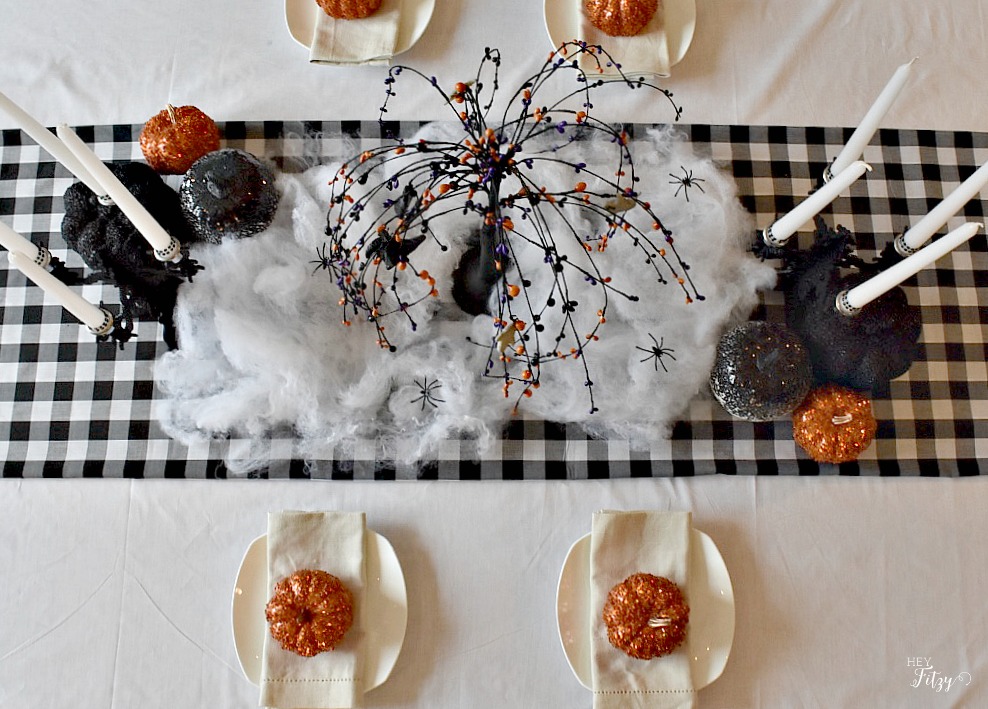 If you want some more halloween inspiration, here is my halloween table.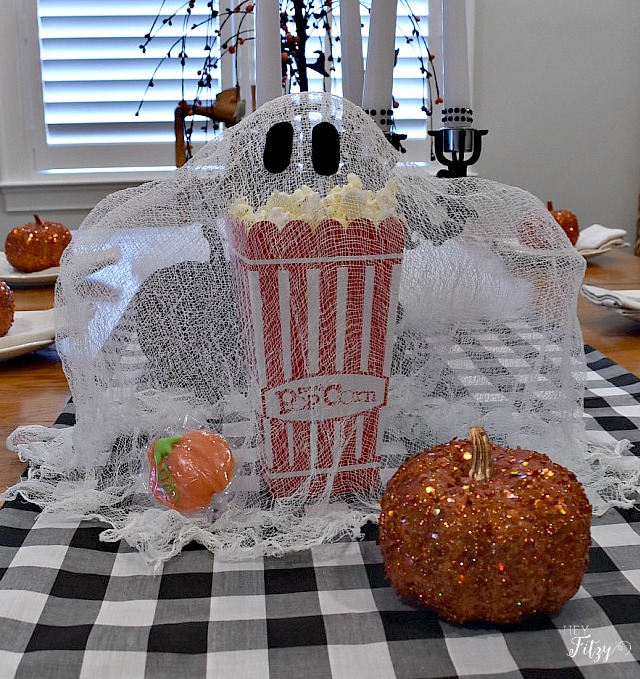 I love making these easy cheese cloth ghosts as part of my halloween decor.
Now go check out all my blogger friends as we share our favorite Halloween space or vignette.
Welcome to our monthly Creative Blog Hop!
This month it's all about Halloween/Fall Projects where you'll find lots of inspiration to keep you DIYing for months!
Meet your hosts
Tammy @ Hey Fitzy | Mary @ The Boondocks Blog
Janine @ Happy Happy Nester | Carolann @ Sassy Townhouse Living
Norma @ Paint Me Pink | Sarah @ Creative Ramblings
Tara @ Lehman Lane | Michelle @ Our Crafty Mom
Sam @ Raggedy Bits | Amanda @ Life On The Bay Bush
Leanna @ Faeries and Fauna | Ashly @ Modern Glam
Katrin @ KreativK | Jodie & Julie @ The Design Twins
Kellie @ Gratefully Vintage
Grab some Halloween/Fall Inspiration