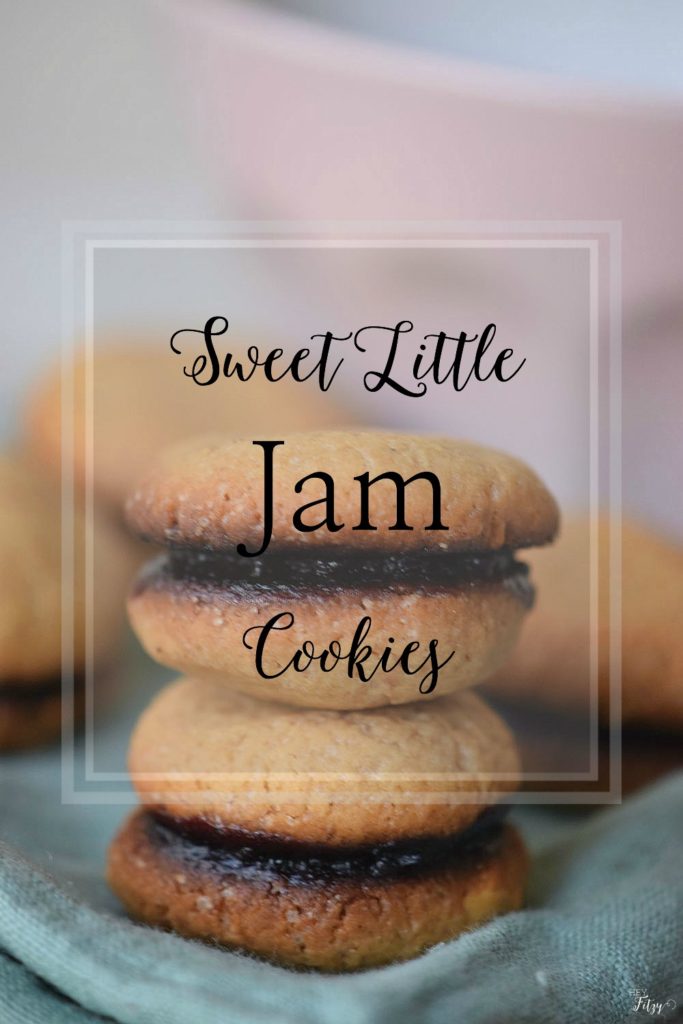 Can you believe the holidays are right around the corner!! I mean really!!! Didn't we just pack the holiday decorations away and now we are busy planning for the onset of Thanksgiving and Christmas. If your family is anything like our family…holiday traditions largely center around food. What we serve and what we enjoy eating this time of year is a large part of our traditions.
To help you in your holiday planning, I have partnered with the lovely ladies of No Place Like Home to share some delicious cookie recipes that I believe your family will enjoy.  Simply click on each blog name below to visit the cookie recipe they love this time of year.
* A Home To Grow Old In * Hey Fitzy * Nourish and Nestle  *  
* Savvy Apron * Sweet Parrish Place * The Aspiring Home * The Red Painted Cottage *
This year I am sharing my fun little jam cookies. When my sweet friend Lynn at Nourish and Nestle sent me an amazing jar of Blueberry / Apple jam I decided to get creative and come up with a fun new recipe.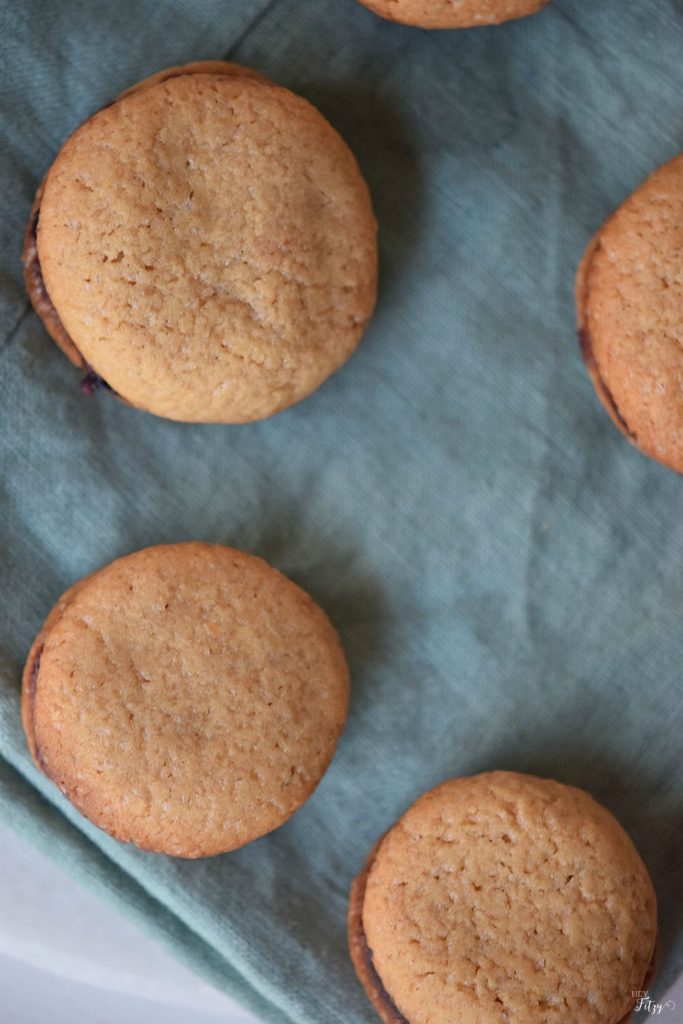 The great thing about these sweet little cookies is that you can use your favorite type of jam…blackberry, blueberry, raspberry, etc. The combinations are endless. In fact, you could even use different types of jam in the same batch. One blackberry, one apricot, one blueberry. Wouldn't that be yummy!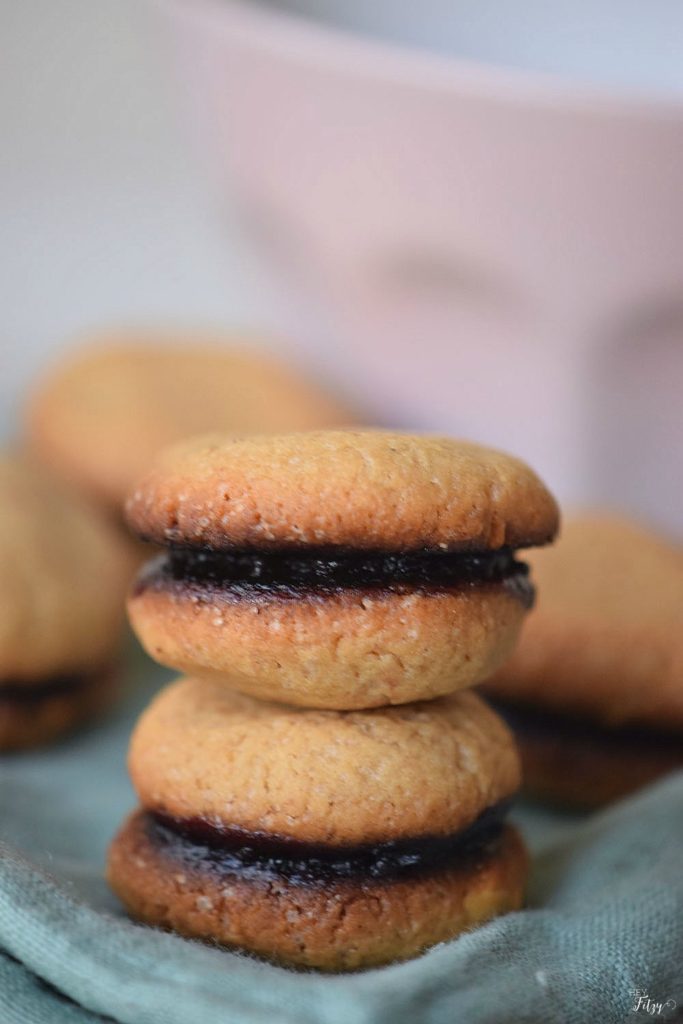 Which type of jam would be your favorite?
Ingredients
2 Cups all-purpose flour
1/4 Tsp baking soda
1/4 Tsp baking powder
1 Large egg
3/4 Cup butter
3/4 Cup sugar
1/2 Cup jam
Instructions
Preheat oven to 350 degrees.
In a medium bowl, sift the flour, baking soda, and baking powder together.
In a separate bowl mix the butter and sugar together until smooth then beat in the egg.
Combine wet ingredients to the dry ingredients and gradually blend together.
Scoop 1/2 tablespoon of batter into your hand and roll into a ball using the palm of your hands.
Place dough balls onto a greased cookie sheets.
Bake for 7-8 minutes.
Let cool then add jam to the bottom of the cookies.
Join 2 cookies together to form a sandwich.
Serve and enjoy.

Tips

For a deeper flavor add in 1/4 teaspoon of pure vanilla extract.
7.8.1.2
36
https://heyfitzy.com/no-place-like-home-cookies/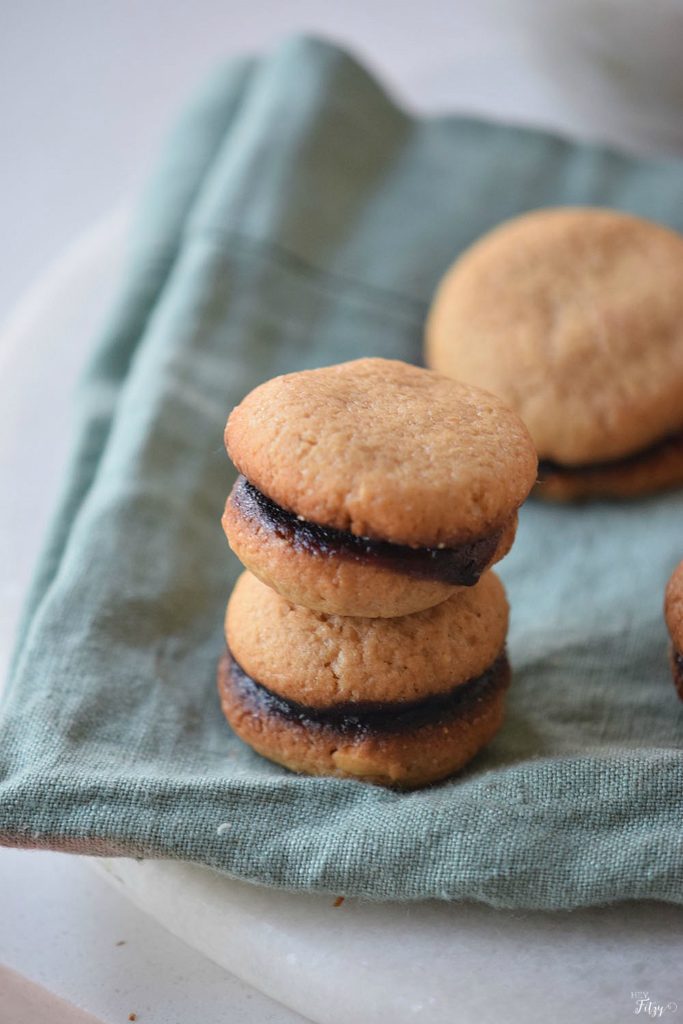 Now don't forget to go visit the other lovely ladies of No Place Like Home to see their favorite cookie recipes. Click on each image below to go directly to the recipe!
* A Home To Grow Old In * Hey Fitzy * Nourish and Nestle  *  
* Savvy Apron * Sweet Parrish Place * The Aspiring Home * The Red Painted Cottage *