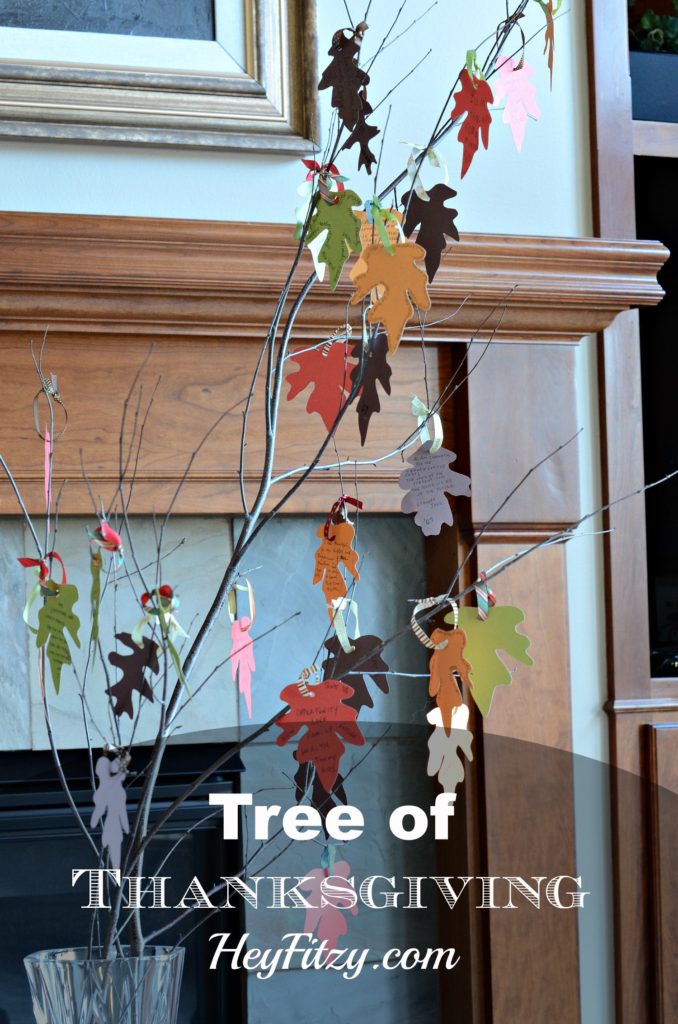 Oh my…can you hardly believe it! Next week is the first of November. Didn't I just pack away the holiday decor. Perhaps it comes with age but each year is passing faster and faster. My kiddos are growing up too quickly and before I know it a new year will begin.  If anyone figures out how to slow down Father Time please let me know!!!
We are getting exciting about the upcoming holidays and already starting to plan for Thanksgiving and Christmas. With this in mind, I am partnering with the lovely ladies of No Place Like Home. We created a Thanksgiving roundup to share some fun things to help you prepare for Thanksgiving. Simply click on the image or their blog title below to visit.
* A Home To Grow Old In * Hey Fitzy * Nourish and Nestle  *  
* Savvy Apron * Sweet Parrish Place * The Aspiring Home * The Red Painted Cottage *
The holidays are quickly approaching and it is truly my favorite time of year.  I try to plan ahead so I have time to stop and reflect on all my blessings during the holiday season. It is so easy to get distracted with all my to-do lists and miss the true meaning of the season.  Several years ago we started a fun little Thanksgiving tradition.  We call it the "Tree of Thanksgiving".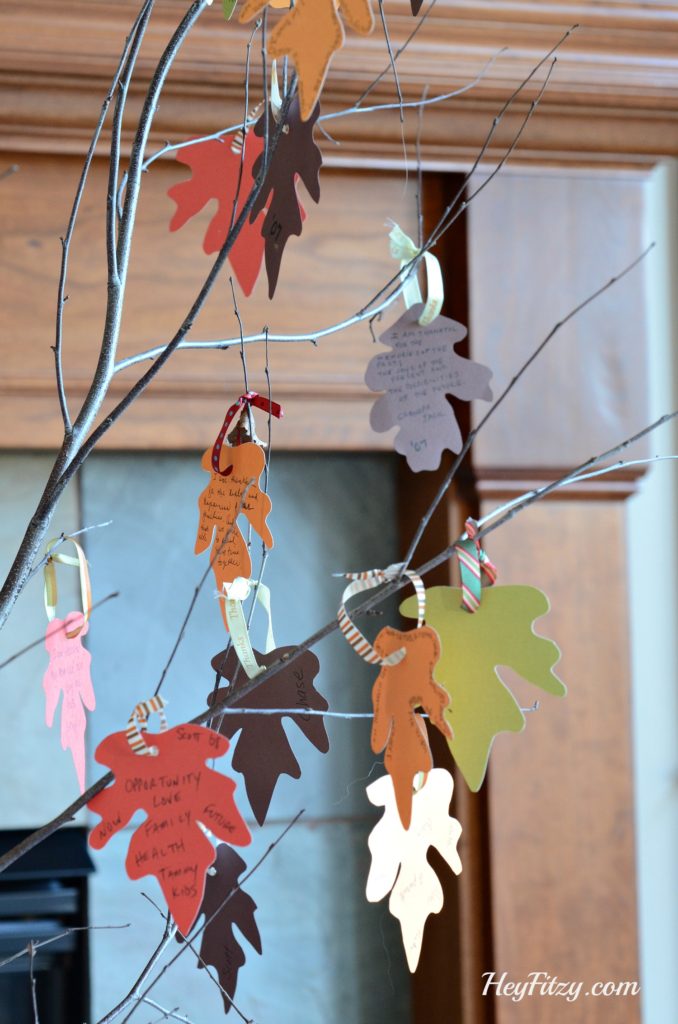 Thanksgiving guests are asked to simply write what they are thankful for on a little paper leaf.  It gives everyone time to pause and reflect on their blessings for the year.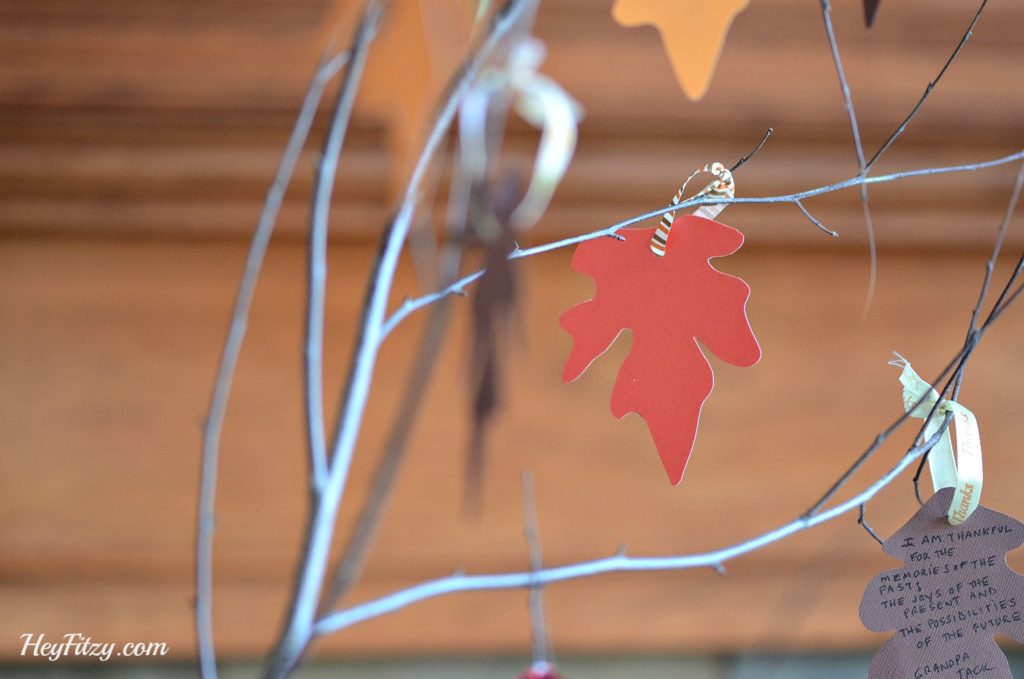 What started as a small table centerpiece has morphed into a cute little tree in our family room. Each year I decorate the tree with the leaves from years past. Everyone enjoys reading the leaves from prior years while reflecting on the changes that have occurred. It becomes a fun point of conversation as we reflect on our many blessings.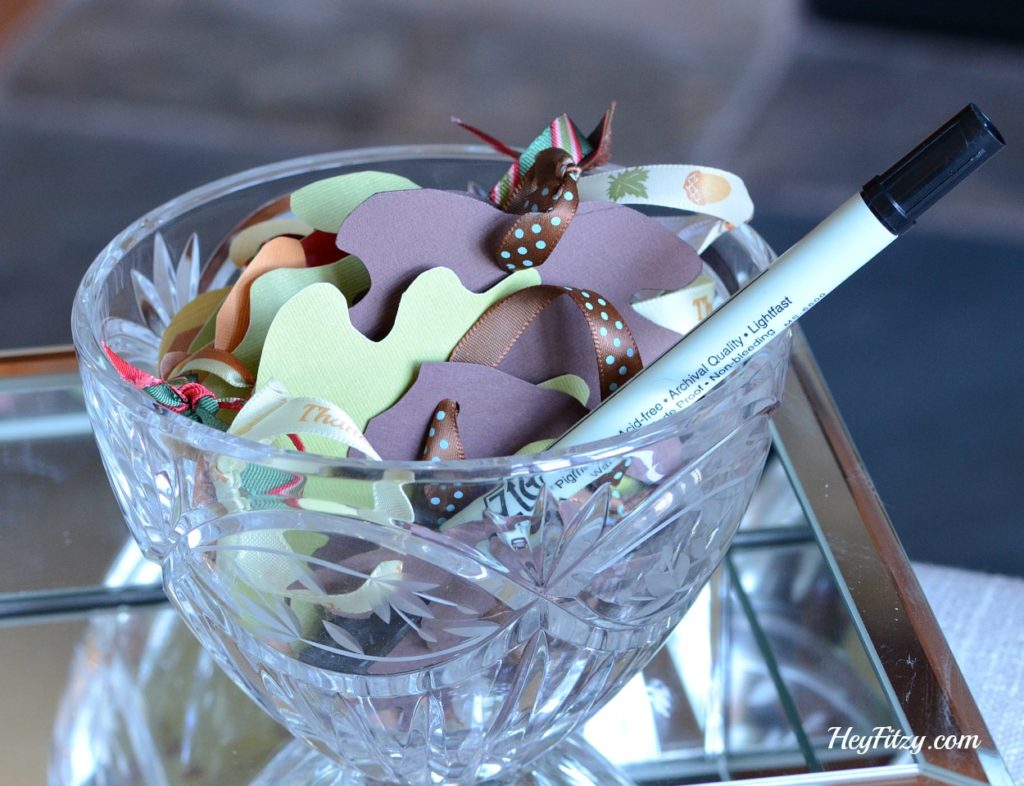 I place a small bowl of leaves along with a marker on the table so guests have an opportunity to create their leaf.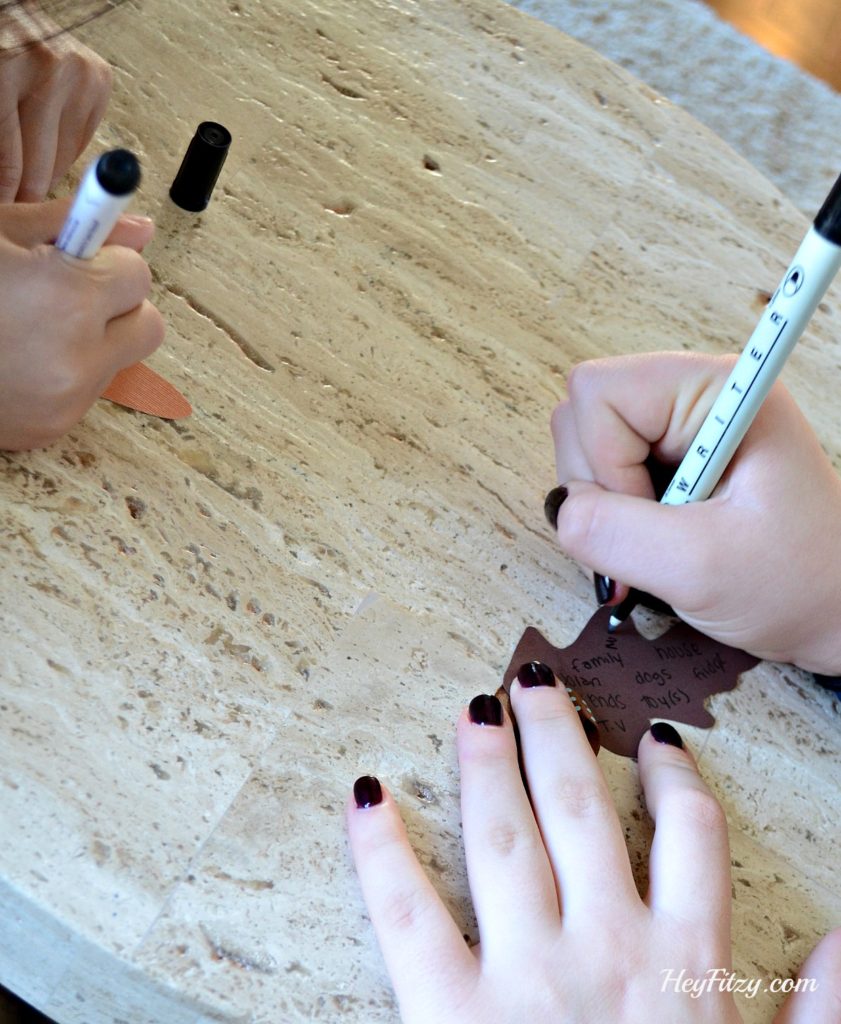 The kids tend to enjoy this traditional the most. They will spend a great amount of time reflecting on their blessings while trying to figure out what they will write.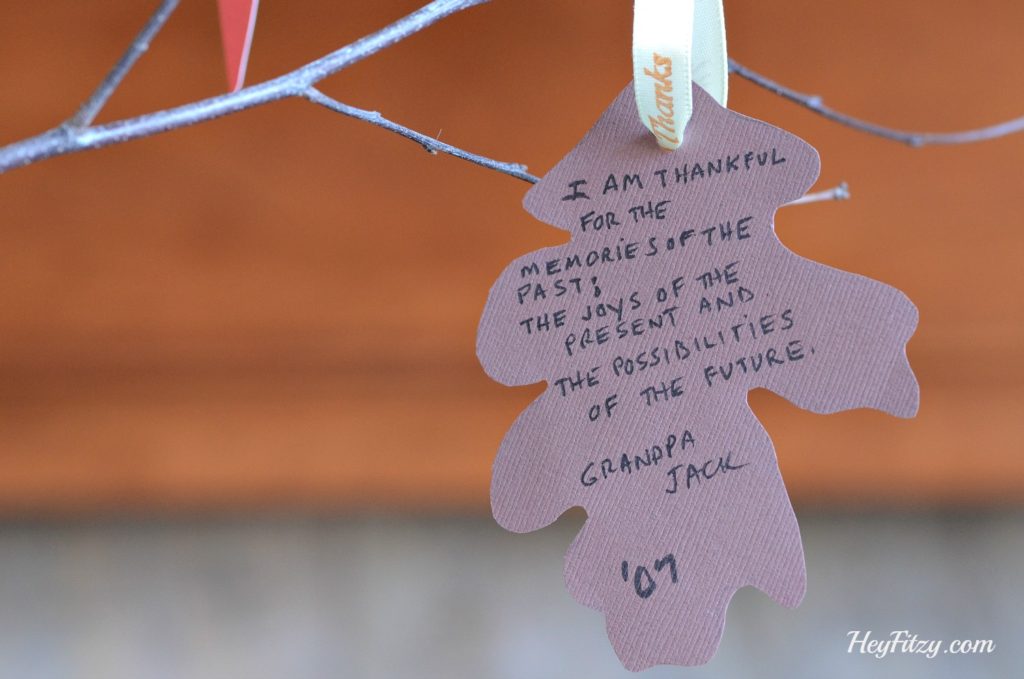 Then each leaf is lovingly placed on the Tree of Thanksgiving.
What you need for this project:
a tree branch- I simply cut one from the many trees in our area.
construction paper
a leaf template- I walk with the kids to locate the perfect leaves from our yard.  We try to find leaves of the appropriate size with interesting shapes. Then simply trace the leaf pattern onto your construction paper.
scissors
a hole punch
ribbon- we use a small amount of ribbon for each leaf. The ribbon acts as our hanger.
markers
vase
Just a couple of suggestions:
remind everyone to put their name on their leaf
date each leaf
the ribbon should be placed at the top when writing on the leaf. The first year we didn't pay much attention to ribbon placement so the writing is upside down on many of our first leaves. 🙂
Enjoy this fun Thanksgiving tradition.
Now don't forget to stop by to visit all the ladies of No Place At Home.
* A Home To Grow Old In * Hey Fitzy * Nourish and Nestle  *  
* Savvy Apron * Sweet Parrish Place * The Aspiring Home * The Red Painted Cottage *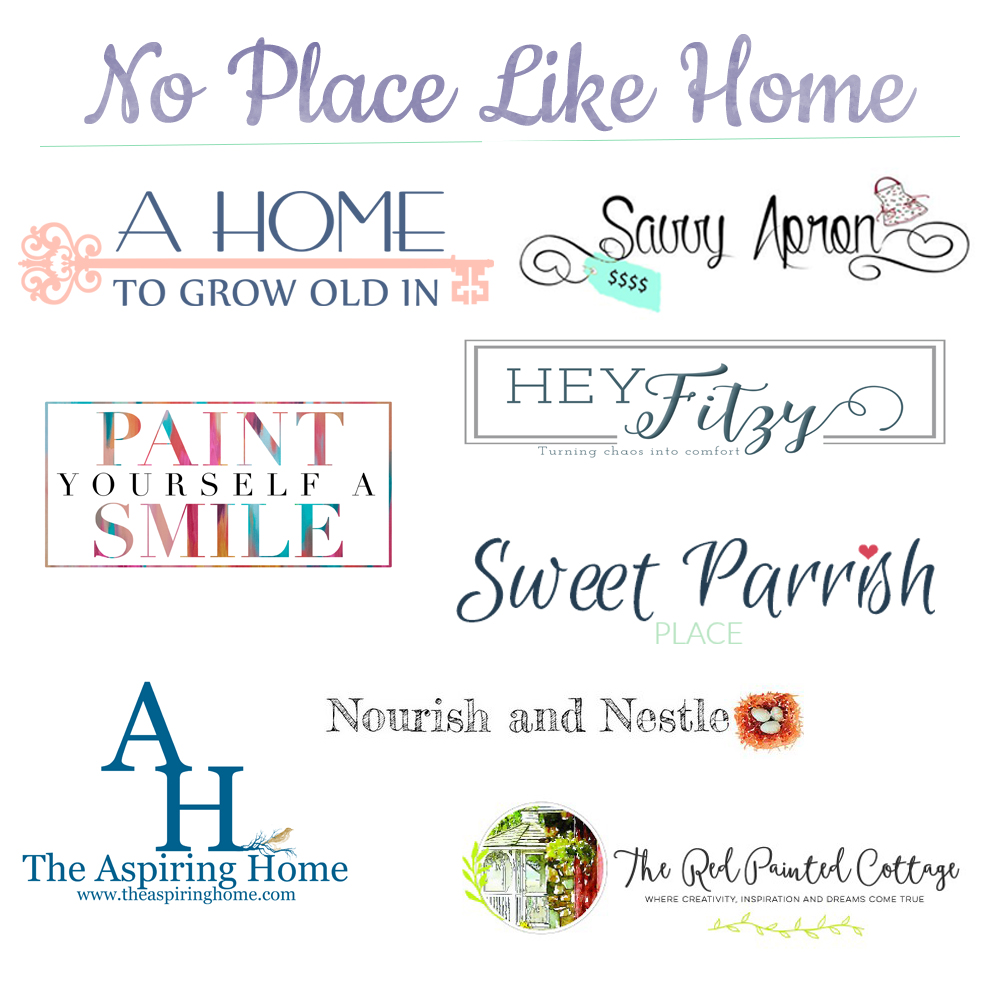 SaveSave