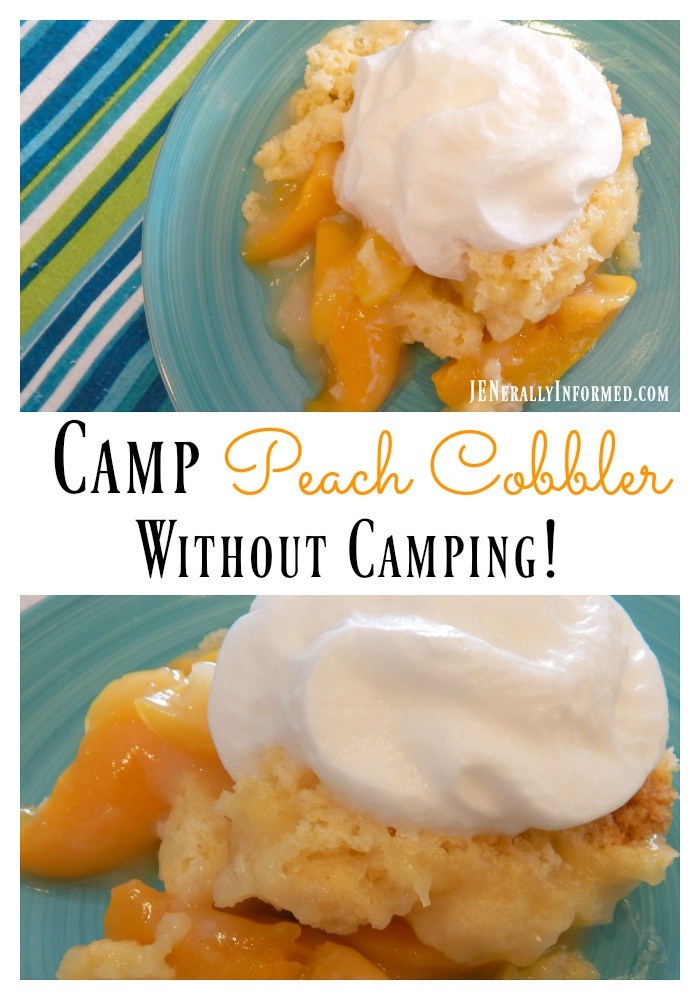 Hello Friends! Today I am sharing a great recipe for a quick and easy peach cobbler.
Want to know one of my favorite things about summer? Our annual camp out! Now before you get all excited and begin to wonder how far we venture for our great outdoor adventure…I must be clear! Our best camping experience and the one the kids look forward to all year long happens right in our back yard. Yes…you heard me correctly. Every summer we camp out right in our back yard. Of course, I've talked about how I love camping in the past – and don't get me wrong, I still like camping in the wild and going on sites like campingfunzone.com to find out what camping gear I should buy next – but this annual tradition is perfect to get everyone involved and not just the people who like to go camping. It's got all the best parts of camping (tents, camp fires, and friends) without all the yucky parts (port-a-potties and scary bugs). We invite all our friends and neighbors, fill the backyard with tents, and have the best night ever. SO MUCH FUN! It really is a magical night for the kiddos while we play games, roast smores, and spend quality time unplugged from technology. The next morning we serve breakfast, clean up, and send everyone home.
Normally we have every family bring a dish to share while we provide hot dogs and hamburgers. Friends and neighbors even help with breakfast the next morning. It really is an easy event to host. The evening is spent enjoying fun summer time foods around the camp fire.
As part of our Spectacular Summer Blog Hop, Jen from JENerally Informed is sharing this fun peach cobbler recipe that would be perfect for our annual camp out. With just three simple ingredients, you can whip up this recipe right at the camp fire. Can you say yummy! Can't wait to give it a try this year!
Here are some fun facts about Jen!
What was your favorite food when you were a child?
I am a Latina, so give me a good taco or some rice pudding and the world was about a perfect a place as it could be. Actually the same still holds true today. Tacos are pretty much the way to my heart.
What story does your family always tell about you?
I have a really cool and tight knit family, but somehow I seem to provide endless comedic fodder for them, so this one has been getting a lot of play lately. It has to do with the time I super glued my fingers together trying to do a craft I saw on Pinterest. Thankfully, Google was there to teach me all I needed to know to get out of that sticky situation….
And, most importantly, head on over to JENerally Informed to check out Jen's awesome recipe for Camp Peach Cobbler. Click Here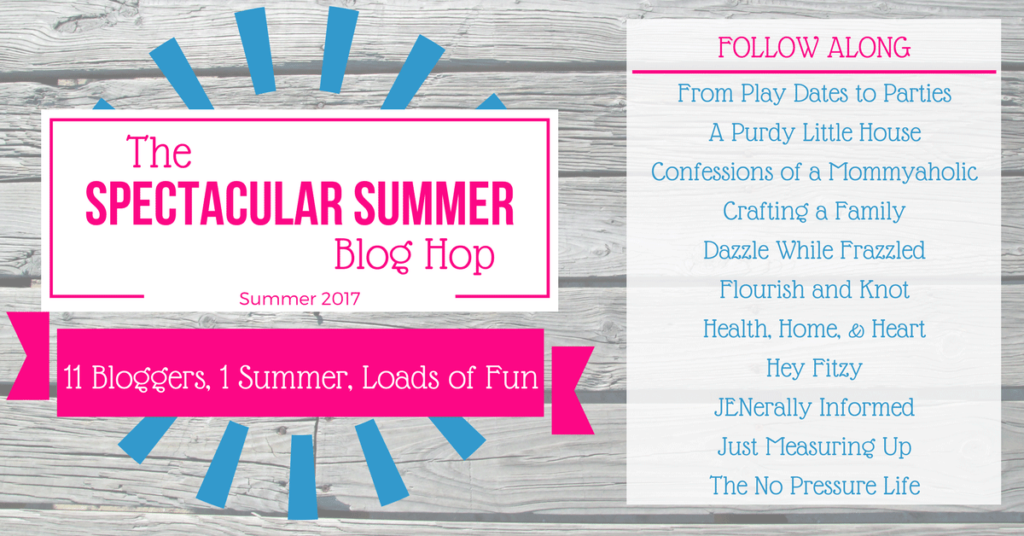 2017 Summer Blog Hop Co-Hosts:
The No Pressure Life Flourish and Knot
SaveSave