Today I have the pleasure of participating in a fun Fall Wreath Blog Hop with so many talented bloggers. Make sure you scroll to the end of my post to check out the other wreaths.

In this great state, we are still enjoying the last few days of summer before the kiddos go back to school after Labor Day. If you don't already know… we love summer time. It is a time to get outdoors and enjoy our beautiful state before the cold weather sets in. As transplants from a southern state, we enjoy as much summer time as possible before we hunker down for the long cold winters. But wouldn't you know that as soon as the calendar turns to September, we fully embrace everything fall…crisp air, apple orchards, hay rides, beautiful colored leaves, and fall decorating. One thing I won't be embracing this fall is the little critters looking to take shelter from the cold somewhere beneath my roof – I'm not having it. Do you know how much damage pests did to my friend's house last year? Silverfish ravaged her basement and she had to resort to calling in pest control services (not unlike these – https://www.pestcontrolexperts.com/local/mississippi/okolona/) and I can't say I blame her. Anyway, on to more positive fall experiences… This year I was particularly excited to create new fall wreaths for my front doors.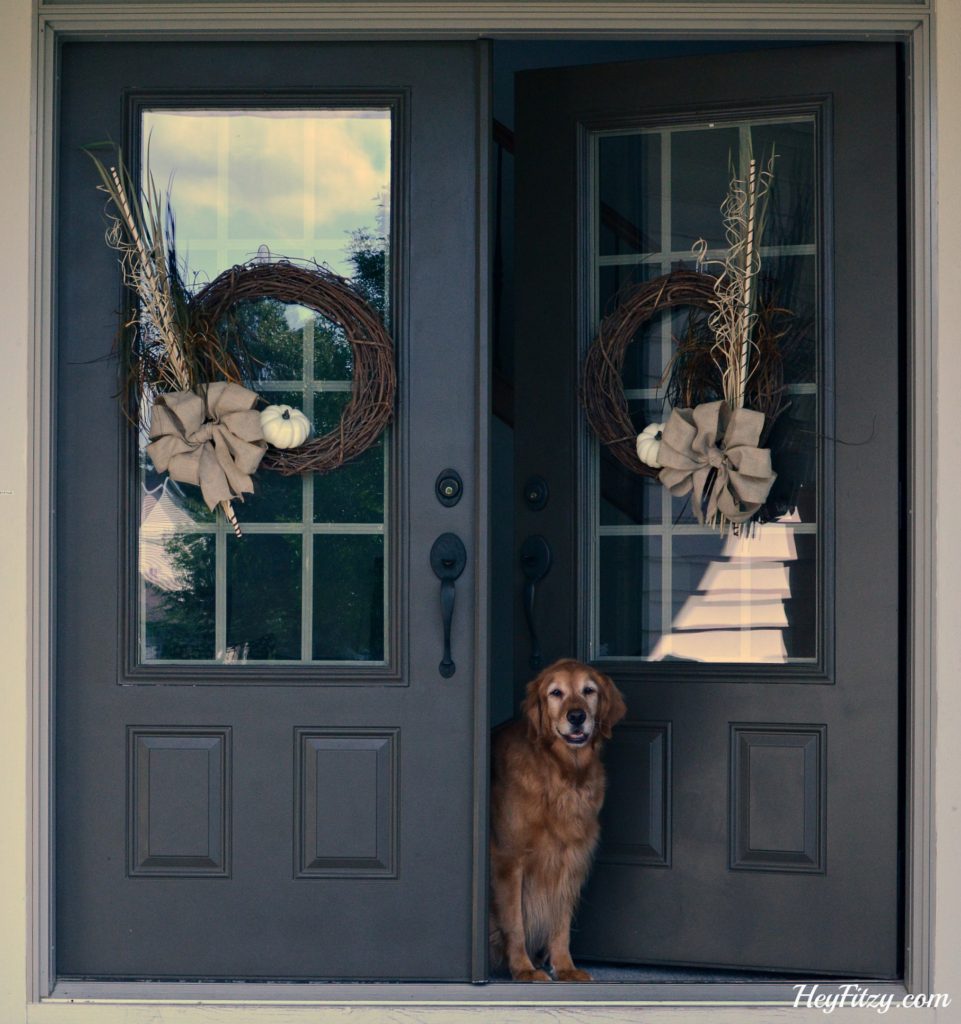 First of all I will introduce you to the Welcome Committee at the Fitzy house. No one (and I mean no one) gets past the front door without a warm greeting from this lovely lady. Miss Ivee is a nine-year-old Golden Retriever that has never met a stranger in her whole life. Anyway, she will welcome you at the front door. This is our home and it has been for five years. I can't believe it has been five years already. It feels like we moved in just yesterday. It's crazy. I remember when we first laid eyes on this house. We were in unison (Miss Ivee) included that this would be the perfect space for us. So, as soon as we were able to, we set about looking at sites similar to SoFi to see if we could find suitable home loan arrangements that would help us to cover its cost. It's a good job we did too because our experience in this house has been wonderful. I don't think we would change it for the world.
We love our house and we have so many special memories here. Of course, we know that we'll eventually outgrow this house, especially when our two girls start to get older and need more space. Although we don't want to think about that time, it is important to have some ideas of where we would move next and whether we would use Abbotsford realtors or not. Realtors are amazing at finding new houses for families, so we would probably get in touch with some. That would be in a couple of years though, seeing as we're happy in this one for the time being.
Ok…on to the good stuff. Five years ago when we bought our home I was especially excited about the double front doors and the large front porch. We had looked at front door canopies for residential premises but had to put it on hold as we did other renovations, so I started small with finding some lovely wreaths instead. We never had double doors before and for some reason they were very appealing to me. Well…eventually I realized that two doors meant two wreaths and last time I checked wreaths were expensive. My first trip to find wreaths for the new house almost brought me to tears. No way was I gonna pay top dollar for a wreath and then have to multiple that by two. With this in mind, I have to get creative.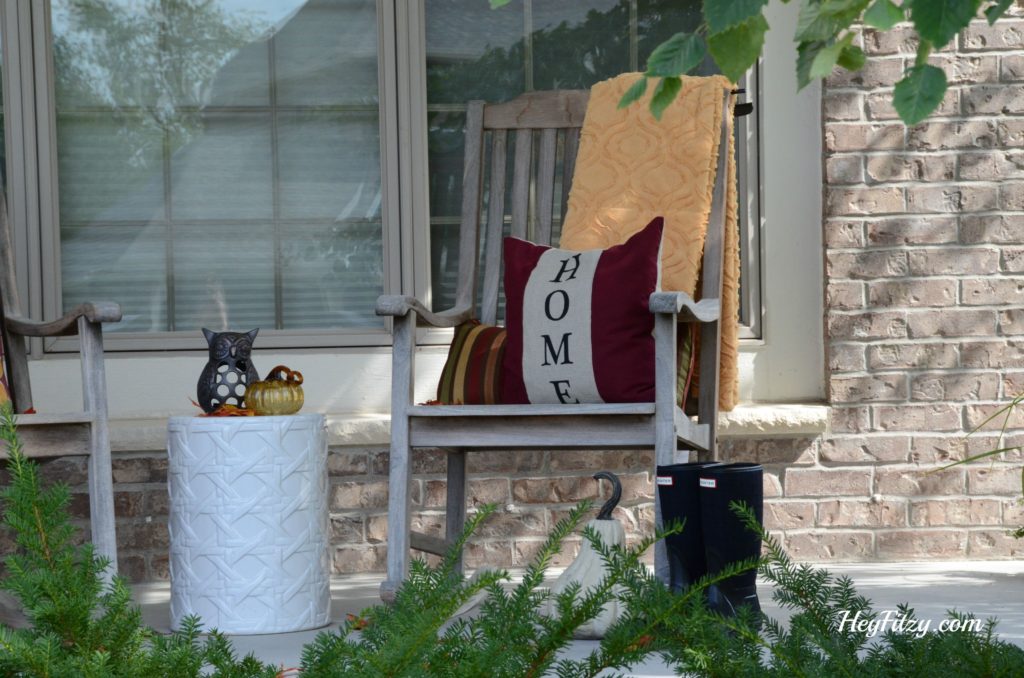 Here is a picture of our front porch from last fall.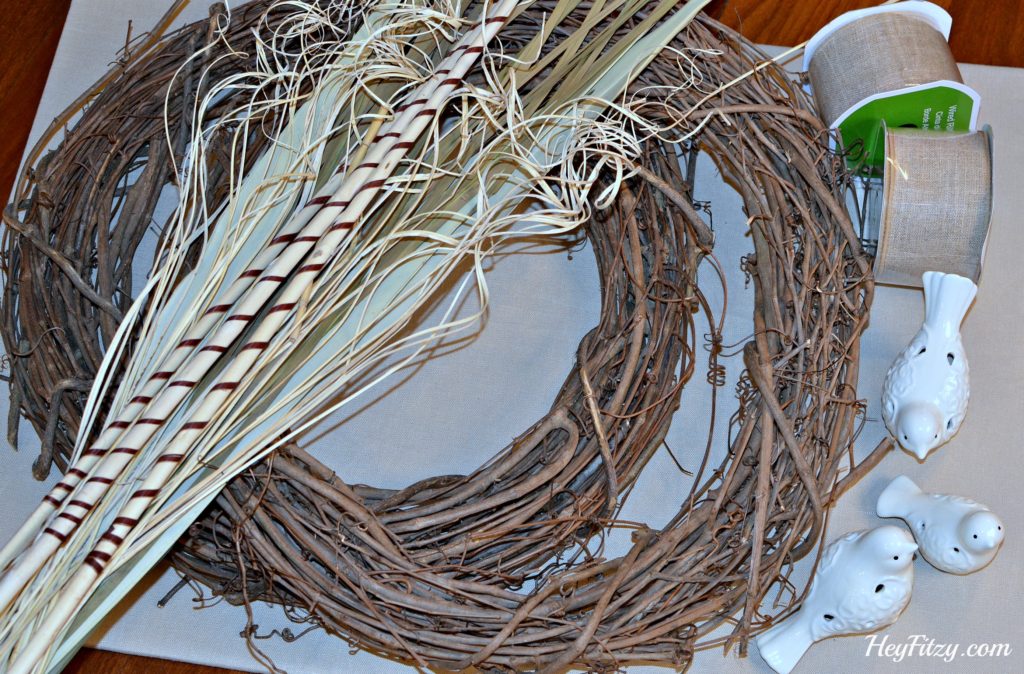 During a recent Walmart trip with my two girls, a few supplies caught my eye. Here is what I found: 18″ grape vine wreaths, wired burlap ribbon, and some fall foliage. Grand total for these items came in just over $20. Yes folks…$20. Now this is what I am talking about: two wreaths for the front doors that won't break the bank. I thought I would need a few more items to dress up the wreaths but wanted to shop my home to see what I had to help keep the costs down. I left the store feeling satisfied that I was off to a great start.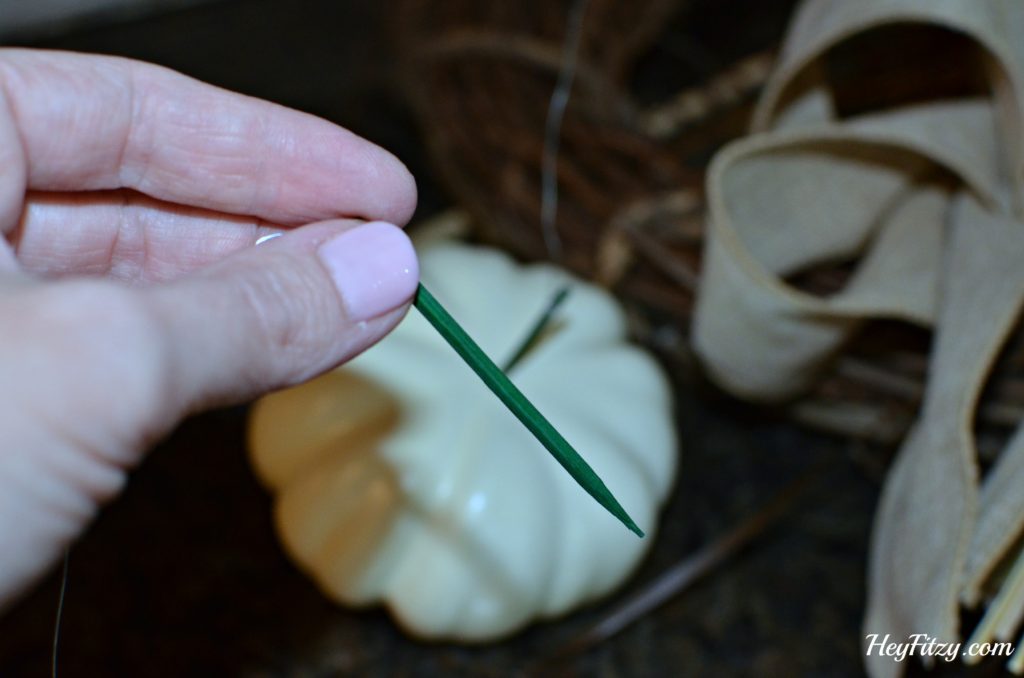 I found a couple of cute birds I had at home and added them to the picture above. Unfortunately as soon as I started working on the wreaths I knew the birds were not going to work. They were too heavy and I struggled to find a way to get them secured within the wreath. I was also afraid they might fall and break. Then I found a couple of white pumpkins that I picked up at a craft store last year. The pumpkins are light weight and won't break. I inserted a flower pick into the bottom of each pumpkin and secured it with a little glue.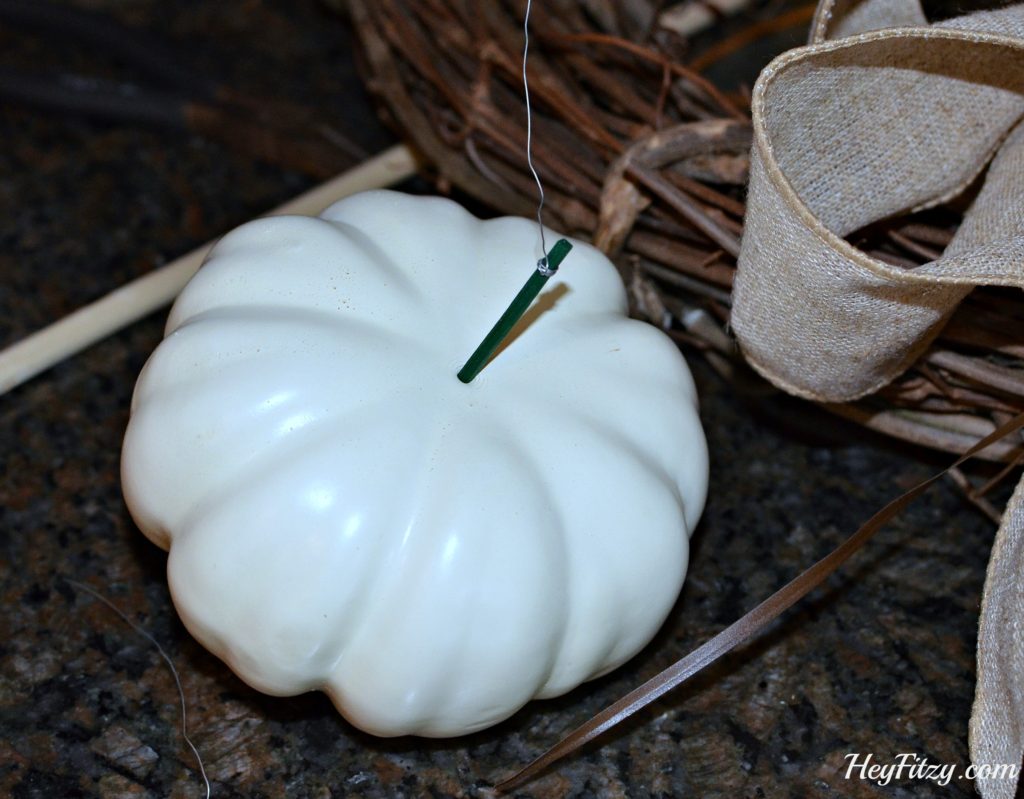 Using the wire attached to the flower pick, I could easily secure the pumpkin directly to the wreath. The bow and faux foliage were also attached to the wreath using floral wire. Total time creating the wreaths was well under an hour. 🙂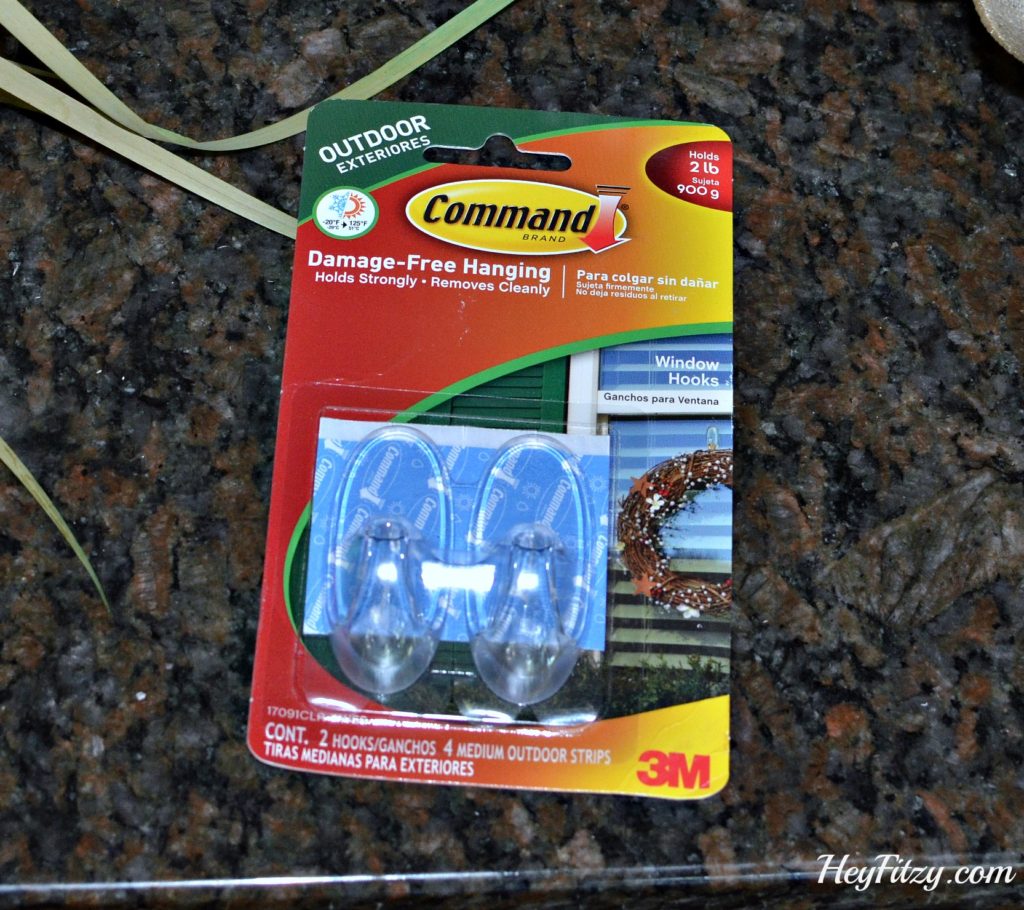 Next I used these outdoor command strips from my friends at 3M. They stick right to the glass on my front doors.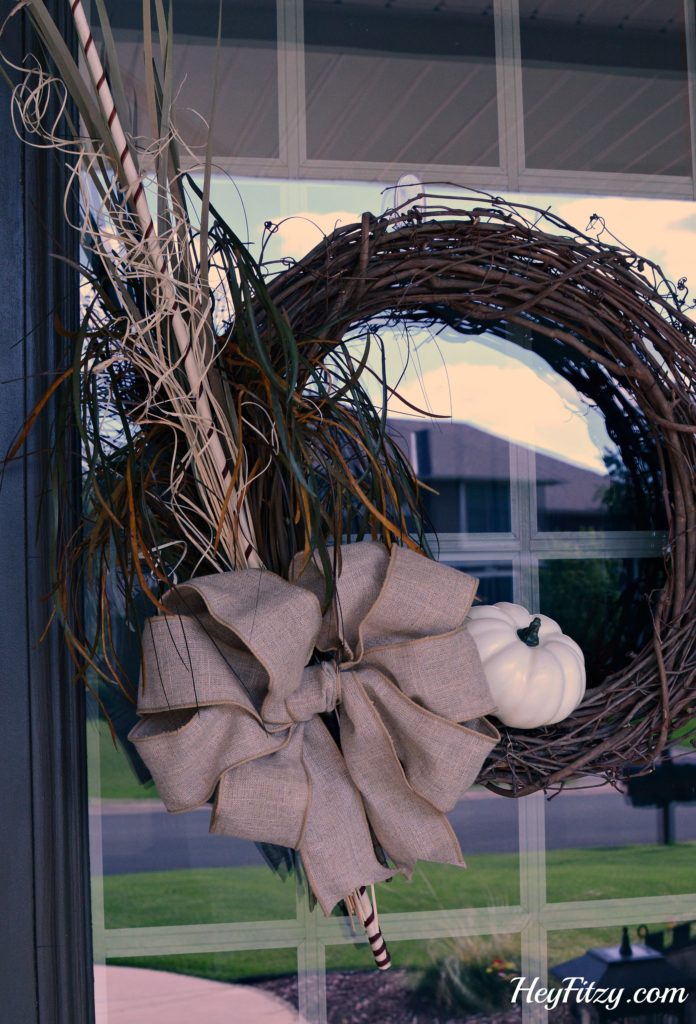 And just look at the finished product. I am so tickled with the way my wreaths turned out. The bow was easy to make with the wired burlap ribbon and helps to create the more neutral fall look I was hoping for this year.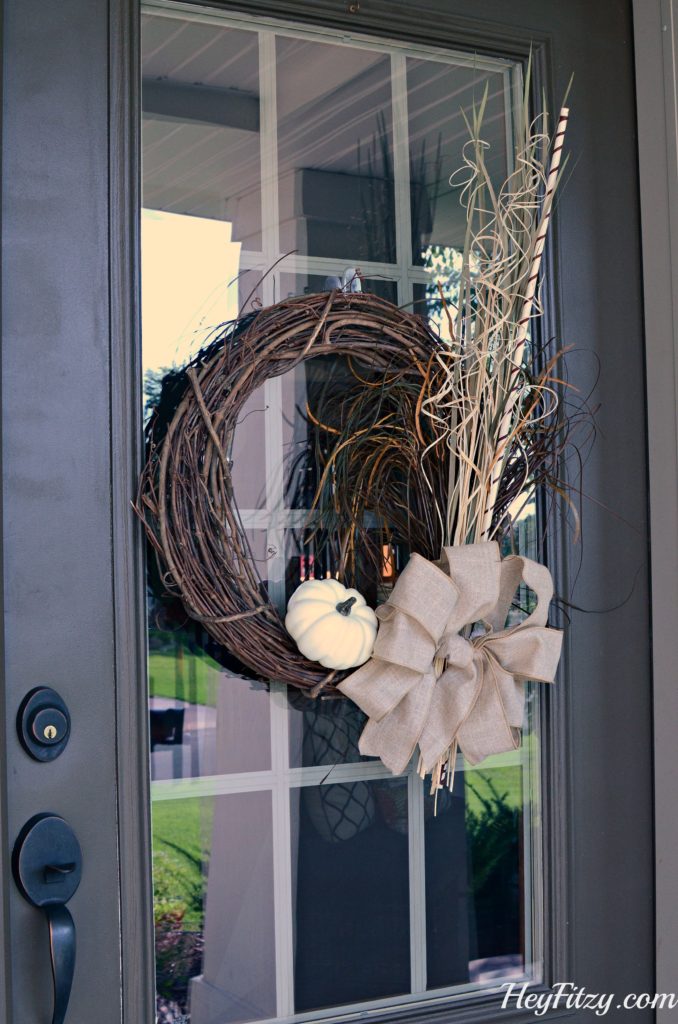 Here is a peak at the second wreath.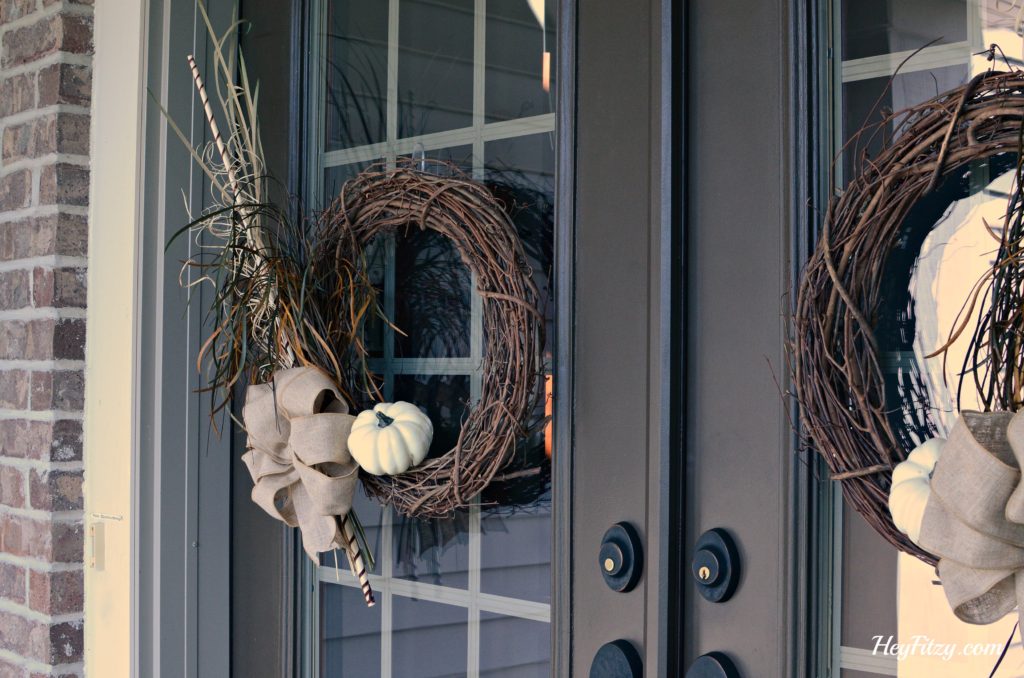 Side by side they are like fraternal twins. 🙂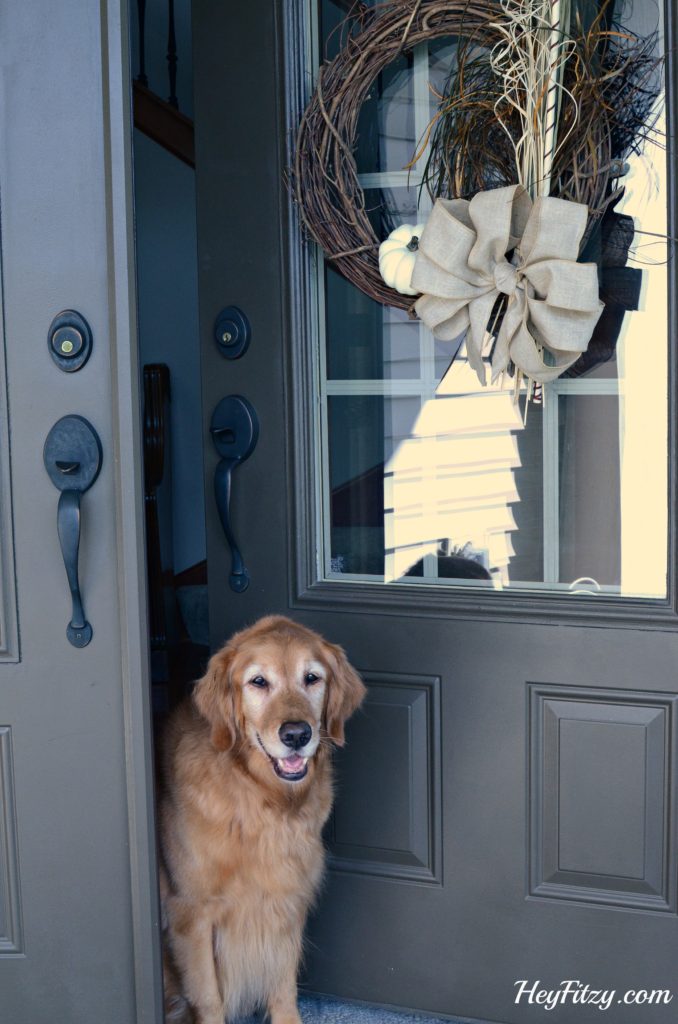 Thanks for stopping by y'all! Happy Fall!! And now go check out all the fabulous fall wreaths that are part of this Blog Hop.
The DIY Mommy // A Home To Grow Old In // Jennifer Priest
Up to Date Interiors // Hey Fitzy // Monica Wants It
Lura Lumsden // PMQ for two // Cottage in the Oaks
Our Crafty Mom // Nourish and Nestle // Twelve on Main
Architecture Of A Mom // Three Mint Balloons // AttaGirlSays
KS Craft Shack // Paint Yourself A Smile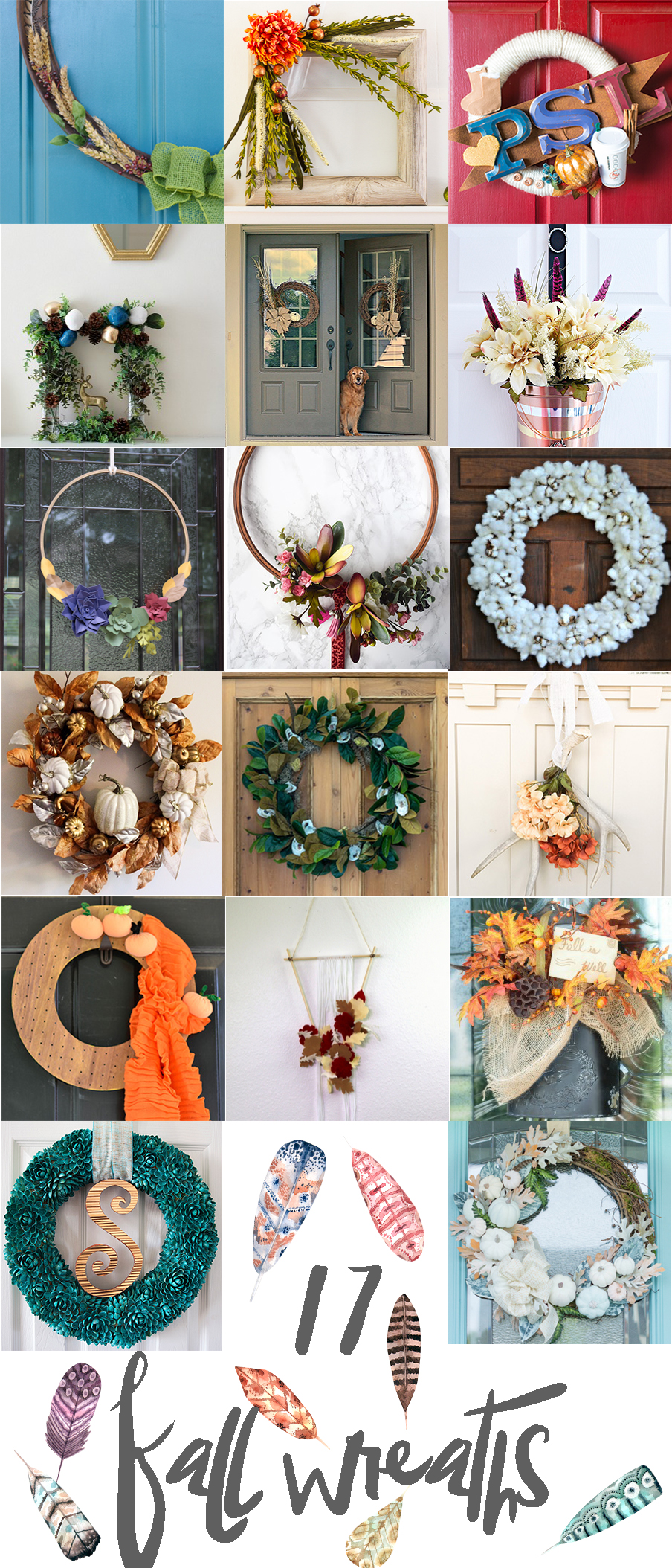 You can follow me here:
Facebook/Twitter/Instagram/Pinterest