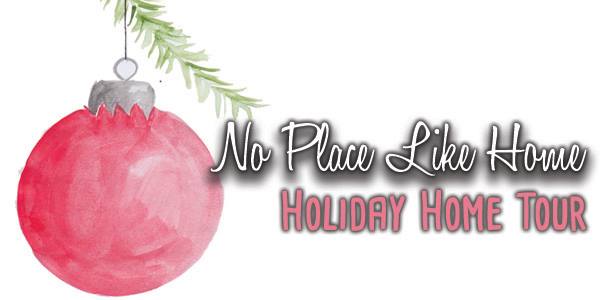 A Home To Grow Old In | Hey Fitzy | Nourish and Nestle | Sweet Parrish Place
The Aspiring Home | The Red Painted Cottage | Savvy Apron
It's the holiday folks! Truly the most magical time of the year. At the Fitzy house, we've decked the halls and hung our stockings with care. The house feels festive and ready for the holiday season. I truly love decorating for the holidays. For us, holiday decor is about traditions. It is about recreating the magic that my kids remember year after year. To be honest, I didn't purchase a single new holiday decoration this year. Nope…not a single one. Our holidays are not about the current trends or what is popular in the moment. Our holiday decorating represents those collected pieces that we enjoy most and are near-dear to our hearts. My sister recently hired some custom home builders to build her house and it looks amazing. She decided to check out the best mortgage deals to help with the renovations and the result was inspiring. Especially since she wanted to a home theater, and started looking around for Cinema Room Designers who might be able to fulfil that dream. Imagine how great it would be to watch Christmas movies in your own home theater! I thought I'd go overboard on decorating this year to show her my house can look great too! I also thought about doing some external home maintenance to get ready for the holiday season and looked online for home improvement services similar to M&M Home Exteriors since I wanted to make sure that my home was ready for winter.
Today I have partnered up with my friends of No Place Like Home. Simply click on each blog title and you can visit their lovely homes. Make sure you stop by to see their beautiful homes all decked out for the holidays.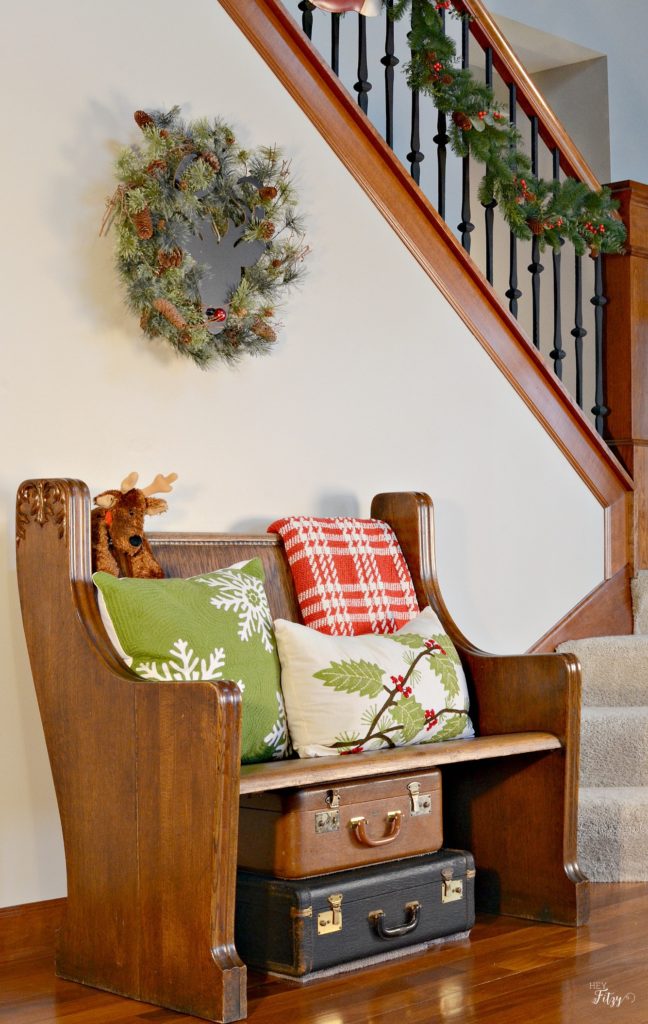 Welcome and come on in. We found this darling old church bench while visiting an old antique market. Isn't to darling! I like to dress it up for the holidays.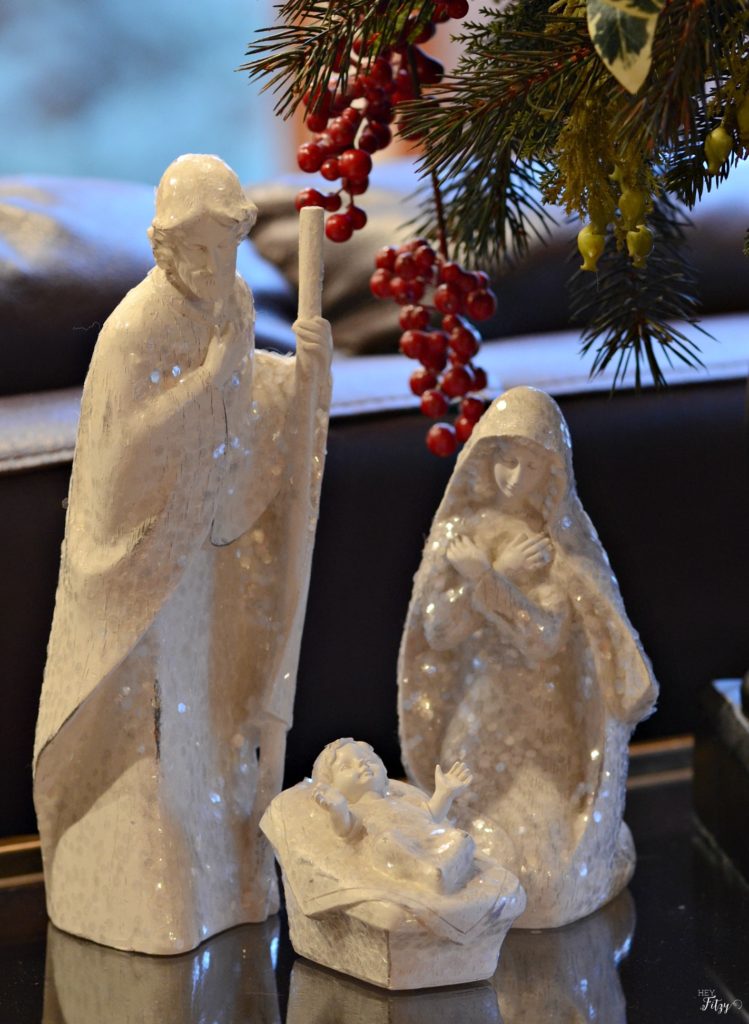 I found this sweet nativity several years ago and love its simplicity!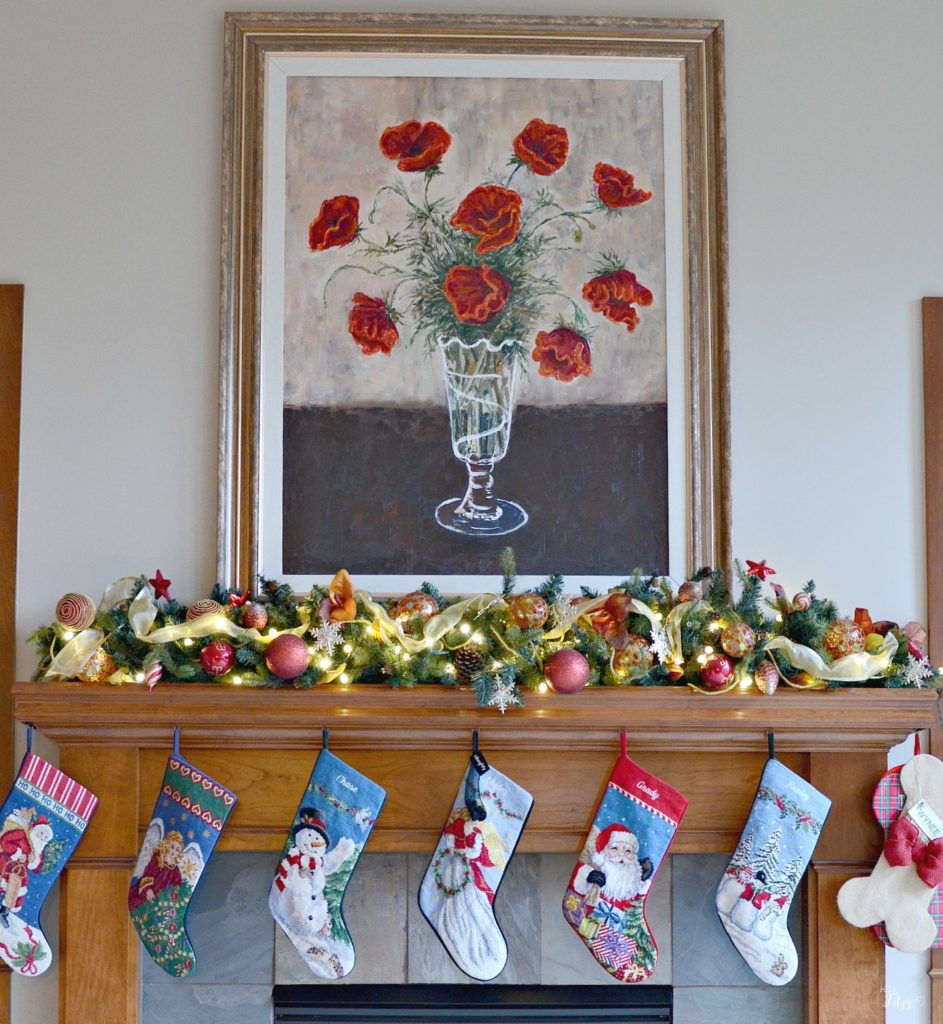 All the stockings were hung by the chimney with care in hopes that Saint Nickolas soon would be there. Yes…even the crazy dogs have their own stockings!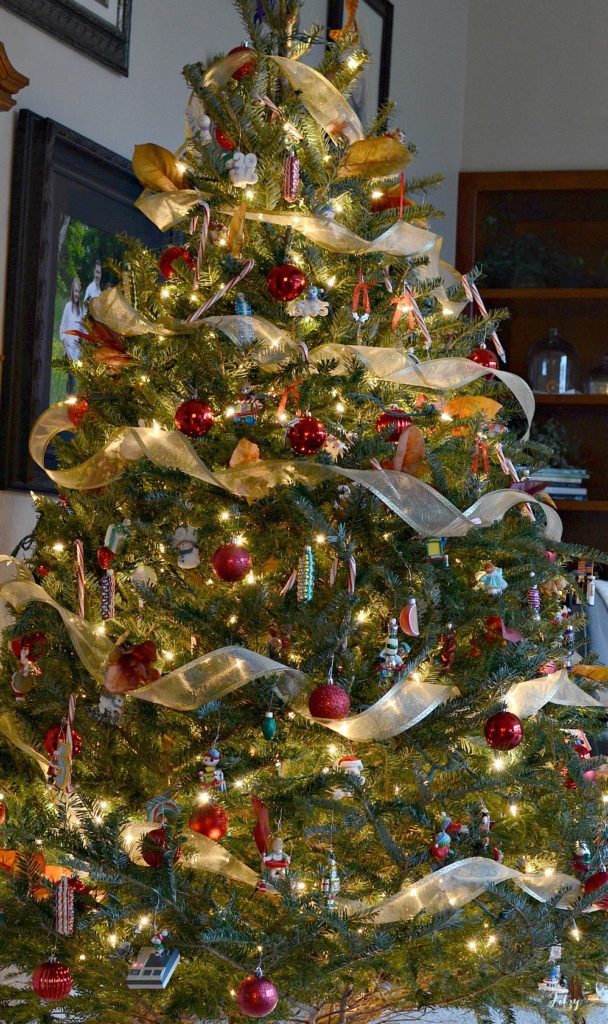 We put a real tree in our family room. It is full of ornaments we have collected over the years. It looks the same year after year and that is exactly the way we like it. I tried to change it up a few years back but the kids wouldn't have it.
Some where along the way we started adding candy canes to the tree. Now every year the kids remind me to buy candy canes for the tree.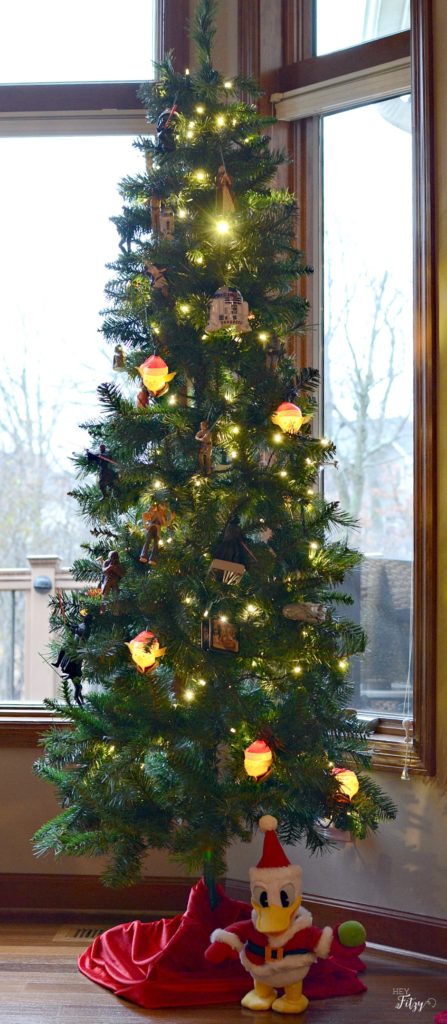 I teased last week about our Star Wars tree when I shared my Star Wars Gift Guide. Every single family member loves Star Wars so we dedicated an entire tree to our favorite Star Wars ornaments. You can bet we will be at the theaters when the new movie comes out in a couple of weeks. You can click here to see the gift guide.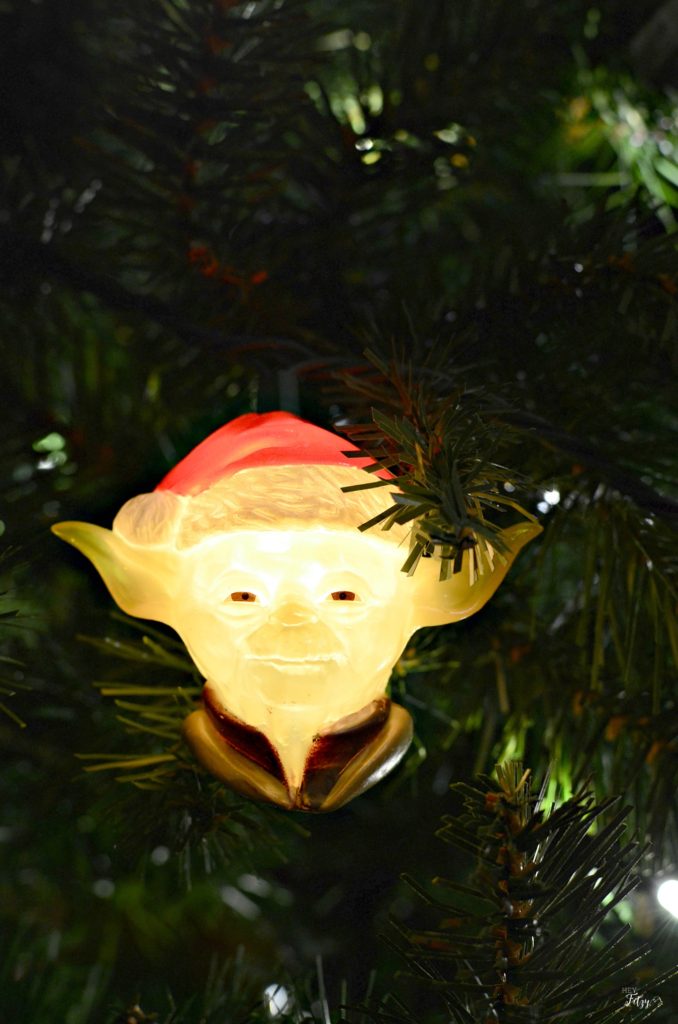 How fun are these Yoda lights!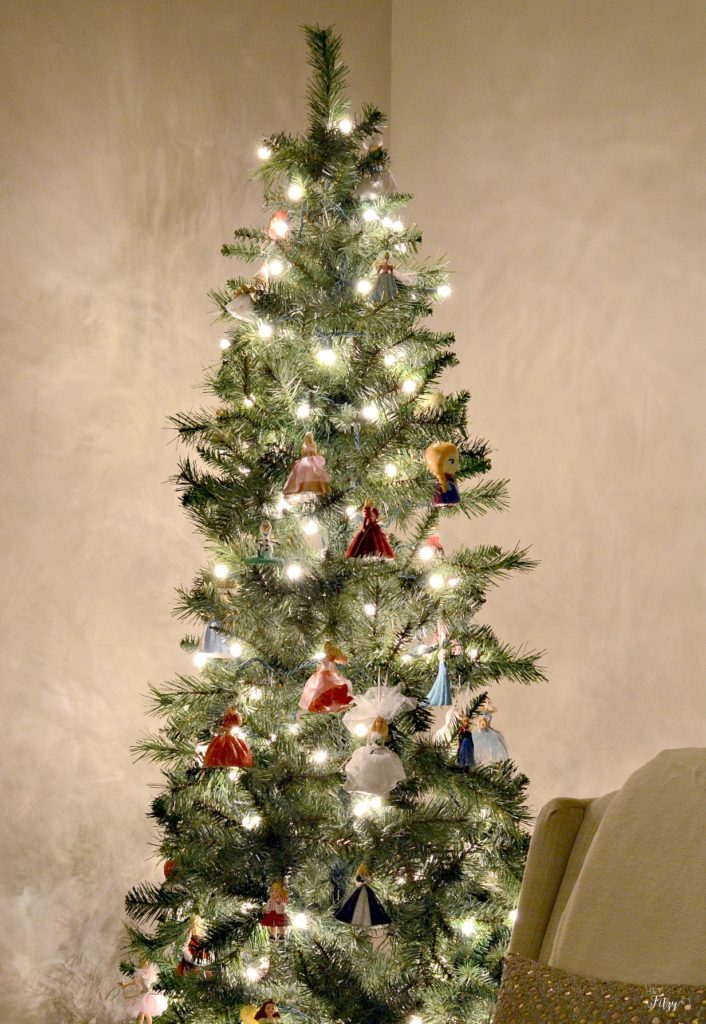 The girls created a fun tree using Barbie, Madame Alexander, and other Disney inspired ornaments.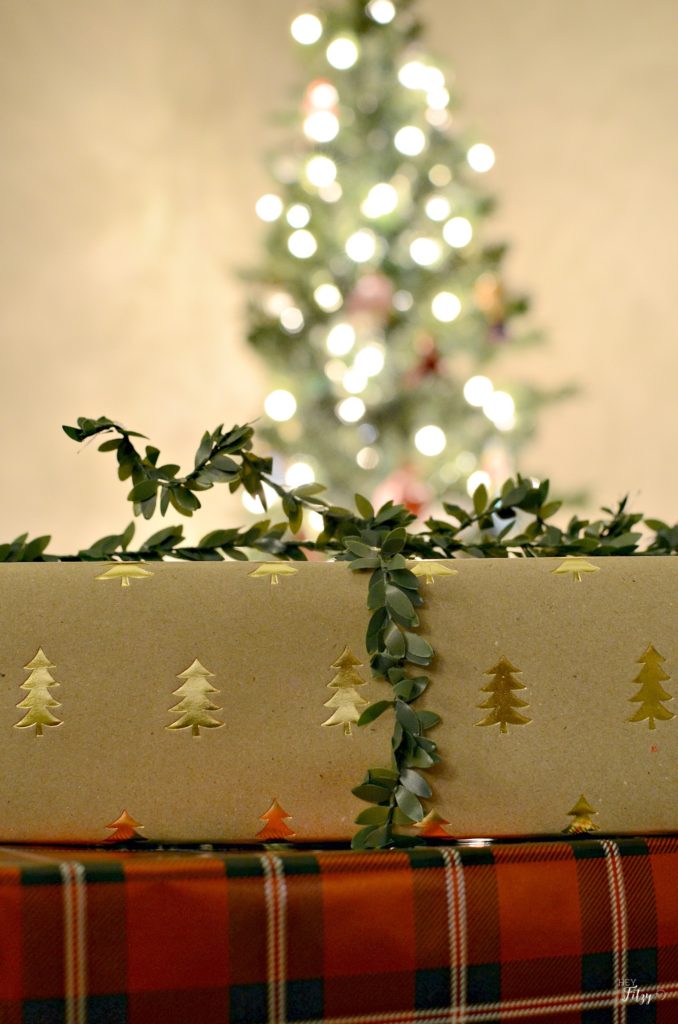 Presents wrapped and ready to go under the tree! You can click here to see my 5 tips for beautifully wrapped gifts.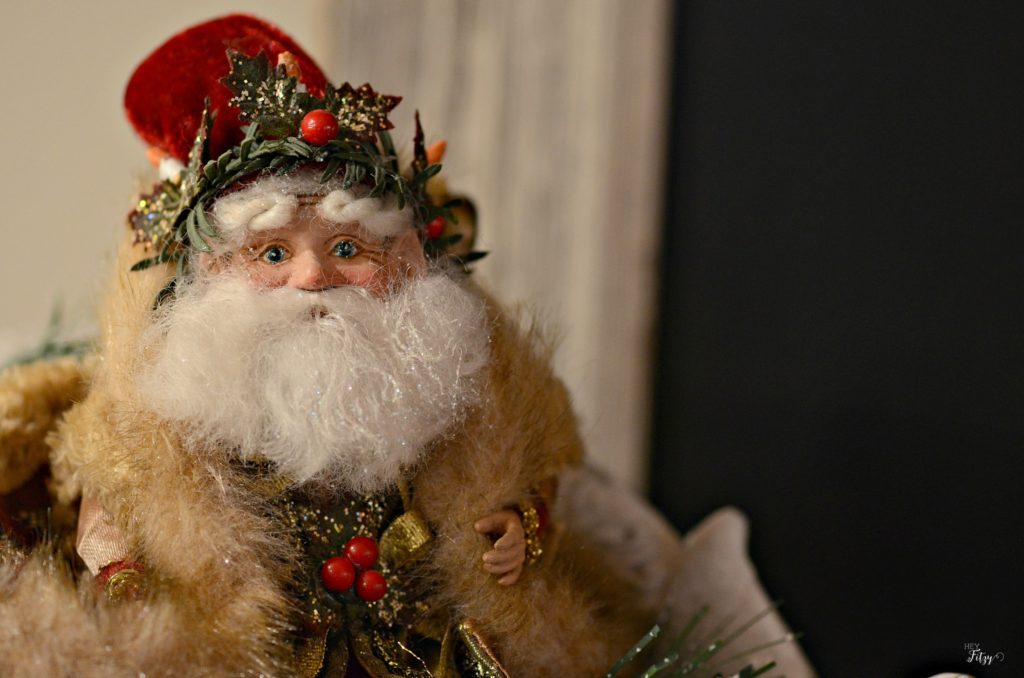 I love the details on this sweet Santa!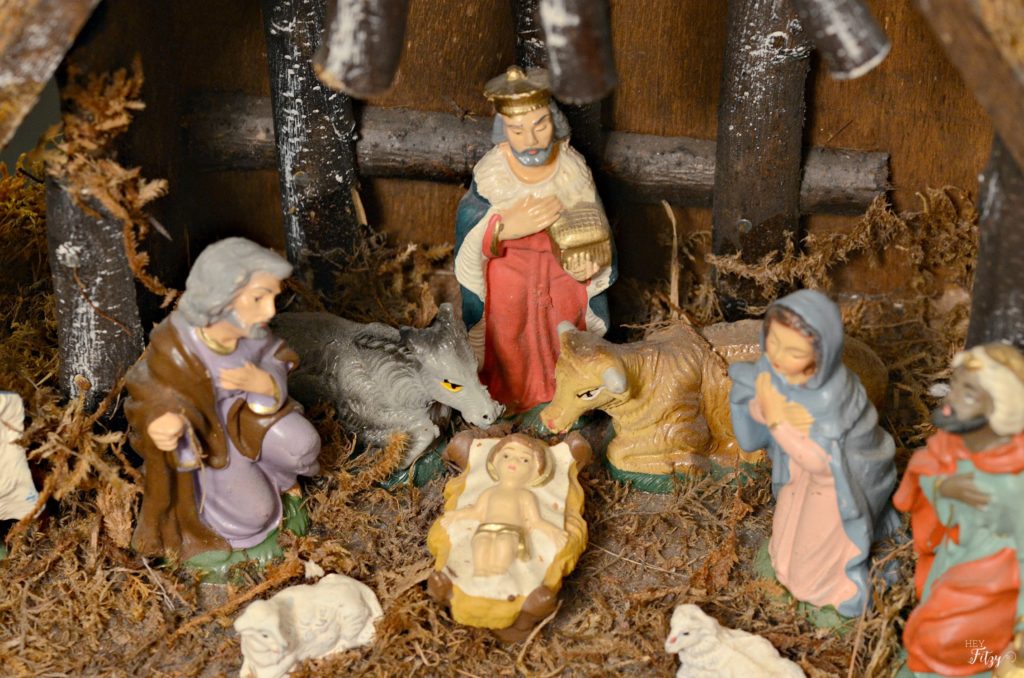 This nativity scene may not look like much but it is older than me. 🙂 It belonged to a beloved family member and I remember it from when I was a child. It warms my heart each year when I get to put it on display for my children to enjoy.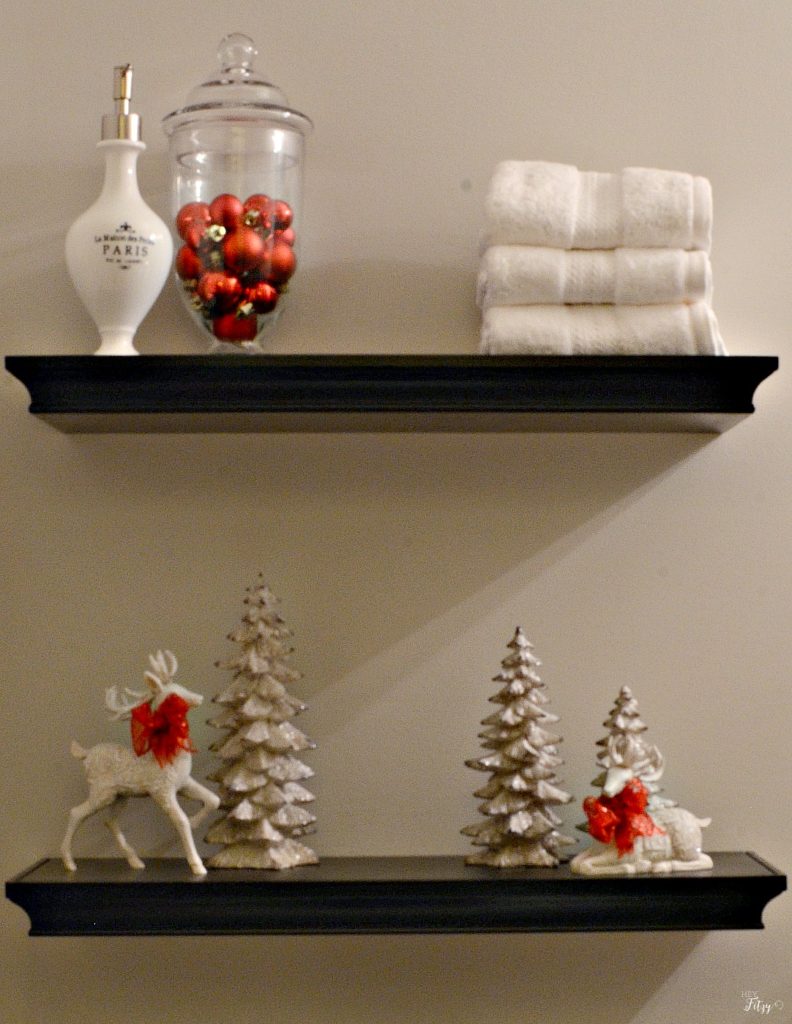 This spot is very difficult to photograph but I wanted to show you the shelves in my powder room. I added little bows to bring in a touch of red.
It wouldn't be a Fitzy home tour without a photo bombing dog. Seriously…this little cutie jumped right up on the chair to get in front of the camera! Stinker!
Now sit back and enjoy the rest of the No Place Like Home- Holiday Home Tour. Simply click on the names below to visit each of my lovely friends. Their homes are darling and all decked out for the holidays!
A Home To Grow Old In | Hey Fitzy | Nourish and Nestle | Sweet Parrish Place
The Aspiring Home | The Red Painted Cottage | Savvy Apron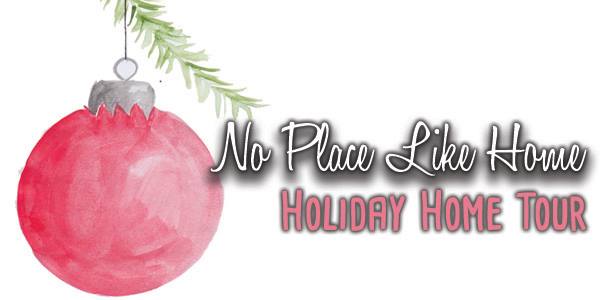 SaveSave