A Home To Grow Old In | Hey Fitzy | Nourish and Nestle | Sweet Parrish Place
Paint Yourself A Smile | The Red Painted Cottage | Savvy Apron | The Aspiring Home |
Are you ready to tackle the clutter in your home? I know that I am! To start the new year off right, I have partnered with my favorite gals from No Place Like Home. Today marks the start of our four week series that will provide great ideas and a fun incentive to help you declutter your home and get the organization you seek. We are gonna start in the kitchen and then we will tackle craft/office spaces, bathrooms, and end with storage/closets. And…to make it even more exciting, you will have an opportunity to win a $150 gift card for all your hard work. Ready to play along!
Let's get started in the kitchen. The kitchen is the heart of our home. As the most used space in our home, we gather here to share a meal, discuss our day, solve problems, and do homework. It is the place where we share the everyday moments as a family that I truly cherish. And…if you have been reading this blog for a little while you know that I love to spend time in the kitchen. Baking, cooking, and creating in the kitchen is one of my favorite things to do. So ideally I want this space to be organized, efficient, and functional for my family. I need to get a few more kitchen supplies so I should probably check out a website like Product Expert to see which products are highly rated. My kitchen is so important to me, as I'm sure it is to you as well, and I feel that updating your kitchen regularly is a great way of keeping the home fresh. While we haven't had any big remodeling projects carried out yet, we have completed a couple of different projects that have really transformed this space and I am happy to share them with you today.
So let's start with one of my favorite projects-the panty. Want to see a scary before shot?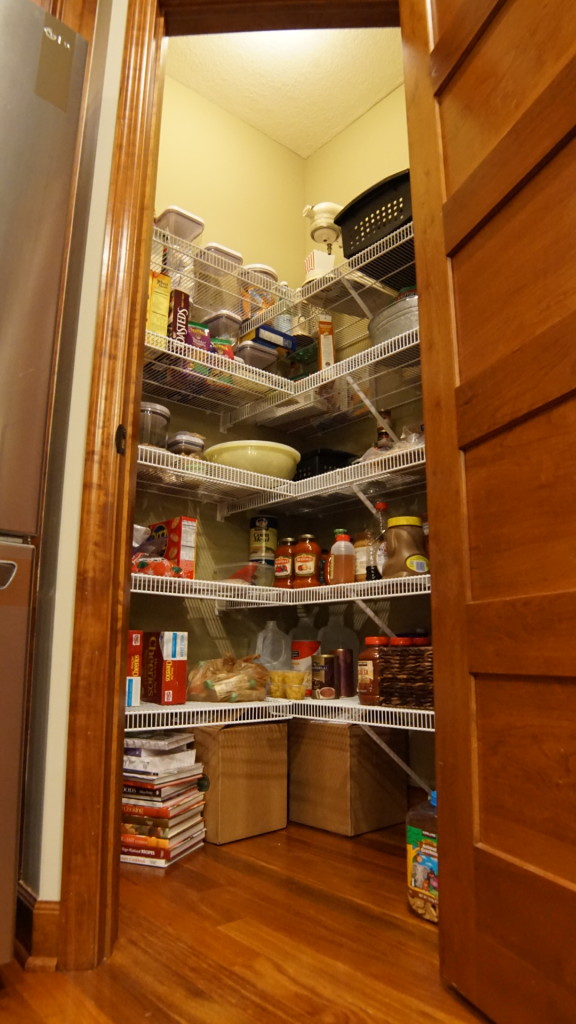 Here is a picture of our pantry before we completed a One Room Challenge last spring. In just six weeks, we transformed this space into something a cook's heart (mine) could only dream of. We tore out the builder grade wire shelving, added drawers, built shelves, and organized the entire space. Click Here if you want to see the entire project. Are you ready for the reveal!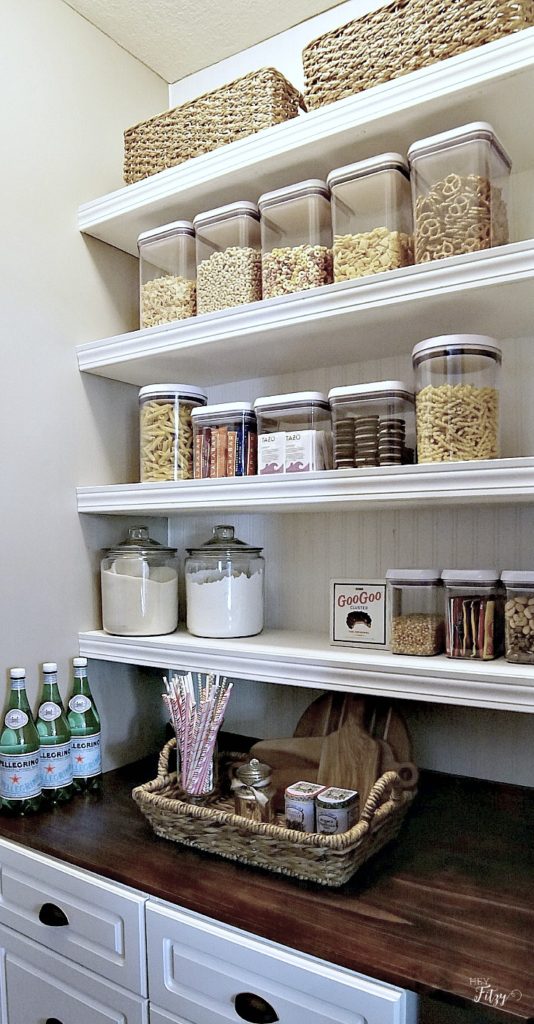 Isn't it dreamy! Doesn't even look like the same space! It is hard to believe I didn't get rid of much between the before and after shot. Just organized it. This new pantry is a heavy lifter. The drawers on the bottom store baking supplies, stuff for school lunches, and items for meals. The shelves above provide easy access to all the everyday items. Plus…I even earned a little counter space that can be used for food prep or serving. When putting it all together, we did think we might buy a stainless steel sheet and use that as the material for the shelves to give the pantry a more industrial look. In the end, we decided against that because it didn't go with the decor of the home. I'm sure stainless steel shelves would look fantastic in a range of other kitchen layouts though. Something to consider for the future!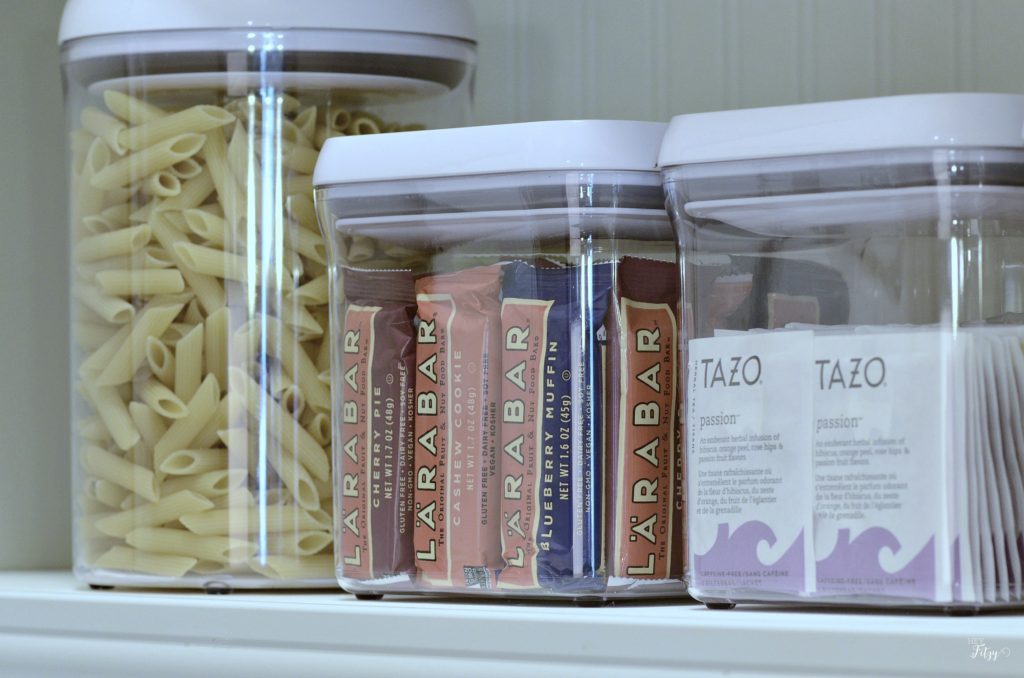 I love these air tight containers. They help eliminate all the odd boxes that come home from the store. The clear container also helps me keep track of how much of an item is left.
Ready for another fun project? Look what Fitzy created after hearing me complain (who…me…) about the messy drawers that hold all my kitchen gadgets.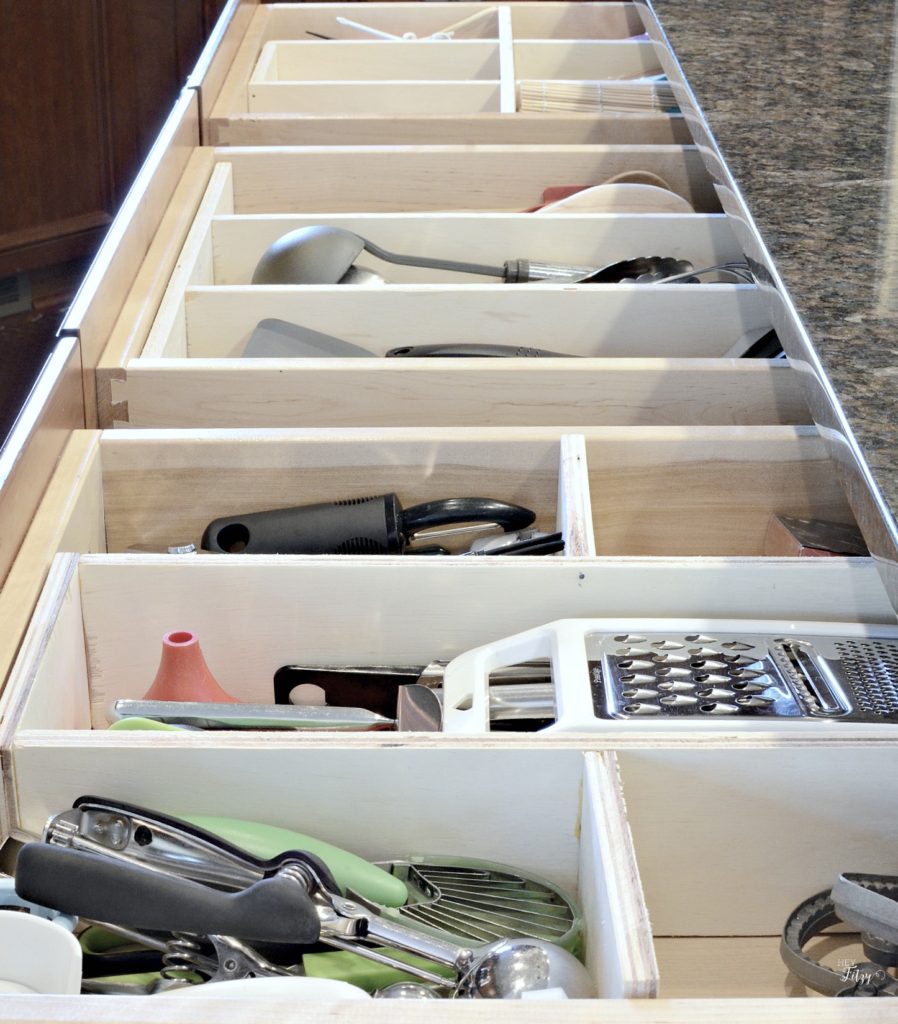 That man knows the way to my heart! With a little scrap wood, finishing nails, and some wood glue, Fitzy created custom drawer inserts that organize the three drawers in our kitchen island. Someone recently state, "She has more kitchen gadgets than anyone I know!" (thanks Dad!). These drawers just might support that theory! 🙂 We measured the inside of each drawer and determine the best configuration based on the different gadgets. For the first drawer, we created six small sections for all the odds and ends. For the middle drawer, we create three large sections for spatulas, wooden spoons, tongs, etc. For the last drawer, we create one large section and four small sections. Now everything has its place and is easy to find. My friend did something similar and told me that since she felt so organized she would get a new microwave but finding the best microwave can be a daunting task so she decided to read some reviews online, but I digress.
For the next project we used the same supplies to organize our spices.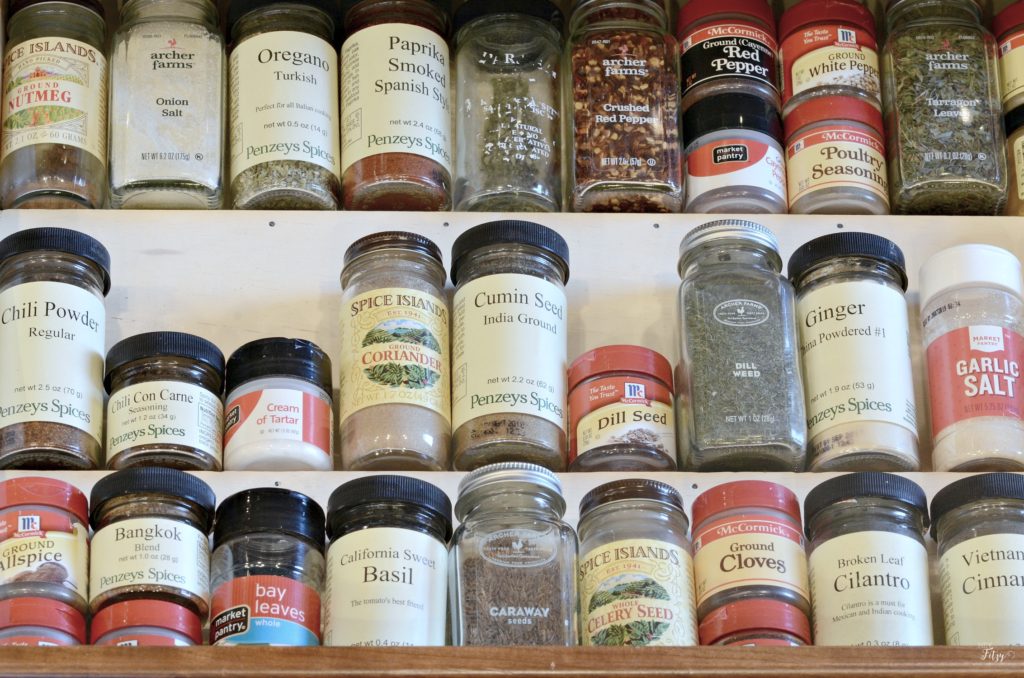 To transform our spice drawer, we simply measured the inside of the drawer to create little shelves for each row of spices. Scrap wood, finishing nails, and wood glue helped us organize our spices. And…for this crazy gal…I even put them in alphabetical order. Now every spice is just where I need it when creating in the kitchen.
Are you feeling motivated yet? If you need more inspiration you can visit my post from yesterday that featured 20 smart organizing ideas for your kitchen. Click Here to visit that post.
As previously mentioned, the gals from No Place Like Home are hoping to motivate you to declutter your home with the opportunity to win a $150 gift card from The Container Store. You have multiple opportunities to enter the giveaway:
2) Each week submit a photo of a declutter challenge or success to the inlinkz below. (If you are not linking from a webpage and are just uploading an image from your computer, click on option 3 in the inlinkz box that says 'Image URL' and add your image from your computer. This link (http://blog.inlinkz.com/2010/07/adding-images-to-linkup/ ) helps explain that further.)
Link Party Guidelines:
1. Please only link up posts that are kitchen decluttering/organizing related.
2. Please only link up your original work.
3. Please only post something that you have not posted before during this 4 week challenge.
4. Please go to the original post before you pin something.
5. By linking up to this party, you are giving the ladies of No Place Like Home permission to share your pictures on social media or our blogs at any time in the future. Of course there will be a link back to your original post.
For more inspiration, you can click on each blog listed below to see what all my friends at No Place Like Home are doing to declutter and organize their kitchens.
A Home To Grow Old In | Hey Fitzy | Nourish and Nestle | Sweet Parrish Place
Paint Yourself A Smile | The Red Painted Cottage | Savvy Apron | The Aspiring Home |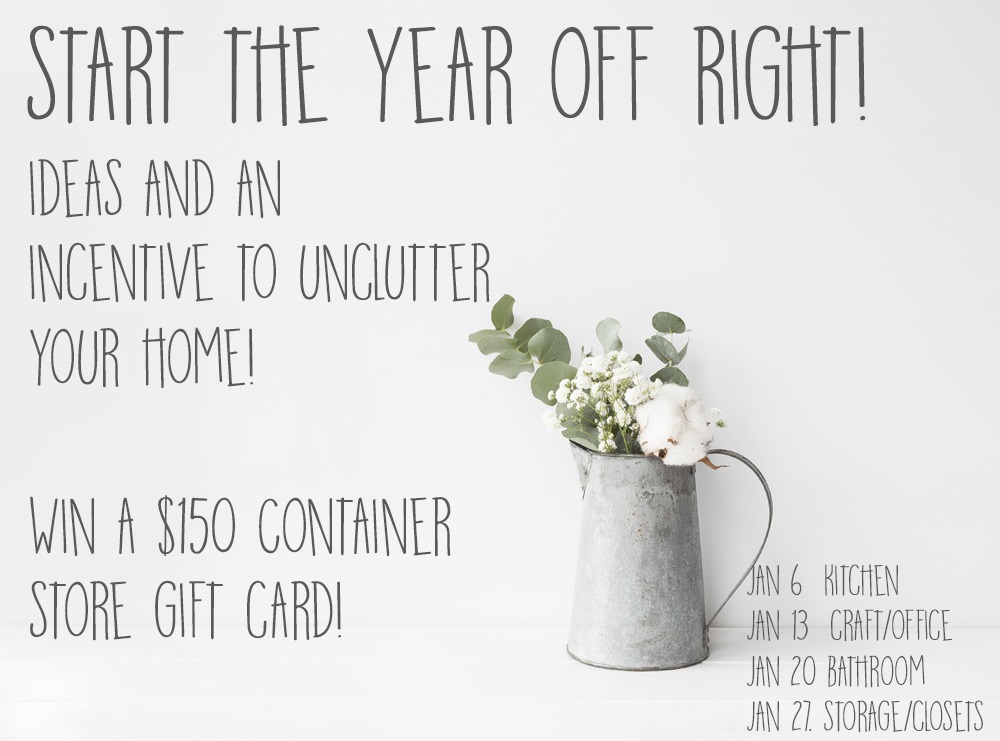 SaveSave