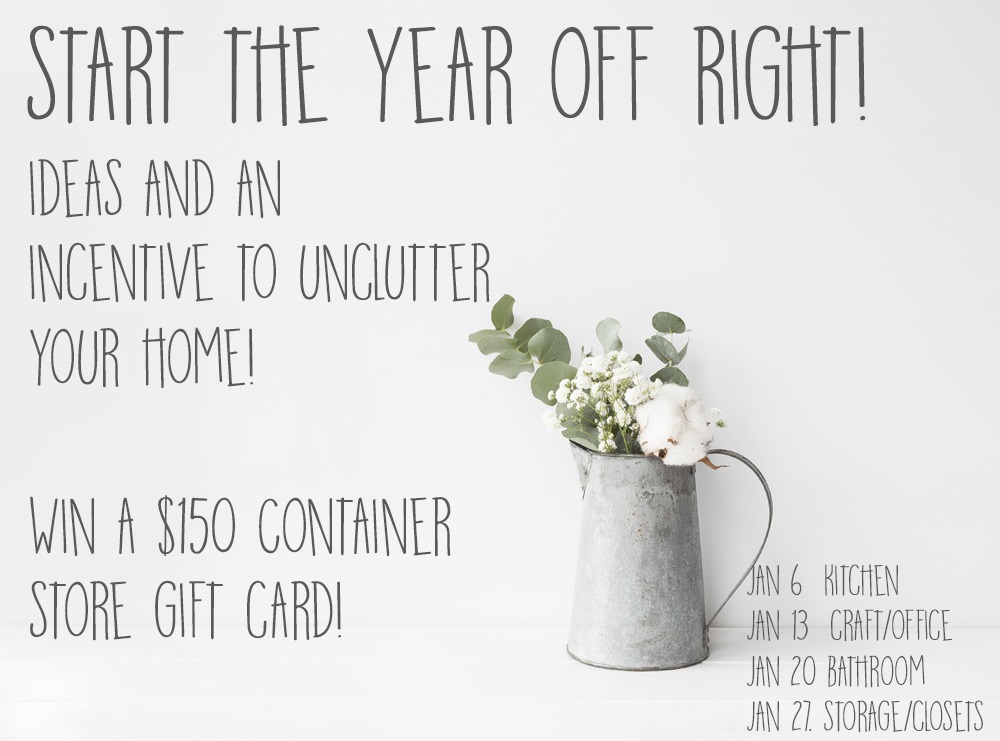 A Home To Grow Old In | Hey Fitzy | Nourish and Nestle | Sweet Parrish Place
Paint Yourself A Smile | The Red Painted Cottage | Savvy Apron | The Aspiring Home |
Welcome to week two of our organization challenge! Did you have an opportunity to check out week one in the kitchen. So many great recommendations to help you tackle every kitchen organization need. To see week one Click Here. To see 20 smart organizing ideas for your kitchen Click Here.
Well this week we are going to tackle those pesky craft and office spaces. Some of us our blessed to have a dedicated office and craft space. Some of us have to be creative in figuring out a way to 'live' amongst the creative work that happens in our home. Who said the kitchen counter and that tiny corner of your family room doesn't count. So if you are lucky enough to work from home then you should probably make sure that your office space is perfect for you. Some people even rent out external office space to work with a few freelance friends to create a better work-life balance. I've heard their rented office space is great to work in because of this brand in the Commercial Office Cleaning industry that does a fantastic job keeping the standards of cleanliness high. This isn't for everyone though so you might work at home instead. You want to be at your most creative when you're at home, but you also want to make sure that you do actually do the work. Further to this, if you do work from then home then did you realise that you could save money on your energy bills by using business energy. If this sounds of interest to you then you could take a look at someone like Simply Switch who can help you find a cheaper business energy provider – this is only one perk from working at home.
I don't have a ton of fancy pictures for you this week but want to show you what works for our family. We don't have a room per se but rather utilize a couple of different closets to store all our craft supplies. This is what works for us. We are able to utilize a couple of shelves in the mudroom closet for the kids craft supplies and my craft supplies are hung on the back of our foyer closet doors. Want to take a peek. But please remember…these pictures are not staged. They are real life and exactly what my craft space looked like when I opened the doors. 🙂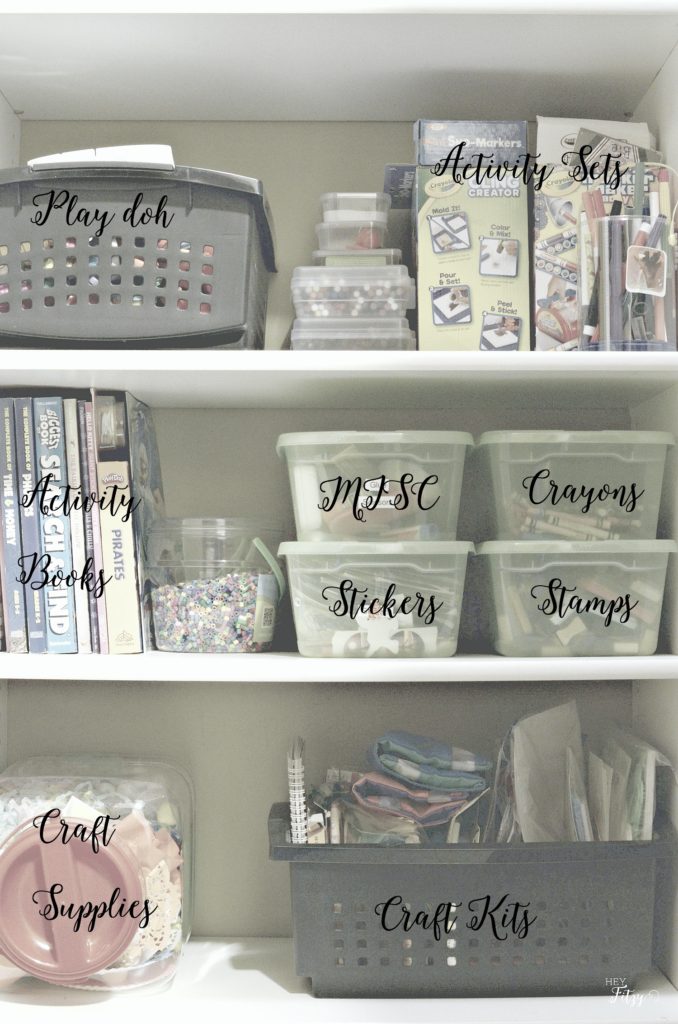 The bottom shelves in our mudroom are used for the kids craft supplies. Everything is at their level where it can be easily reached…and easily put away. I found the little green bins years ago and really find them to be the best for crayons, stamps, etc. Depending on what the kids are working on, they can easily pull out a bin and take it to the counter or any place they want to work. Then when they are done the bins make clean up a snap. Simply throw everything back in the bin and put it away. I use one black basket for all our play doh and another black basket for all the different craft kits. Over the years I have found it is easiest to put all the kids random Post-It Notes and all the other crafting supplies in one big bin with a lid. The kids just sort through it quickly to find exactly what they are looking for.

I didn't really have a space in the house for my craft supplies. In my attempt to get everything organized I had to get creative. When I found these over-the-door hangers from the Container Store I knew they would be perfect. In the foyer we have a double door closet so I knew that would be the perfect place. The basic starter kit can be easily modified to meet your needs based on the specific items you are storing. For the first door I store all my gift wrap and misc craft supplies. Yes…that is all my gift wrap. I am a huge advocate of using what I have first before buying more. Just three small roles left over from the holidays. I try to buy generic or gender friendly wrapping paper for birthdays. It cuts down on what I need to store and forces me to get creative to dress up and personalize the package with a cute little add-on of sorts.

The second door is used for all my odds and ends. Beads are stored in old baby food jars and ribbon is nicely lined in a row. I guess I like to letter things because I have an entire basket dedicated to my lettering supplies. Little silver buckets from the dollar store are used to store my paint brushes and markers. This is nothing fancy folks but rather real life. It isn't staged for the photos but rather what works for me. I have found that I can utilize a small space to effectively store all our craft supplies.
Its also a good idea to get organised with your digital storage, Everything But Stromboli allow you to buy flash drives and SD cards in bulk. This is great if you like to physically divide up your digital storage. For example, I like to divide up my music and photos for work on SD cards.
Here are a few helpful tips to make storing craft supplies easier.
If you don't use it…throw it out. What…did I really just say that! YES…I am giving you permission to throw it out or donate it. When I converted to the door system I was amazed at what I threw out. Some stuff was over 20 years old that I was holding on to…just in case.
Make everything visible. If you can't see it…you won't use it. YES…this is a fact. When stuff gets buried you will either forget you have it or give up looking for it.
Your system doesn't have to be pretty…it just has to work. You don't have to spend a fortune on pretty bins or fancy stuff. I love to find bins at the dollar store or use old jars.
Store kid friendly supplies at kid level. Now my kids are older so it is a little different if you have little ones. But if you put the supplies where they can reach them guess what happens? They can get the supplies themselves and they can put them away themselves.
Are you feeling motivated yet? If you need more inspiration you can visit my post that featured 20 smart organizing ideas for your kitchen. Click Here to visit that post. Week One challenge in the kitchen can be viewed Click Here
Have you entered to win the gift card yet? As previously mentioned, the gals from No Place Like Home are hoping to motivate you to declutter your home with the opportunity to win a $150 gift card from The Container Store. You have multiple opportunities to enter the giveaway:
2) Each week submit a photo of a declutter challenge or success to the inlinkz below. (If you are not linking from a webpage and are just uploading an image from your computer, click on option 3 in the inlinkz box that says 'Image URL' and add your image from your computer. This link (http://blog.inlinkz.com/2010/07/adding-images-to-linkup/ ) helps explain that further.)
Link Party Guidelines:
1. Please only link up posts that are kitchen decluttering/organizing related.
2. Please only link up your original work.
3. Please only post something that you have not posted before during this 4 week challenge.
4. Please go to the original post before you pin something.
5. By linking up to this party, you are giving the ladies of No Place Like Home permission to share your pictures on social media or our blogs at any time in the future. Of course there will be a link back to your original post.
For more inspiration, you can click on each blog listed below to see what all my friends at No Place Like Home are doing to declutter and organize their craft and office spaces.
A Home To Grow Old In | Hey Fitzy | Nourish and Nestle | Sweet Parrish Place
Paint Yourself A Smile | The Red Painted Cottage | Savvy Apron | The Aspiring Home |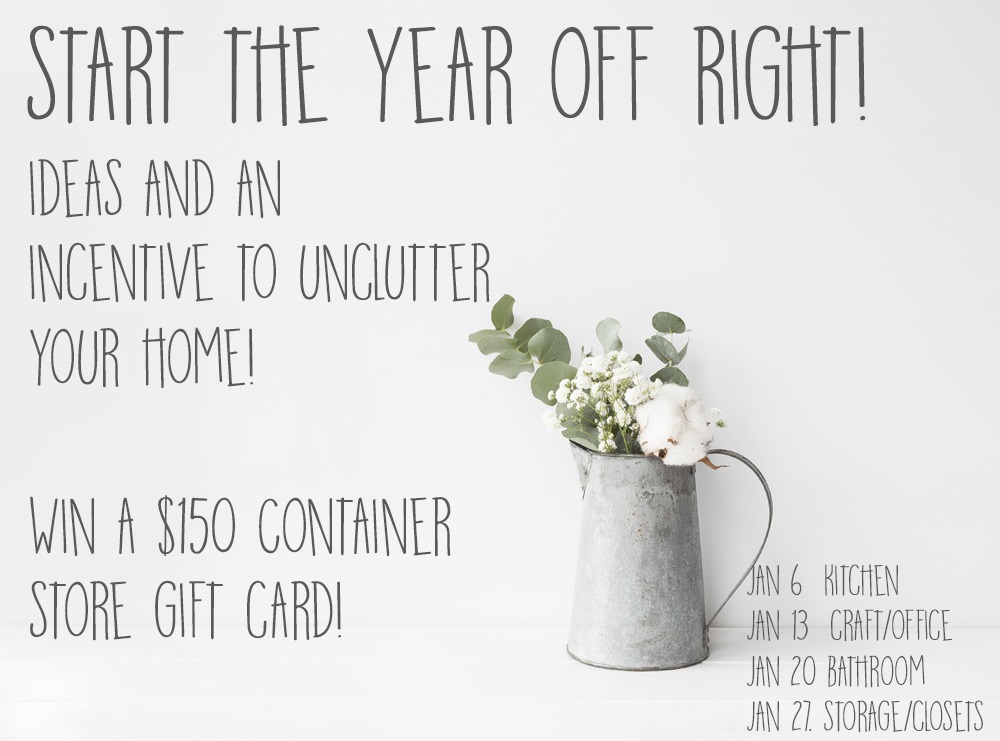 SaveSave