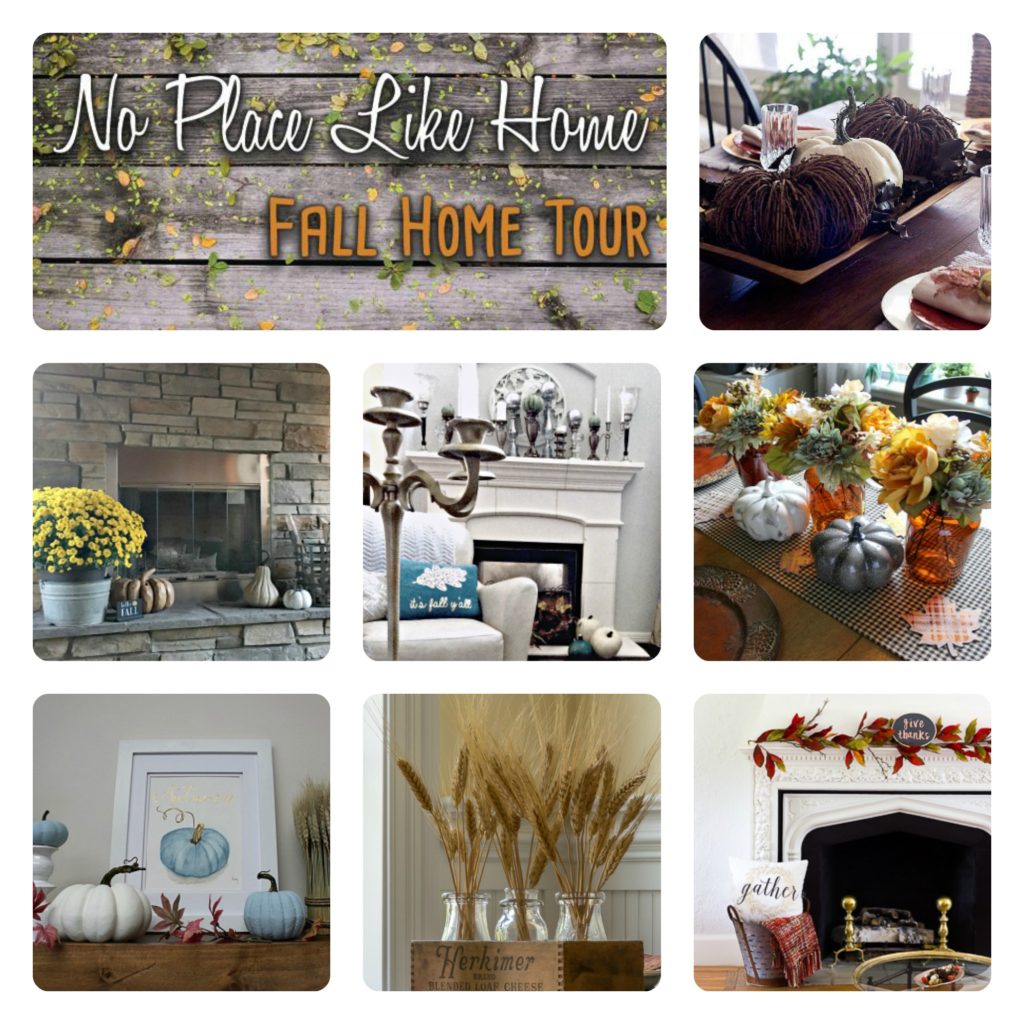 * A Home To Grow Old In * Hey Fitzy * Nourish and Nestle * Savvy Apron  *
 * Sweet Parrish Place * The Aspiring Home * The Red Painted Cottage *
Welcome friends! Thank you for stopping by. I have been looking forward to your visit for several weeks now. A group of my talented blogger friends have decided to open up their beautiful homes for a series called No Place Like Home- Fall Home Tour. Grab a cup of coffee or a sweet drink, sit back, and enjoy all this fall inspiration. Simply click on each blog name listed above and the link will take you directly to their beautiful home.  You can also visit my 2015 Fall Home Tour here.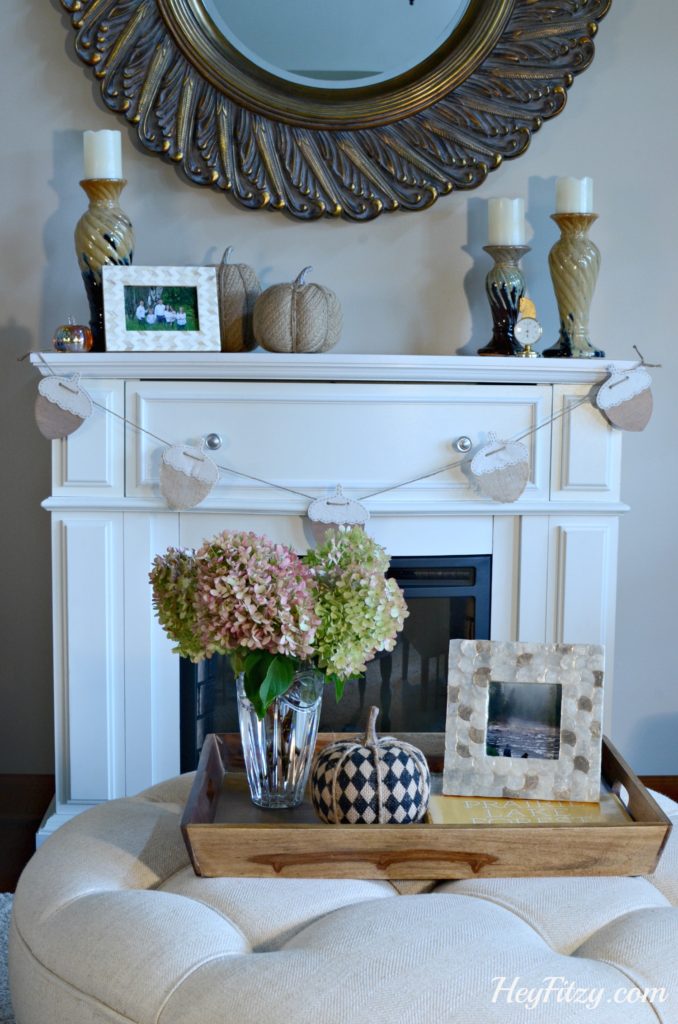 First stop in the Fitzy house is the front sitting room. This is the first room you see when entering our home and a favorite place to sit with guests. A big wall of windows provide natural light and the electric fireplace is the perfect place to cozy up during the cold winters in Minnesota.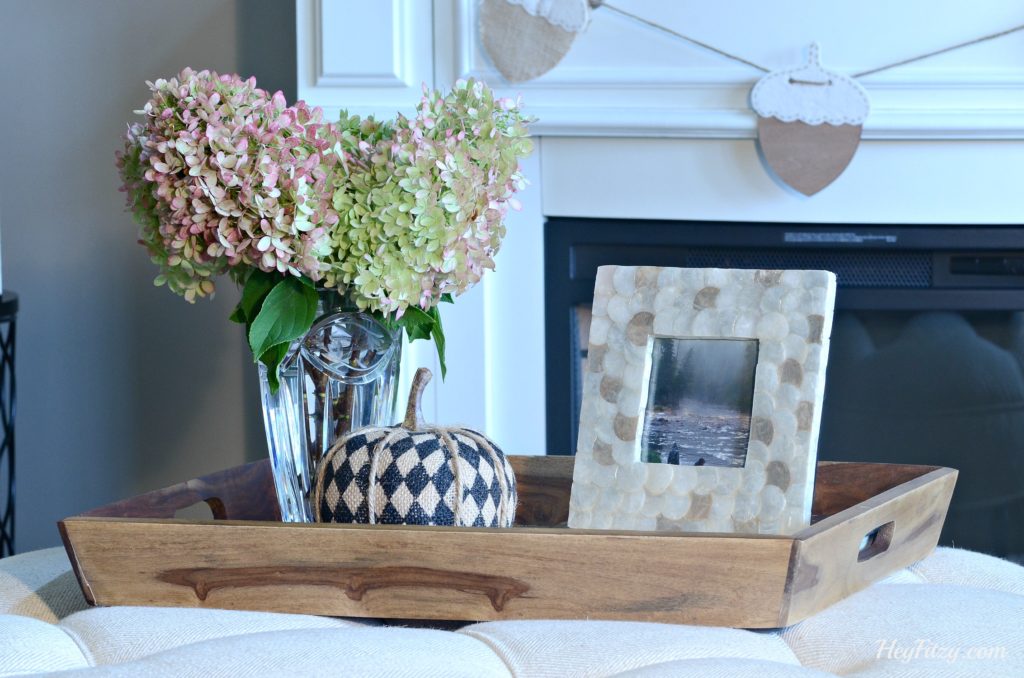 I clipped the beautiful lime-light hydrangea from our yard. Aren't they stunning!!!  In the fall they turn from creamy green to various shades of pink.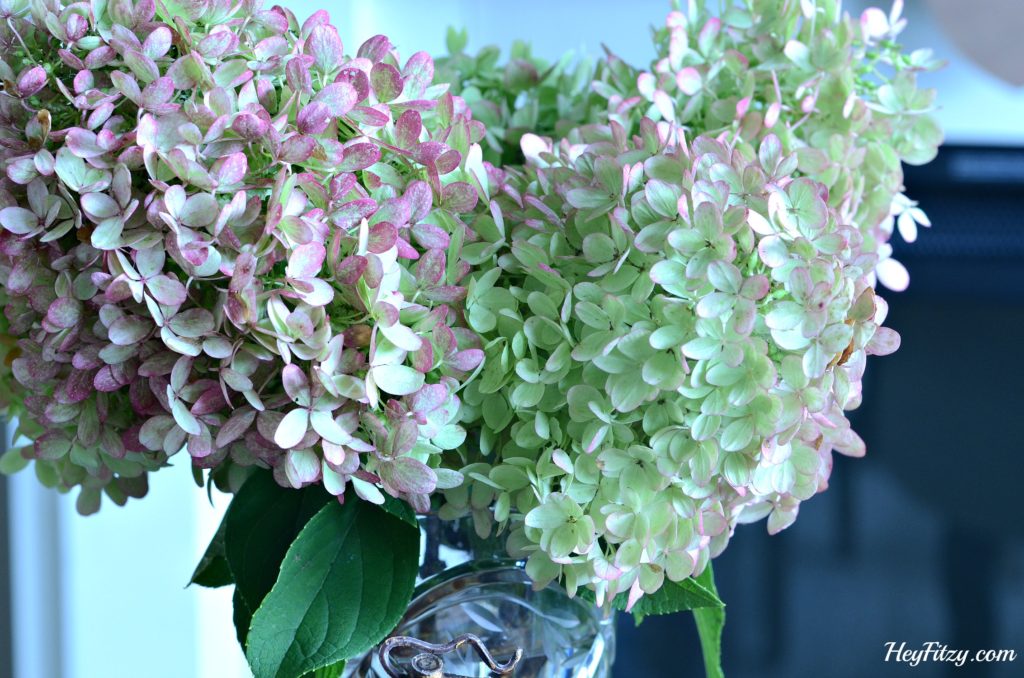 Wanna learn a little trick that will keep your hydrangea clippings at their best?  After you cut the stems, give them a light coat of hairspray and put them in water. They will last for days.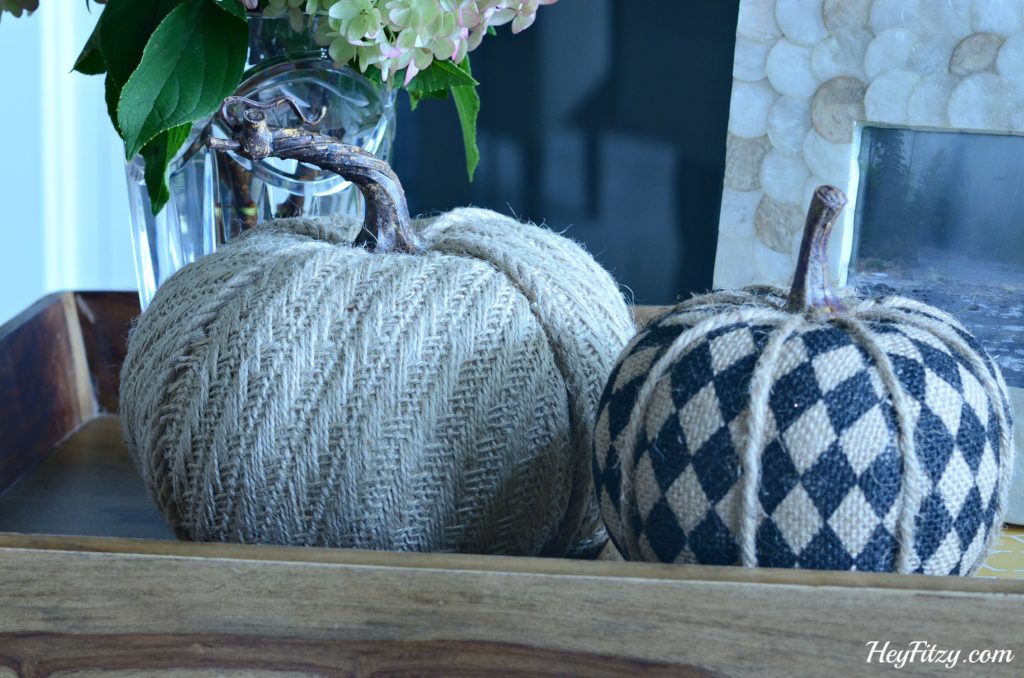 Pumpkins…pumpkins…everywhere!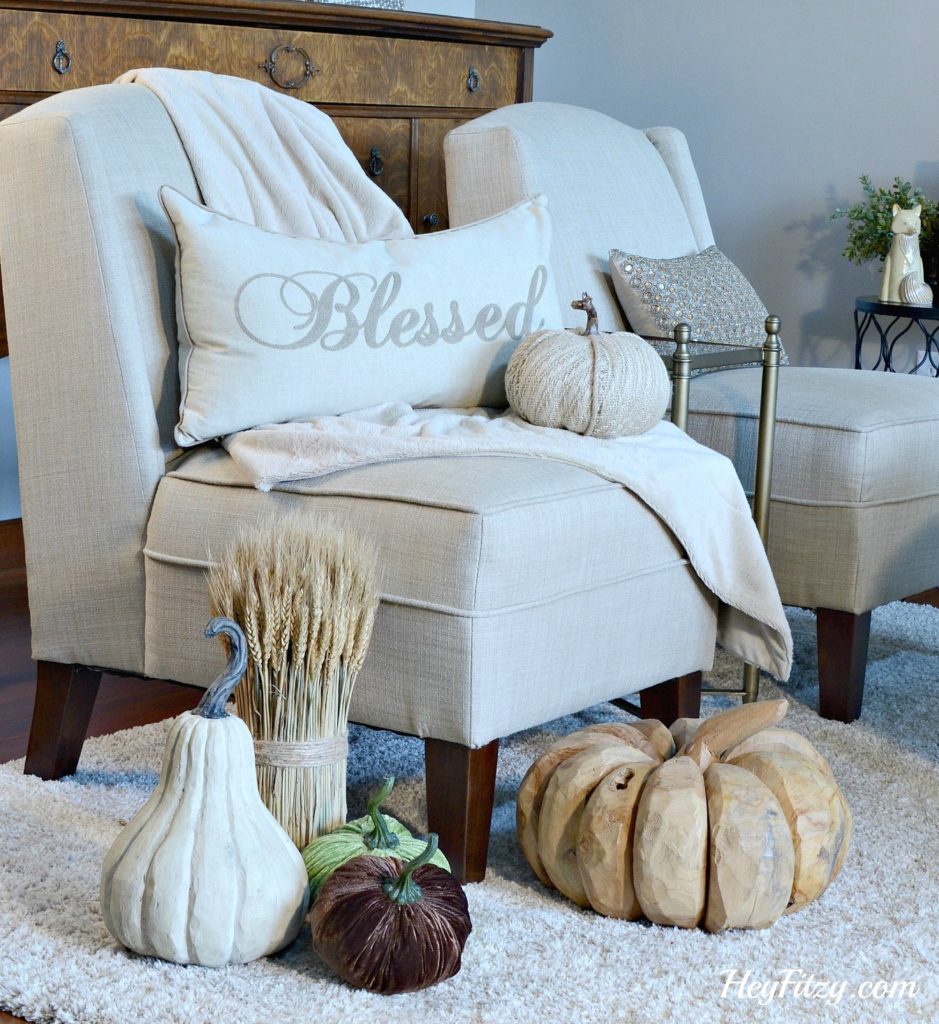 I am in love with the wooden pumpkin I found this year.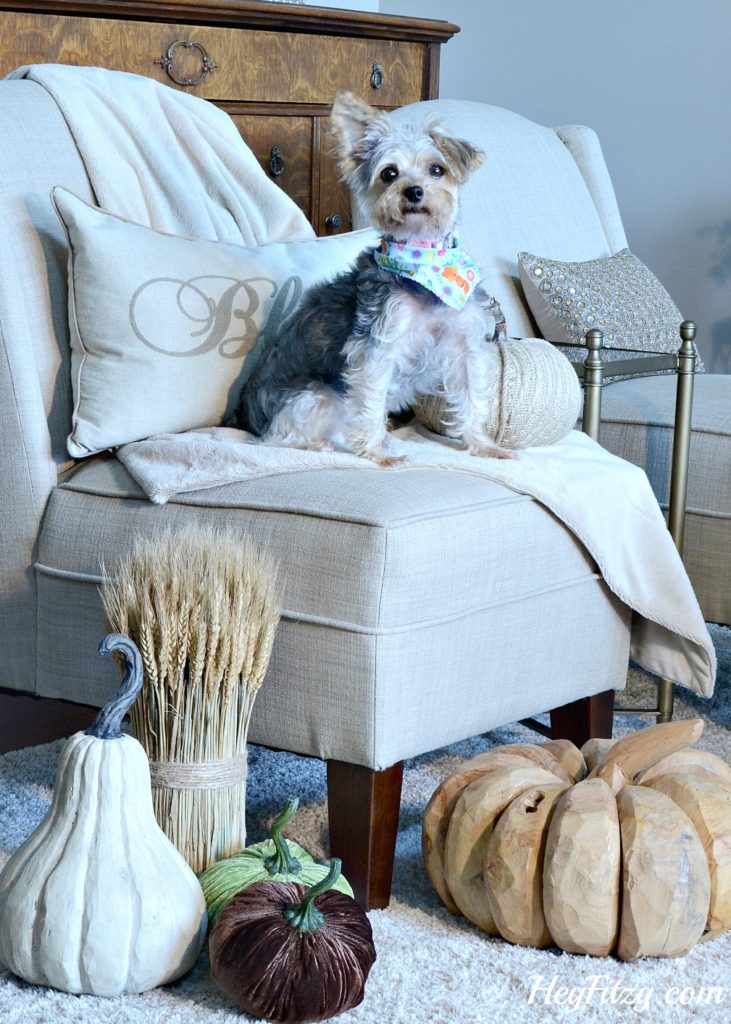 Anyone spot my little photo bomber? Literally in the middle of taking pictures she jumped right up on the chair. When I hollered at her to get down…she simple turned and gave me this look. Seriously not staged!!! She is a little sassy and likes to be in the middle of everything.  And…just in case you wonder…one ear is always up and one ear is always down. She is crazy like that!  🙂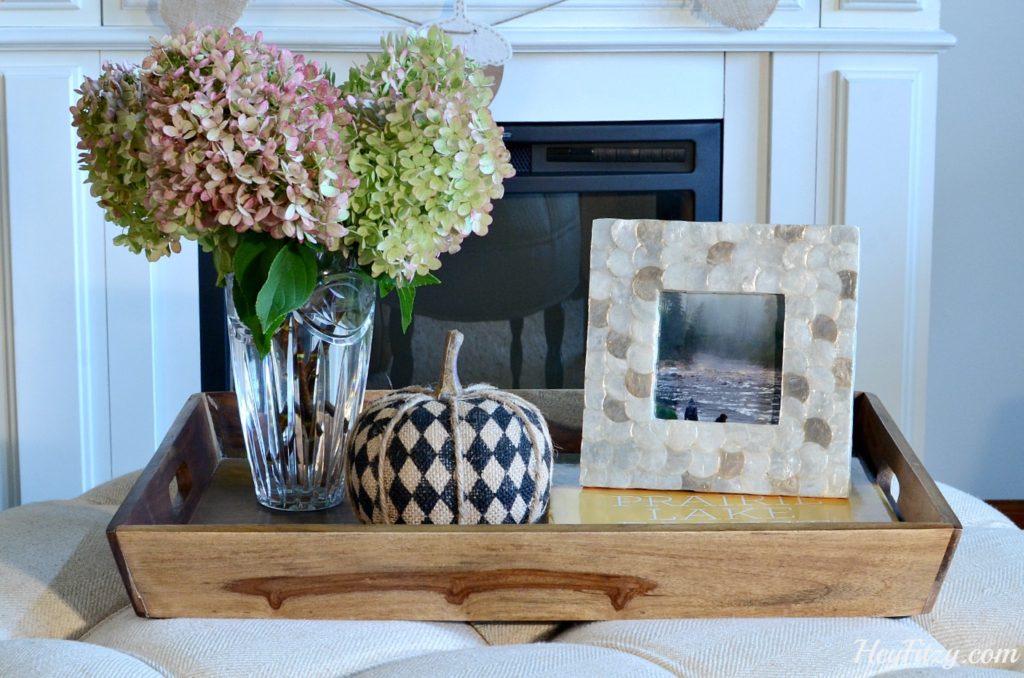 The photo is a family favorite from one of our trips to the North Shore of Minnesota. You have to visit Gooseberry Falls and Grand Marais if you ever get a chance.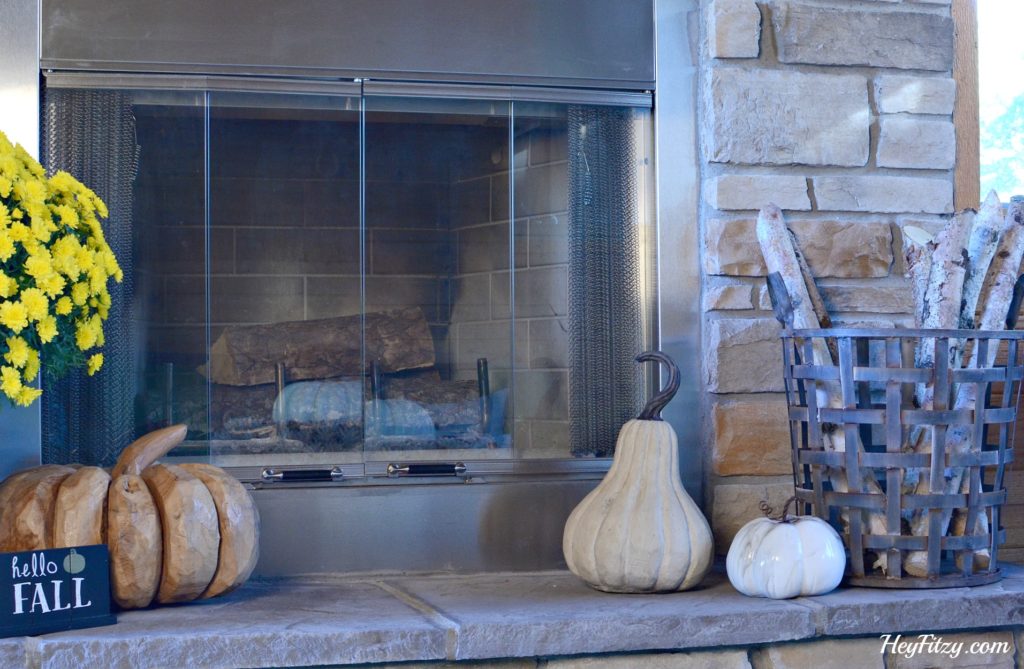 When we bought our home five years ago, we fell in love with the three season porch on the back of the house. It is a stunning cedar lined porch with a two story fireplace. It really is our favorite room in the entire house. Not only is it beautiful, it is where we spend most of our family nights. Nothing like a cool evening in front of the fire.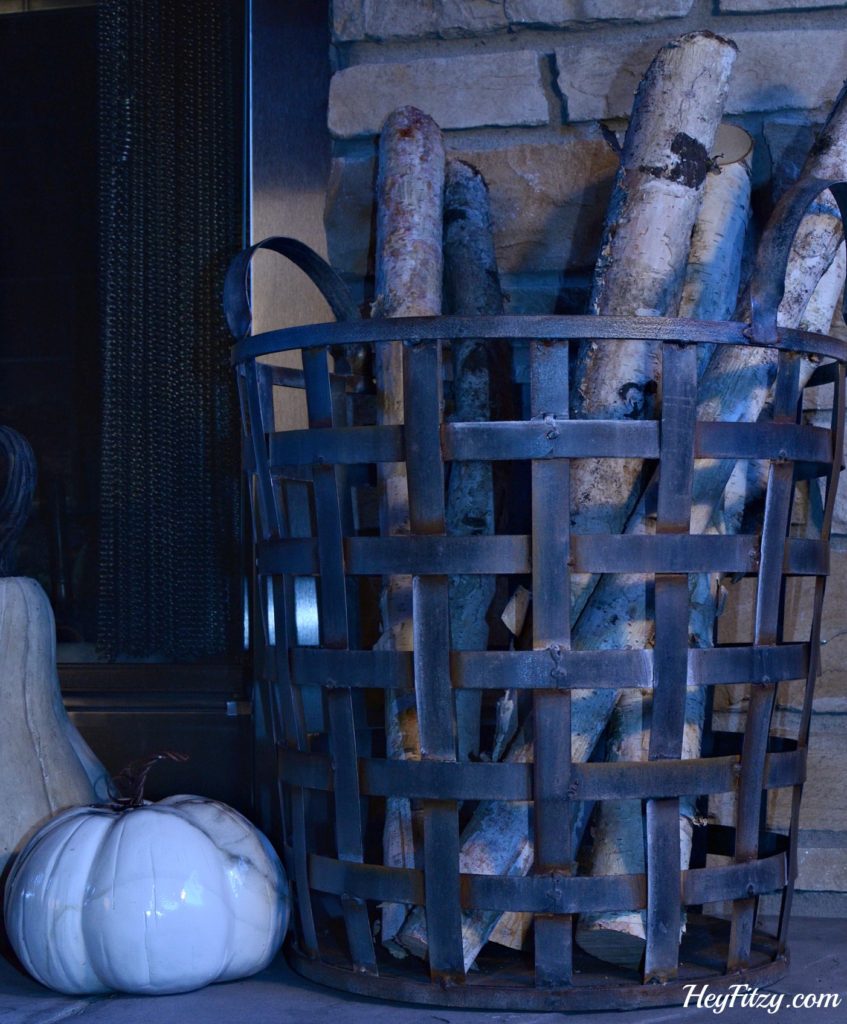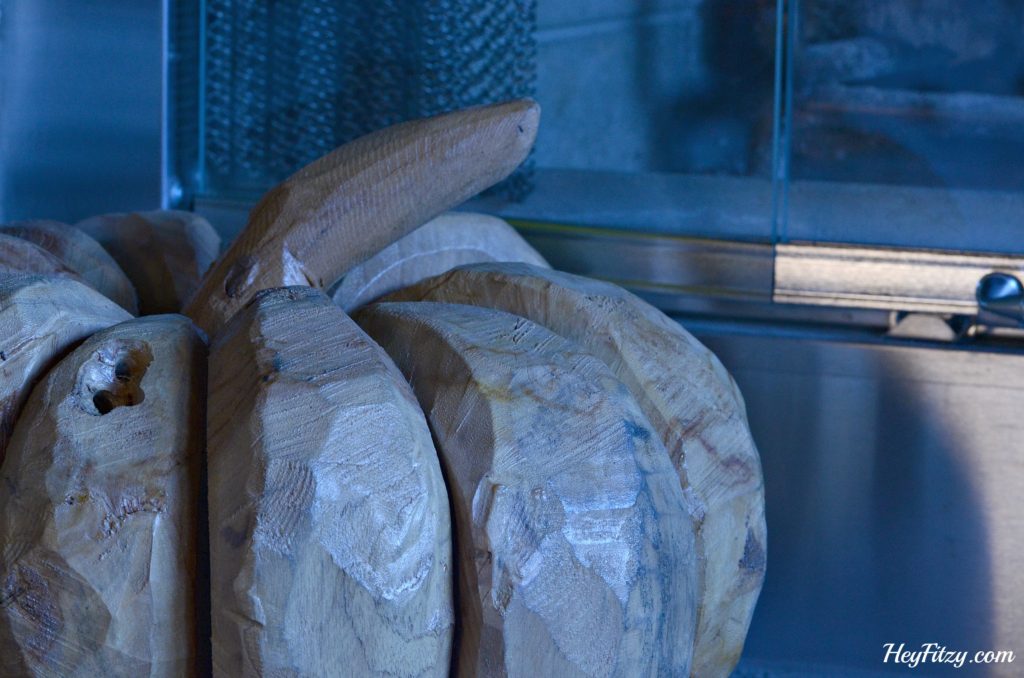 My favorite wood pumpkin made an appearance on the porch as well.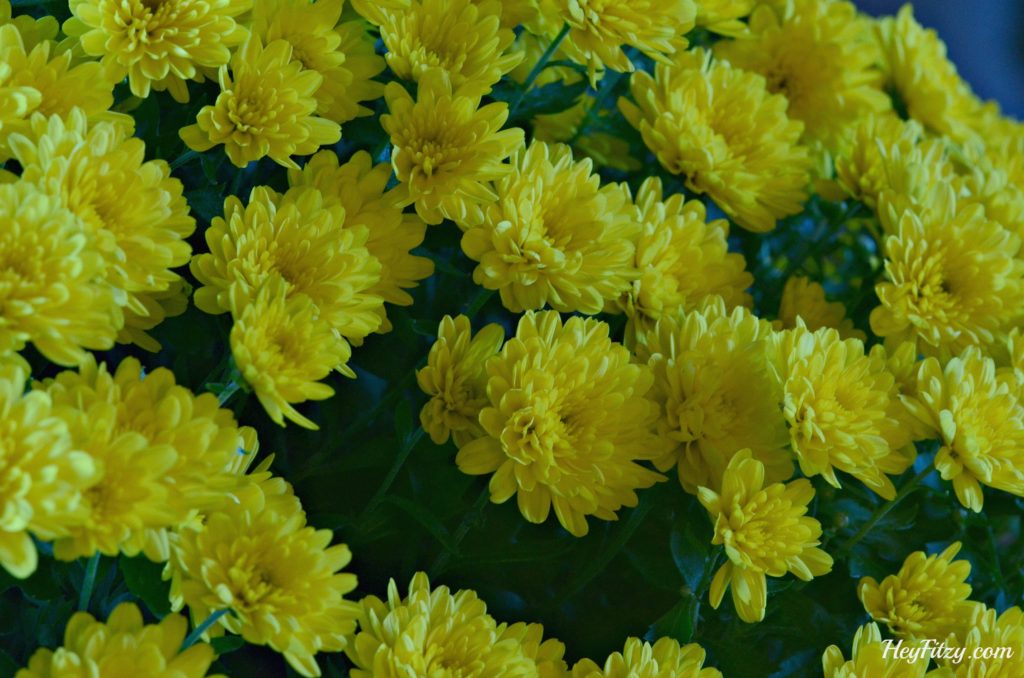 I love fall mums but struggled for several years to keep them alive. Last year I finally learned how to take care of them.  Click here to learn my best care tips.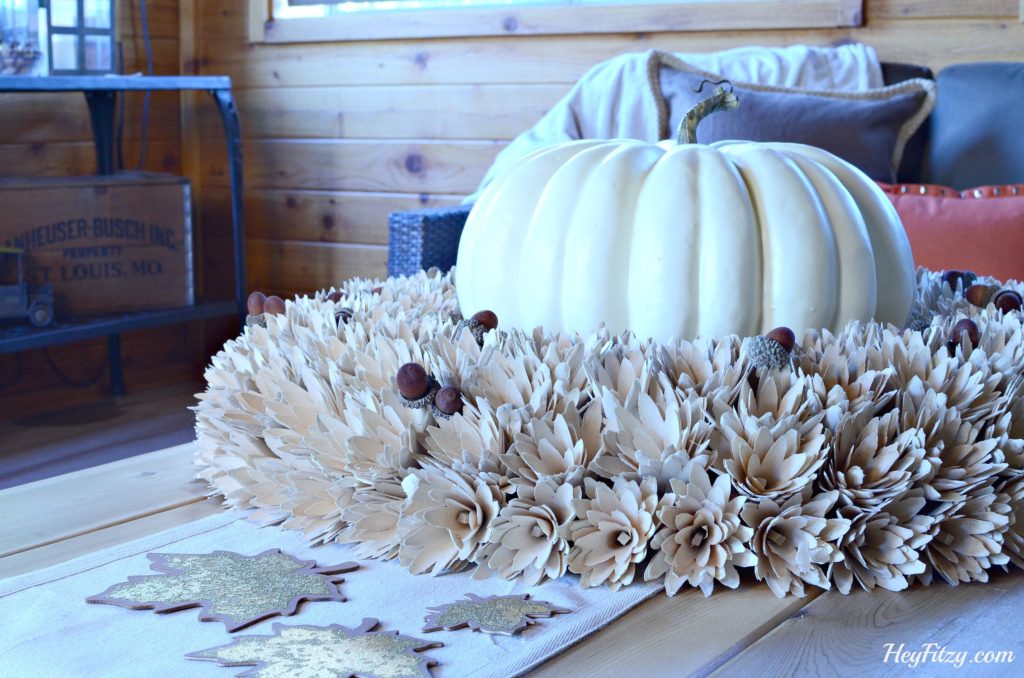 One of my favorite tricks for decorating a table…use a wreath. I found this fun wreath at a local store and used it to create a center piece for my pumpkin.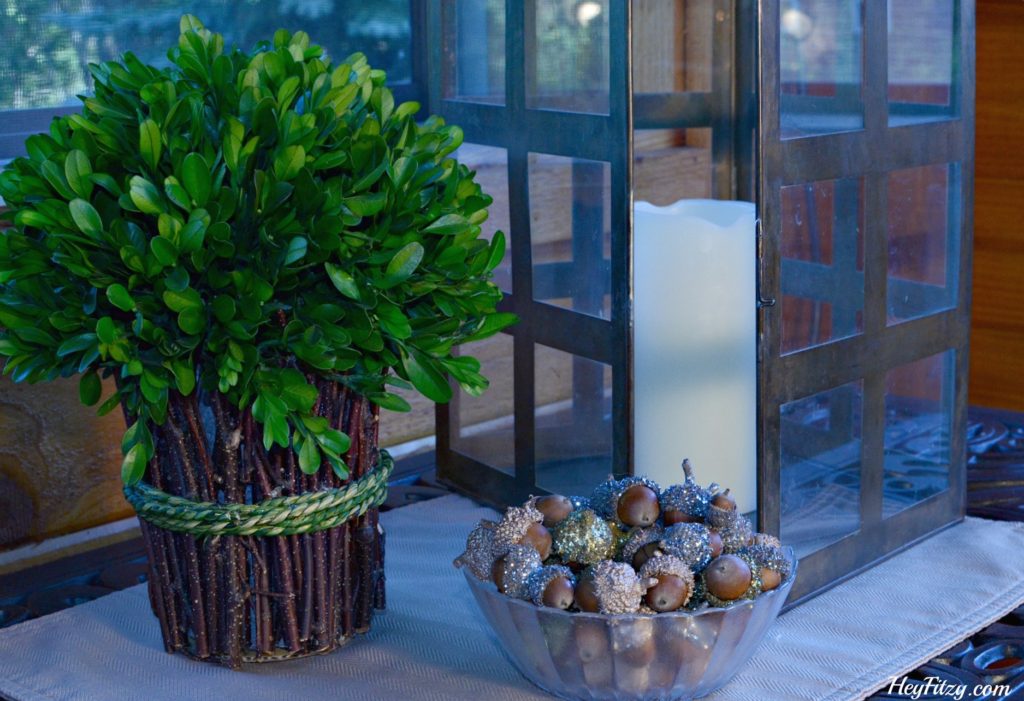 Last year my six year old helped me make these glittered acorns.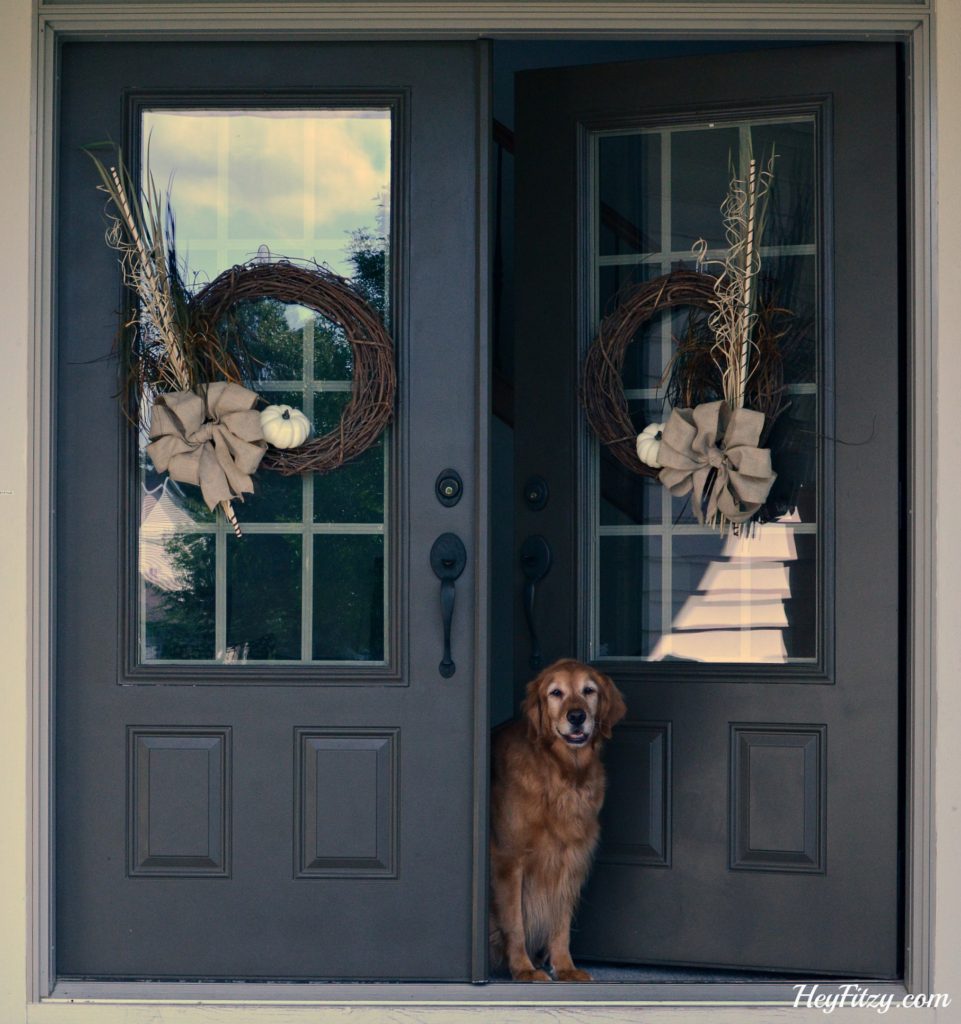 Thank you for stopping by. Don't forget to visit the other beautiful homes in the No Place Like Home-Fall Home Tour! Simply click on the links below to visit each home!
* A Home To Grow Old In * Hey Fitzy * Nourish and Nestle * Savvy Apron  *
 * Sweet Parrish Place * The Aspiring Home * The Red Painted Cottage *
Click here to see my 2015 Home Tour.

You can follow me here:
Facebook/Twitter/Instagram/Pinterest
SaveSave