Holiday Table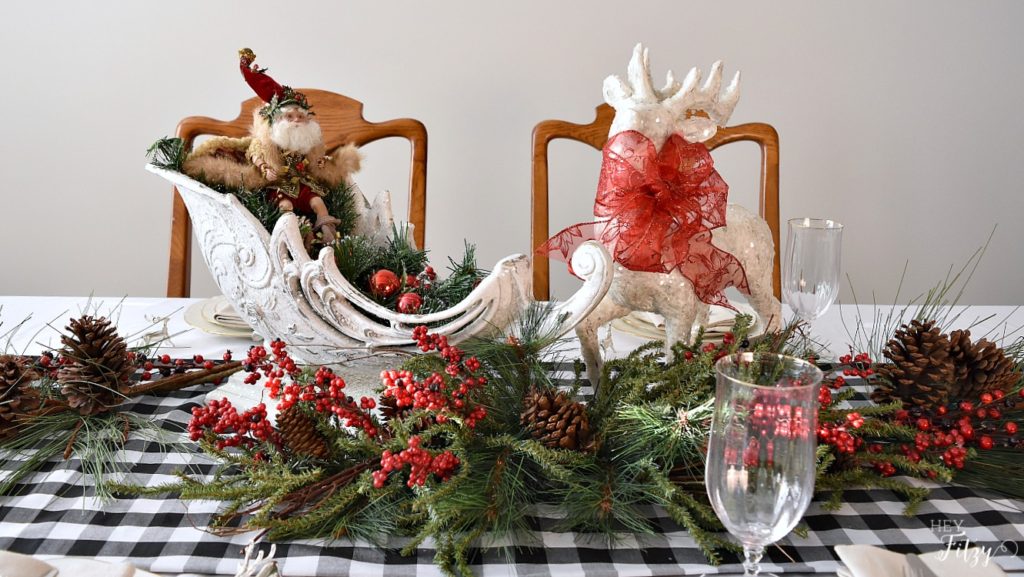 Today I am joining a group of talented bloggers to share our holiday table all decked out for Christmas. I am so thankful to be a part of this group. Thank you to Chloe of Celebrate and Decorate for organizing all of us!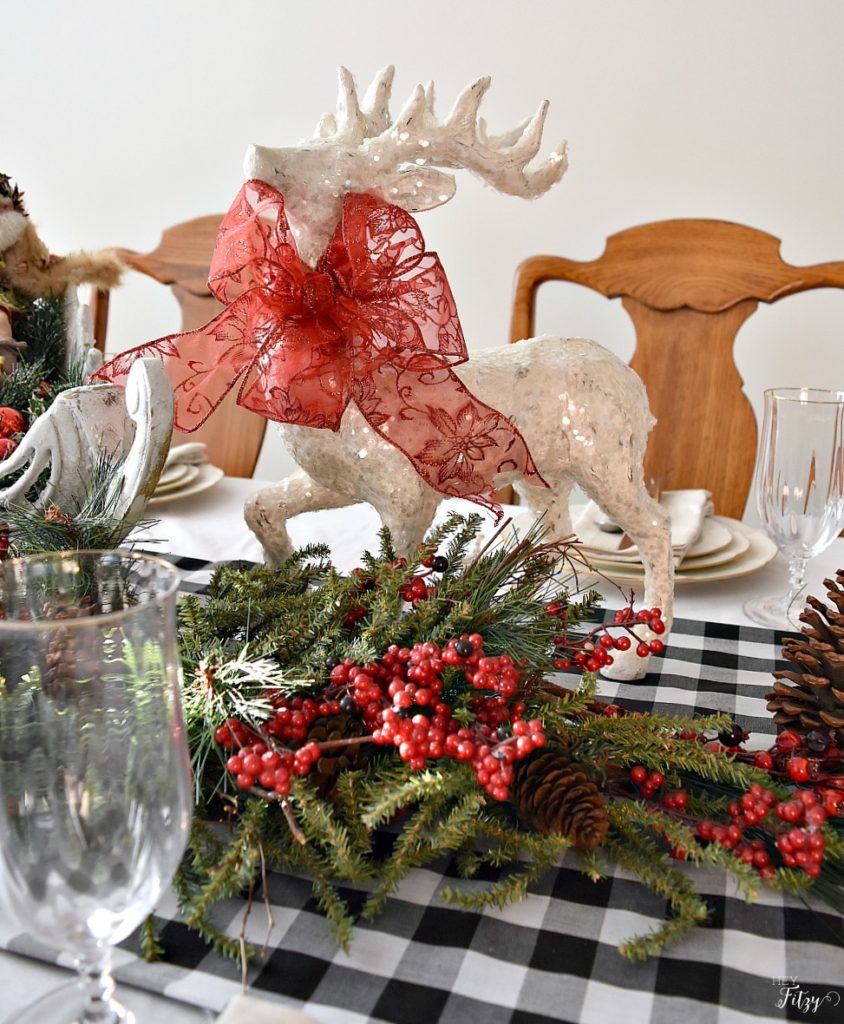 My friend got some christmas table decorations in Australia and her table looks amazing, so I decided to try and make mine look good too. This big stud was an after Christmas find several years ago. He was marked down and then marked down again so I just couldn't resist. But don't look too close. Those crazy kids I often talk about…well they have knocked him over so many times that his antlers have been glued on more times than I can count! Adds to his charm I think! 🙂
My buffalo check runner makes another appearance on my holiday table. I used it for my halloween table a while back and loved it so much. It really is a classic piece that can be used over and over again. Using a piece of cotton from the local fabric store, I cut it to size for a fraction of the cost of an actual table runner.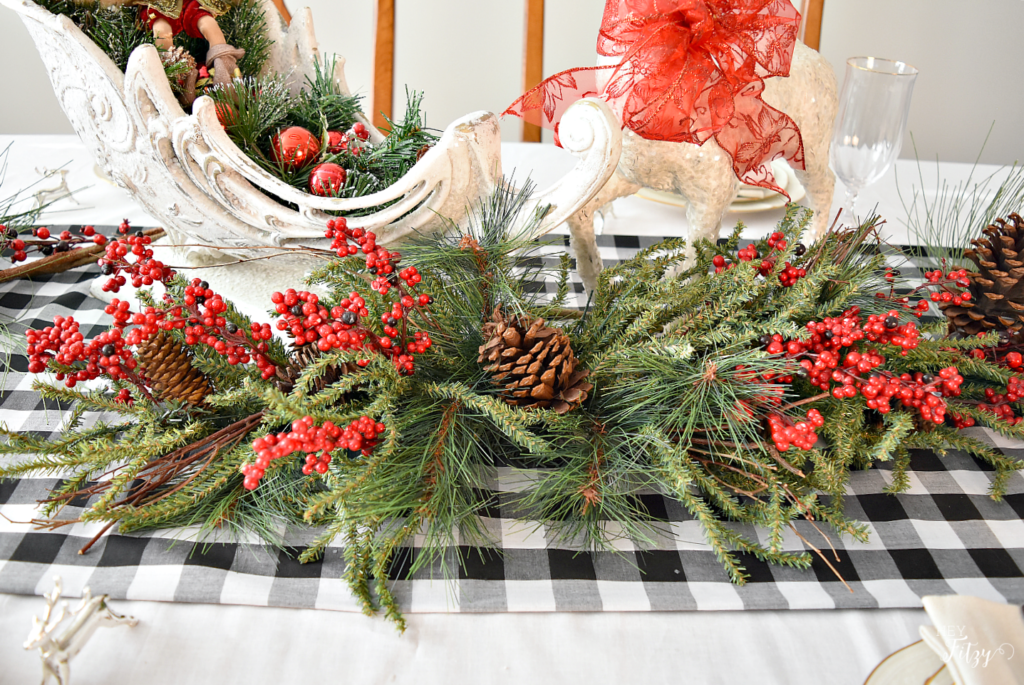 This sprig of greenery is an easy way to add volume to the center of the table. I literally just set it in place.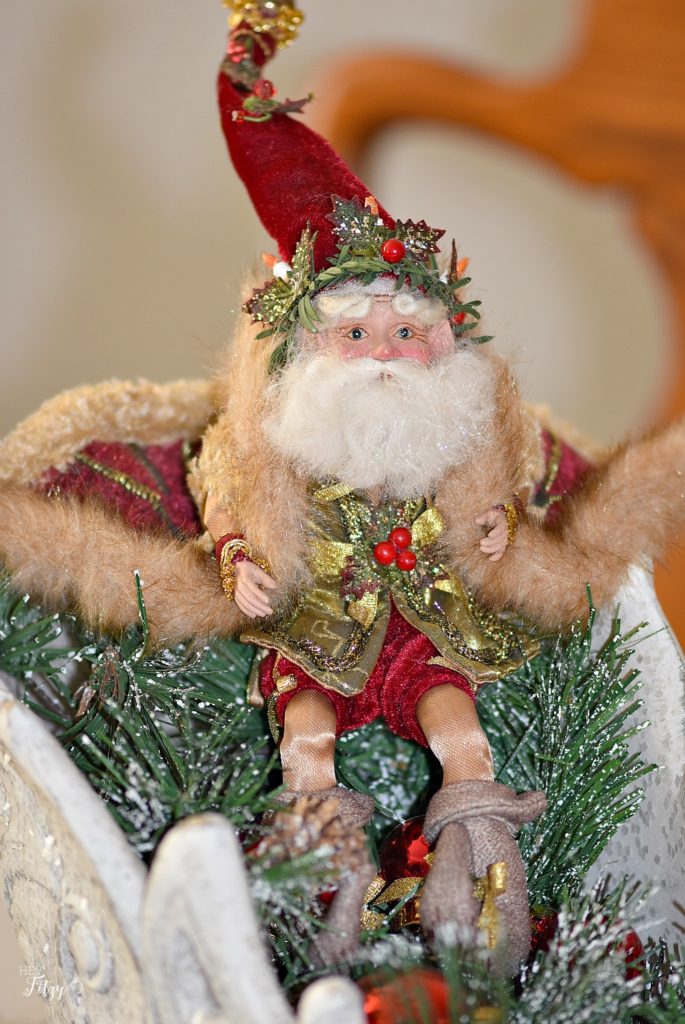 This sweet little Santa has been a treasured part of our holiday decor for years. He likes to pop up in different spots each year.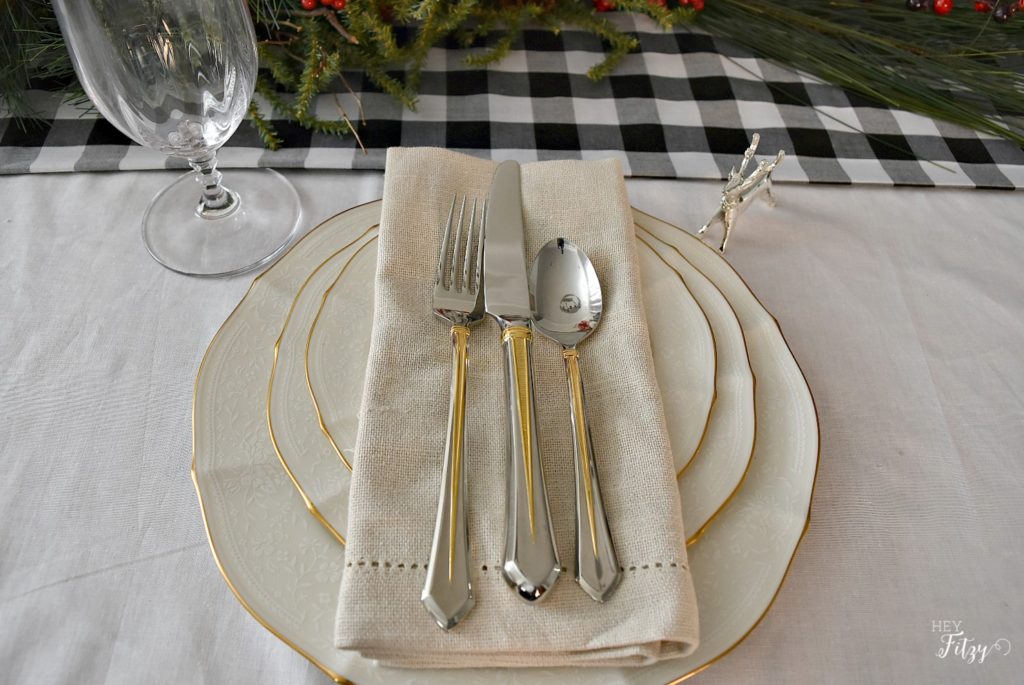 Our wedding china makes another appearance every year as part of our holiday table. After all these years I still love the classic design. At some point, I will add name cards to the little silver reindeer place holders.
After downsizing earlier this year, I am really trying to keep my decorating simple. A lot of the decorations I have are in the storage units Christiansburg we're renting and it's just not worth the journey to and fro every time I want to change up the decor. The beauty of downsizing is it enables you to keep things so much simpler at home. Downsizing was the right option for us because we really didn't need a big home at all. It was just wasted space! I wanted to sell my house so that we could have cozier spaces, like this one, and actually appreciate the 4 walls we lived in, not just leave spaces to collect dust. I am so much happier with our new home! I never would have thought moving would have made such a difference to my happiness but it certainly has. I often think, if I hadn't looked at this bridging loan example I would have never realized that this form of financing existed! Without a bridging loan, it is definitely possible that we would have missed out on the property. It has been such an empowering process to free myself from the extra pressure. I am learning to use the same pieces just in different ways without running out to buy something new. Without much storage in the new house, I really have to get creative with my holiday decor!
You can also see my table decorated for Thanksgiving, Halloween, and Fall.
This blog hop is full of great holiday tables that will inspire you this Christmas season!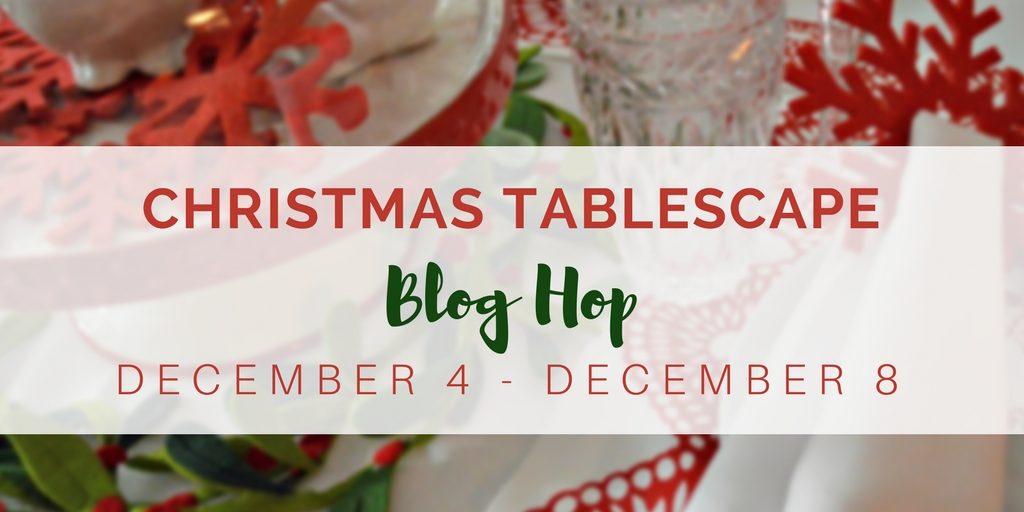 SaveSave
SaveSave
SaveSave
SaveSave
SaveSave
SaveSave
SaveSave
SaveSave
SaveSave